A 22-year-old Alberta supply chain prodigy who has just been awarded a $1-million grant to consult on national health care resources says he can't wait to sink his teeth into Canada's construction supply chain problems.
Cole Webber, an inventor, author and systems analyst, joined his father Craig Webber, principal at Group2 Architecture Interior Design based in Red Deer, in a high-level discussion of supply chain theory hosted by the Lean Construction Institute of Canada (LCIC) June 23. The younger Webber's lecture was billed as Next Generation Lean.
The session was hosted by LCIC co-chair Bob Hildenbrandt. Webinar participants were told that the pandemic had companies straining to meet production targets as PPE, toilet paper, computer chips, mechanical units, lumber and steel supplies all faltered. A revolution in delivery of supplies is possible, Cole Webber suggested.
"It is a tremendous opportunity for figuring out technological innovations, and really, ways to deal with these problems at a really fundamental level," he said.
Webber's Betterfit program analyzes millions of inventory, shipping and destination data points using machine learning technology to provide clients with an automated prioritizing system. Betterfit replaces traditional vertical and horizontal supply chains with a flexible, integrated supply "net" that can expand and transform as circumstances dictate.
"The problem is not even in the amount of inventory, it's the flow and it's keeping it moving," Webber said.
"The reason that I'm so interested in the construction area is that to me, it presents a very similar use case to some of the stuff that we're looking at in terms of health care. In health care, you have the distributed hospitals; in construction, you have the distributed sites, and you have organizations that are in charge of those sites."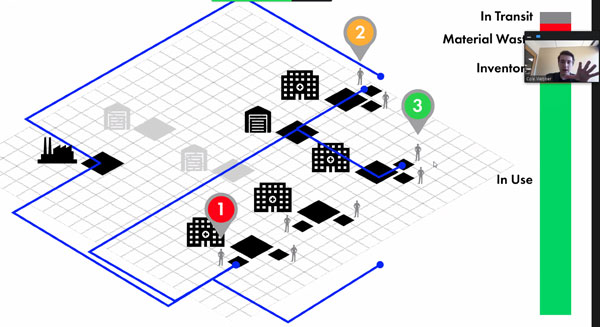 Webber's team ran Alberta Health Services statistics in workshops and found that its inefficient ordering process resulted in $1.9 billion in lost care time every year. He says Betterfit can eliminate up to 80 per cent of shipping time and cost and 40 per cent of material waste.
Last year Webber's firm Cole Webber Productions Inc. responded to the National Research Council's COVID-19 Challenge to develop an "intelligent digital clearing house" that would connect researchers, health care providers and logistics specialists. Webber initially received $285,750 to develop his platform and last month Cole Webber Productions was selected as the recipient of $1 million to advance the plan to full commercialization.
"Out of that process has developed a lot of thinking around supply chain and supply chain management and what that looks like," said Craig Webber, who noted that Cole attended the first LCIC conference five years ago and became immersed in predictive managing software.
"It's been interesting to see this evolution of interest in lean become a little bit more than an interest, and perhaps an occupation."
Among many inefficiencies the junior Webber's platform addresses is one simple component of the supply chain – the number of stops.
"As we're adding the number of stops to this, the average time that a delay could take is also going up. Now that's an issue. There's a constant with even bigger issues because the chance of the delays is also going up. If you have a five-per-cent chance that something is going to go wrong at each one of these stops, that's compounded."
The basic way of looking at solutions could be which system has the lowest costs, Webber said, but an assessment of efficiencies leads to analysis of what has the highest speed per unit of price. The essence of the system is simplifying, matching and aggregating, he said.
Webber offered one practical application of the Betterfit system to construction.
"Something that I'm very curious about is, if you were working on a project that let's say the goal is LEED certification, and you need all of your suppliers to come from within 500 kilometres of where the site is going to be," said Webber. "You can begin to say, these are the suppliers that can meet those requirements, and then that can go in with the curves of which suppliers we're going to match to. So you can begin to make some of those kinds of complex allocations, automatically, and still optimizing for other factors like price and efficiency."
Referring to the aggregating component of his system, Webber said, "That is a really interesting use case to me.
"I know that there's a lot of purchasing that's done on a per-project basis, but at the same time there are massive, massive construction companies. So what if you could figure out how to aggregate those orders for those massive construction companies?"
Follow the author on Twitter @DonWall_DCN.