Vancouver architect Arno Matis sees BioFrame, a building system he devised that can revitalize existing buildings, as a means of circumventing many of the concerns that plague the construction industry today such as rising construction costs, labour shortages, congested city sites and greenhouse gas emissions.      
It is a concept that won his Vancouver architectural firm international acclaim when it was selected as first runner up in the Radical Innovations Design Awards in December 2021 as BioFrame demonstrated how it could be used to revitalize and modernize an older hotel.
The international competition, sponsored by the hotel management group John Hardy, received more than 100 innovative design ideas for the hotel industry and shortlisted three. The winner and runner-ups were feted at a New York event.    
"We are working to lower the carbon footprint of our projects — using wood is part of it — but we are also looking to reduce waste materials and reuse resources rather than tearing everything down and building from scratch," said Matis.
BioFrame is an architectural prosthetic, a building system that uses mass timbers and relies on prefabrication for achieving the design, combined with a method of clipping the mass timber components onto the existing structure.
It can be used to retrofit older buildings by adding space to existing floors, providing out-of-doors meeting and restaurant areas and adding new storeys, thereby extending the life of an older structure up to 50 years.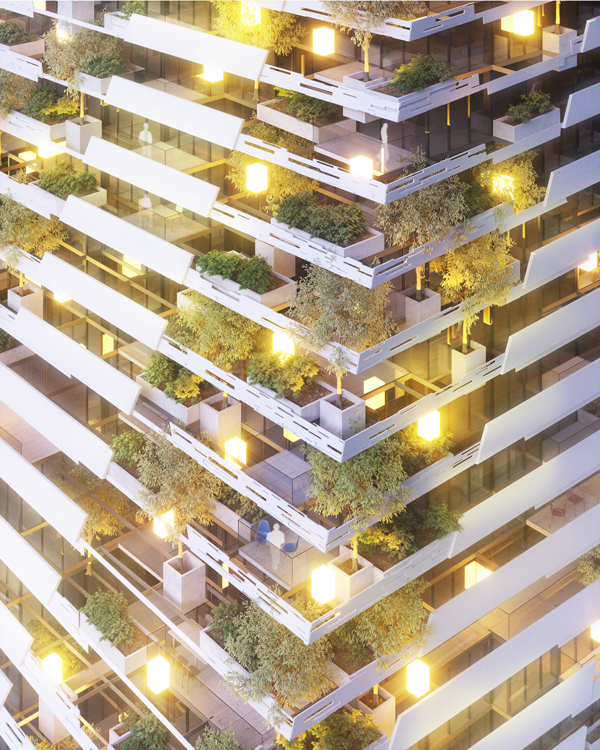 BioFrame is designed to compensate for existing structures that may not bear the load of additional storeys by using a column support system to transfer loads downward.  
"It is a prefabricated structural system that allows for additions and also has exterior elements, both open and enclosed spaces such as balconies and outdoor decks," he said. 
Matis explained the system can be adaptable to both steel and concrete buildings. It can be designed to be flexible in the event of seismic activity and can move independently of an existing structure. It has a place in new construction, as its design is a building block for future expansion.
Matis said he originally designed the system pre-pandemic for a Vancouver rental building client as a means to expand housing capacity. However, the project was abandoned as COVID hit.
The design lends itself well to hotels and multiple unit residential buildings as both such structures can utilize prefabrication in kitchen and bathroom units.  
"I think there are a wide range of applications," said Matis, adding it also provides opportunities to add onto social housing developments in a way that is economical and expedient.
On industrial sites, it can be used to top up warehouses with extra office space.  
Matis said the BioFrame construction method rallies all the benefits of prefabrication such as reducing waste on worksites, more efficient use of a construction site lay-down room space, shorter onsite construction time, fewer trades and supervisors needed, and, in northern areas where skill shortages occur, fewer employees that need to be housed.   
Rising labour costs, cost of money, constraints on the development industry, climate change and green building concerns are also pushing a traditional building industry into prefabrication.
"You get to a tipping point and for those entrenched in the conventional way of doing things, it becomes inefficient and you start looking at other options," Matis said.
In-plant robotics and automation will lower costs and speed production. 
On the environmental side, BioFrame's timber system eliminates costs for demolition, removal and recycling of waste. Wood, lighter than steel or concrete, has the ability to carbon sequester. BioFrame construction design also allows the building to be deconstructed and components reused. Solar panels can also be integrated into the design.
"The material costs are comparable to conventional building, but as prefabricated production becomes more sophisticated and you reduce the amount of materials needed, you make it more cost effective," he said, as there is less waste and more strategic use of materials.
Matis' keen interest in designing structures that use prefabricated components has led him to explore other opportunities such as using panels that have building components pre-assembled.  
"We are looking at prefabricated panels and structural panels on different residential projects," he said. Prefabricated facade panels can address many of the demanding concerns of building envelope construction such as making a building more airtight and waterproof.
Panels that are made up of a variety of components can reduce onsite labour for items such as windows installation and cladding.
"We are working with manufacturers on design," he said, adding investment in new plants is needed to spur more development of prefabricated panels that reduce the skills needed onsite.
Prefabricated components will continue to take over portions of traditional construction in the next five years, he predicts.
"Over time, the amount of prefabricated components will grow and eventually the majority of construction will be off site," he said.