When designing tall buildings, it's important to consider how it lands on the ground, how it relates to what is around it and if it makes the space better than it was before, said Studio Gang founding principal and partner Jeanne Gang in a recent presentation.
Urban Land Institute Toronto presented a fireside chat between Gang and The Globe and Mail's Architecture Critic Alex Bozikovic in Toronto recently, discussing how to design towers that enhance social connections, contribute meaningfully to public space and act as responsible stewards of the natural environment. Gang discussed five major projects she has worked on in North America.
One Delisle, a 47-storey mixed-use tower in the Yonge and St. Clair neighbourhood in Toronto with a unique 16-sided geometry, is the first project in Canada by Studio Gang.
"The podium can be a bad thing, but it can also be a good thing because that's where you make the relationships between old," said Gang. "Start with what's there. Lining up the new parts of the base, giving it some variety and also by having a roof garden at that height you are also bringing green into the city.
"What we did here is we actually set the building back further than what was required to widen the sidewalks. More people are going to be living here so making it more urban than it was before…we need to think about those things for tall buildings."
The blocks of the Mira highrise residential development in San Francisco were planned by the city after the collapse of the freeway.
"The city really thoughtfully planned out how to make each block," said Gang.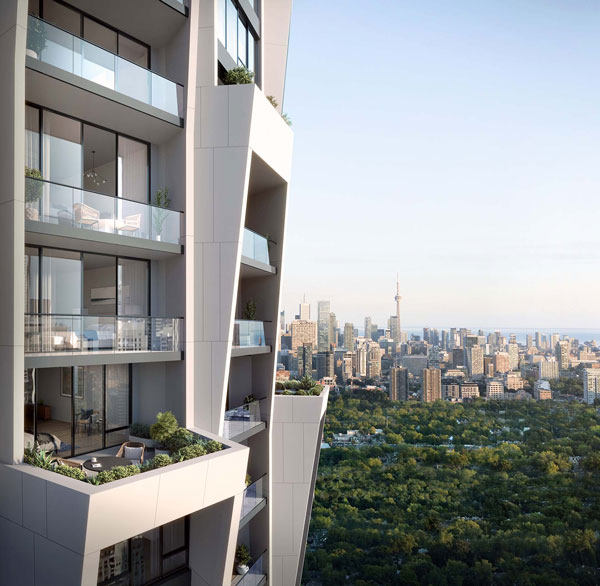 "We were given a mix of low rise, highrise. They wanted a 300-foot tower and there was a certain percentage of affordable housing included in that.
"We proposed the idea what if we went higher and put more affordable housing in it because there was a real crunch for housing. Together with our developer partner we went to the city and pitched this idea."
With the St. Regis Tower in Chicago, the main issue from the beginning of the project was how to design the landing for the tall tower.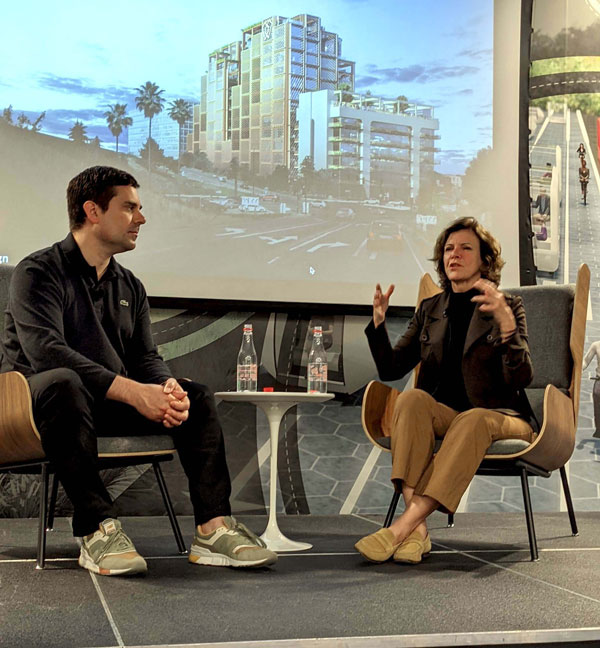 "In Chicago we build infrastructure like crazy around the river and now the big project is how to navigate that, how to make it pedestrian friendly," Gang explained. "With this project we thought how can we get through the park on ground level, lake level that this whole development is around and how do we connect that to the river?"
The development consists of three interconnected towers of different heights. The central building was lifted to create a pedestrian connection between the Chicago Riverwalk and the nearby community park.
"The public can walk through it, it's very porous," said Gang. "There was a lot to deal with as a designer. It's all about making these connections."
When designing a building, Gang spoke about the importance of taking into account not only the people who will live in the building but also the community surrounding it.
"I zoom out and look at the bigger picture. I think it's really important and it should be required," she said. "It's starting to change but I think it should be more a discussion that happens early in the project.
"What is the dialogue you're having as an architect with other buildings around it," she added. "Start with what's there, that's the motto that we have. What is there worth building upon, continuing and extrapolating from."
Arbor, a building in San Jose Gang is working on with Canadian developer Westbank, is comprised of two buildings: a mass timber structure and the adaptive reuse of the existing Davidson Building.
"It was a 1980s building that was on the site next to us and we're having all these discussions about carbon and there right in front of you it's like a big block of carbon that has already been spent," said Gang.
"We started calling it the Life of Pi because it looks like a Pi symbol and trying to kind of see how can we make it more relevant now in its next iteration."
Architects love Brutalist era buildings, she added.
"They need work," Gang noted. "The way that they land is not always friendly to the city but they can be redone and they are so unique…But they also have problems. They are usually not energy efficient, there are a million reasons why people want to tear them down."
The form of New York City's Solar Carve, located at the edge of Manhattan between the High Line park and the Hudson River, is shaped by considerations of sunlight. When designing the building, the architecture team took the location of the park and public space into consideration.
"What we said was 'let's pull up back up over the High Line and raise it up a little bit but then start to shape it with the solar angles,'" Gang explained. "It was clear it's a better solution: more light and plants and views for people walking along there. It was about externalities as opposed to what is the object but it has to be a beautiful object also. It's a win-win."
Follow the author on Twitter @DCN_Angela.