When a North Vancouver real estate company purchased the once-celebrated Sooke Harbour House in July 2020 for $5.63 million, the plan was to reopen in 2021.
It's doubtful the oceanside inn will welcome guests this year.
In fact, Alex Watson, the COO of IAG Enterprises, isn't certain when the 28 guest rooms and two restaurants overlooking Juan de Fuca Strait will open.
"It's a massive job," Watson says of work to bring the 33,000-square-foot structure up to current and functioning standards.
The original building dates back to 1929, when four guest rooms and a restaurant were built to cater to Victoria visitors. Most recently, the Harbour House was the subject of a B.C. Supreme Court-ordered sale after a protracted fight over the property. In 2015, the Business Development Bank of Canada started foreclosure proceedings over a $2.9 million debt. Owners Frederique and Sinclair Philip struck a deal with two men which led to new mortgages and lengthy legal proceedings.
But the allure of a property, where celebrities like Robert De Niro and his dog, and the married Cindy Crawford and Richard Gere spent time, is hard to resist.
"It's a beautiful, irreplaceable property in a place that is idyllic," Watson says. "It's got an amazing provenance. All the rooms are beautiful and unique, not cookie-cutter."
Yet when IAG took over in 2020, the company faced a daunting task.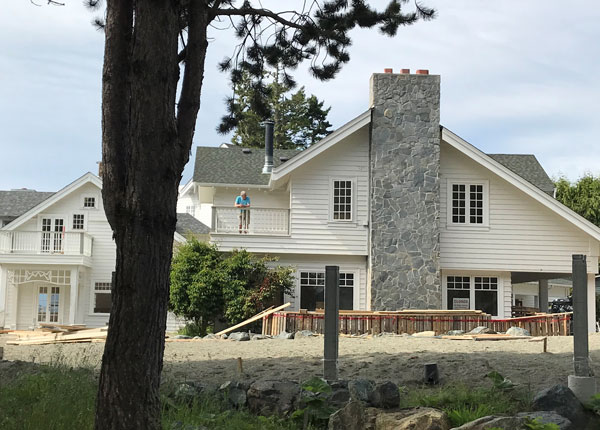 "Over the last 20 years, not a lot of money was put into maintenance," says Watson. "Seaside properties take a beating from a weather perspective."
Many aspects of the 2.5-acre property were nearing the end of their life.
"Things were basically held together by duct tape," Watson notes.
An engineer was hired to check the premises and like many renovation projects, the amount of repairs substantially grew from top to bottom.
Decks and windows had to be fixed or replaced. A new roof was needed. Interior and exterior painting had to be done. Hardwood needed refinishing. Drain tiles need replacing.
"Some of the bathrooms were original to construction," Watson notes. "That's not acceptable for today's standards."
In the early 2000s, the Philips installed a state-of-the-art septic treatment system to serve the inn but upon IAG's takeover, the system was at the end of its life, Watson says. Because the area is not served by sewers, a new onsite system had to be installed. The once-novel treatment system wasn't worth saving because it wouldn't be permitted in today's environment, says Watson.
And a green parking lot, with vegetation, wasn't functioning and had to be turfed and replaced with a traditional lot.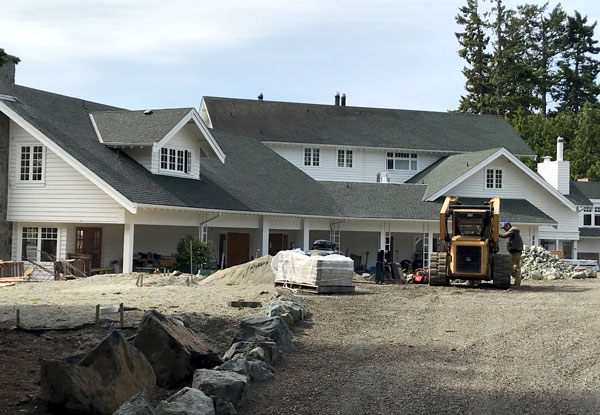 "It got to a certain point, we had to do all of it," Watson says.
As well, each of the 28 guest rooms were evaluated and renovated. But each one retains its individuality.
"We tried to acknowledge the past. What it was. But you can never replicate what they (the Philips) did," Watson explains.
The trials facing such a large, commercial renovation project are the same ones facing the construction industry in general, hard-to-source materials, labour shortages and inflation.
IAG has a construction crew it hired from Vancouver Island but securing tradespeople has been a substantial challenge.
The company called nine roofing contractors, but only two quotes were submitted, with one being doubtful. Finding painters was just as difficult.
"A lot of contractors only want to do new builds, they only want to do easy work," Watson says.
He believes the desire by contractors to avoid repair work will, "come back to bite everyone in the future."
The CEO of the Vancouver Island Construction Association admits there's some truth to Watson's comments.
"I can't say that he's wrong," Rory Kulmala says. "Building new has a certain amount of efficiency. You're not dealing with unknowns."
And because there is so much new construction, that segment is drawing all of the industry's resources.
Kulmala notes the proverbial "do-it-yourself" solution isn't ideal, since business/commercial construction has the expectation of rigour.
One option is to find tradespeople via non-traditional methods, such as social media sites. In today's landscape, being flexible and patient are key.
The additional challenge of material shortages also requires patience. Certain high-tech items like fire wrap for chimney flues are hard to get, Watson says.
And forget about budgeting. He has no idea what the final price tag will be once the Harbour House is finished.
Suppliers are adding a diesel fuel surcharge, inflation is causing prices for items like lumber and glass to jump by 30 per cent and labour costs have risen by roughly 20 per cent since the project's start two years ago.
Yet, Watson remains bullish.
"It's worth it. We'll be ready to go for the next 30 to 40 years," he says.