Thousands of square feet of space in three mostly vacant and underused office buildings in the city of Calgary's downtown area are set to be converted into residential housing units, infusing new life into the core.
The projects are slated to remove 414,000 square feet of office space from the market and create 401 homes which will reinvigorate the downtown and help transform the area from a traditional nine to five business district into a centre with a balanced mix of residential, office, retail, entertainment and culture.
The transition has been made possible with $31 million from a $100-million Downtown Calgary Development Incentive Program that was established by city council in 2021 to help building owners convert vacant office space to residential uses. The city worked with industry experts, including the real estate sector advisory committee of Calgary Economic Development, to develop the ambitious program.
"This alone will not lead to downtown revitalization but will help to support the creation of a critical mass of residents in the area," says Natalie Marchut, manager of development and strategy at the Downtown Strategy team. "The new housing must be complemented by capital investments that support the development of vibrant communities.
"The city is investing in public realm and mobility projects and other initiatives that fundamentally alter the vibe, connectivity, and attractiveness of our downtown. We want to create places, spaces and connections that serve all Calgarians during all seasons."
The three projects are in the design, planning and permitting stages with varying construction schedules for each project. Two other projects are in the final stages of approval and will be announced in early July.
The city is also working with more applicants for the remaining funds and, as applications are approved, further announcements are expected throughout the summer and fall. 
The first three approved projects are Palliser One at 125 9 Avenue SE, HAT @ Arts Common at 205 9 Avenue SE, and 905 5 Avenue SW.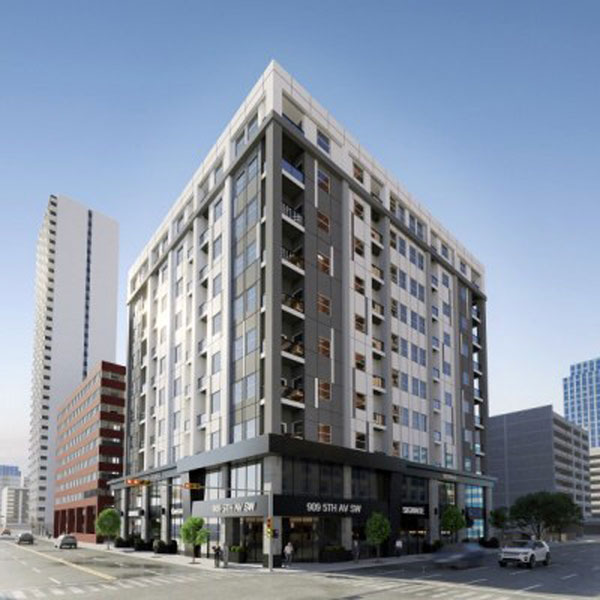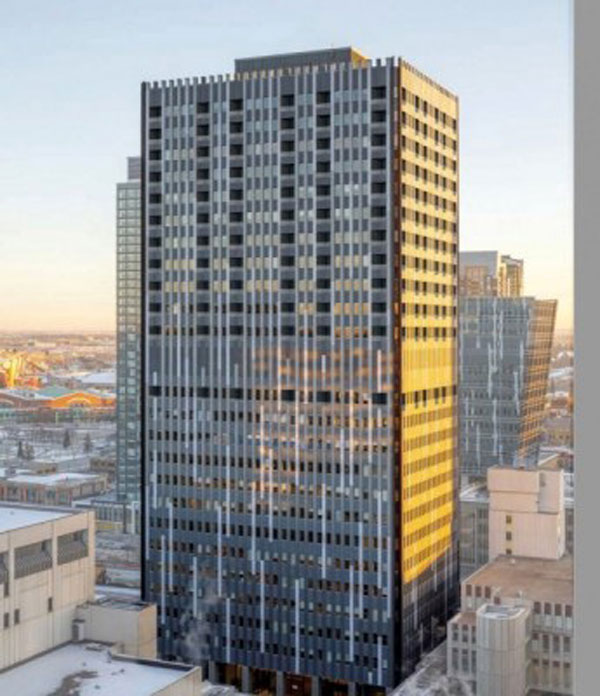 The Palliser One and HAT @ Arts Common projects are across the street from each other and create the beginnings of a residential hub at a critical downtown intersection.
The work at Palliser One will convert approximately 200,000 square feet of office space to 176 apartments, featuring a mix of one- and two-bedrooms. In addition, there will be an amenity lounge, workspace area, a kitchen/bar area, lounge seating and an outdoor barbecue space, as well as a rooftop patio.
"We believe this project, and others like it, will greatly enhance vibrancy in our downtown and the overall brand of our city, as we work together to attract and retain talent and businesses," says Rob Blackwell, chief operating officer at Aspen Properties which is the developer.
The HAT @ Arts Common project is a conversion of an estimated 110,000 square feet of vacant office space into a 113-home mixed-use residential tower.
"We look forward to the new life this will inject into underutilized properties in the core," says Sarah Itani, business development manager with Cidex Group of Companies. "The Downtown Calgary Development Incentive Program is a prime example of the excellent work that can be done when the public and private sector team up in pursuit of a shared goal."
The 905 project, meanwhile, will bring new life to a building that has been vacant for nearly a decade. It involves converting 104,000 square feet of office space into mostly two- and three-bedroom homes in a mixed-use residential tower. Developer Peoplefirst is providing 40 per cent of units at 20 per cent less than market value.
"Through attainable housing, support for local businesses, and our collaboration with non-profit organizations, we are working towards improving the lives of Calgarians through socially responsible development," says Maxim Olshevsky, managing director at Peoplefirst.
Calgary's downtown office vacancy rate is presently at 32 per cent and post-pandemic absorption is not expected to bring that figure down by a significant amount due to hybrid working arrangements and other factors, according to Marchut.
"This level of vacancy in our downtown has serious implications to Calgary's economic competitiveness, the city's fiscal sustainability, and the overall resilience, vibrancy and attractiveness of the downtown area."
The main objective of the city's incentive program is to reduce the downtown vacancy by removing excess office space and increase vibrancy through the addition of residential and non-office use. An estimated 1.3 million square feet of vacant office space will be converted to residential and other uses through the city's initial investment in the program, resulting in the creation of an estimated 1,400 residential units.
Marchut says residential conversion projects are often complex, expensive and, to convert office space to homes, full interior demolition and renovation is required to ensure the new units comply with existing building code regulations and dwelling unit servicing requirements. Amenities for residents must also be added.
The incentive amounts being provided to developers is based on $75 per square foot of office space being converted to residential space, with final amounts to be confirmed and disbursed at project completion.