Even before COVID-19, indoor air quality was on the radar of forward-thinking organizations.
Much of the impetus started in 1976, after a mysterious sickness killed 34 people in Philadelphia. Six months later, a scientist figured out that a bacteria that had spread via a hotel's air conditioning system was the cause of what was dubbed Legionnaires' Disease.
Since then, UL Solutions, a Chicago-based safety certification company, has been developing and perfecting methods to assess indoor environments.
In July, Vancouver International Airport's (YVR) terminal building became the first anywhere to earn the UL Verified Healthy Building Mark from UL Solutions.
It earned the certification due to the airport's optimal indoor air and water quality.
That's nothing to sneeze at, given that YVR is B.C.'s single largest building, measuring 378,000 square metres and is Canada's second busiest airport.
YVR's chief manager of plant maintenance says that after COVID-19 hit, the virus triggered a desire at YVR to meet and/or exceed Health Canada's updated standards, particularly around air filtration.
"It was a great opportunity to make things better," says Scott Reid. "The whole idea was to give stakeholders and our tenants peace of mind."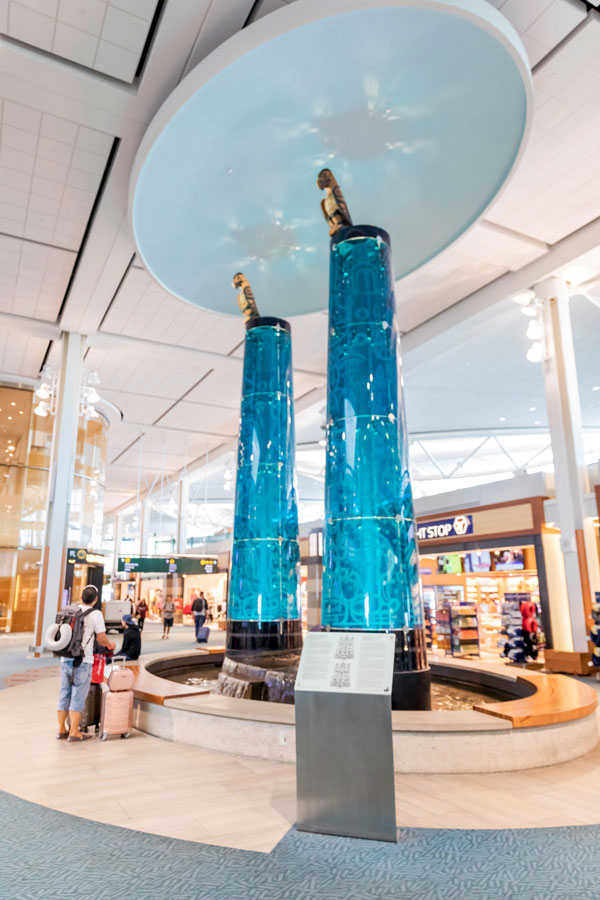 The decision has not gone unnoticed.
"Vancouver is a trailblazer," says Sean McCrady, a UL director for asset and sustainability performance and indoor environment expert. Other airports around the world are now investigating UL's programs, he says.
The YVR evaluation was carried out in February 2022 when two of UL's industrial hygienists spent three days combing through the airport, hyper-focussed on air and water systems. The cost was approximately $37,000, Reid says.
Indoor air was tested for carbon dioxide, fine particulates, volatile organic compounds, ozone, mold, formaldehyde and other items.
YVR's water (including potable sources and water features) was tested for heavy metals, bacteria, chlorine, temperature and other aspects.
Regarding water, a site-specific plan was developed, that included Legionella risk reduction and procedures to maintain water systems during low occupancy periods. YVR's HVAC system was inspected, with a focus on ventilation, filtration and hygiene. Thermal imagery was also used to check for moisture intrusion and plumbing leaks.
Mechanical systems were assessed for gaps and adherence to maintenance schedules.
The airport's shortcomings were found to be minor.
"They were running a tight ship to begin with," McCrady says.
One finding was that temperature readings in some parts of the airport were slightly below optimal and had to be increased, Reid says.
Scale build-up had led to rust formation on some air-handling units.
There was also spotting, which could have been mold, on the flex collars of air-handling units.
And the pH levels were slightly elevated on potable water.
A couple of weeks of cleaning and painting were called for in the massive facility.
"It's really rare to find something wrong that requires major capital spending," McCrady notes.
Repairs to air and water systems need not be expensive.
"You often don't need to go after shiny technology," McCrady says.
On the flip side, commercial and corporate real estate properties, hospitality sites and manufacturing facilities can no longer claim ignorance regarding the quality of their air and water, given the hyper-awareness in a COVID-scared world.
Problems usually found include air quality concerns, which are not apparent until testing is done, McCrady says.
Minor matters, such as a damper malfunctioning or gaps in a filter bank could be causes.
Most often, it's fixable, and true to its name, UL Solutions works with clients to find solutions.
Regarding plumbing, problems rise to the surface when systems are underused and water sits in the system.
Coliforms and heavy metals can be two undesirable toxins lying in wait.
Reid chose UL because of its rigorous program that he says will keep YVR users safe. As an ongoing process, UL's hygienists will return for follow-up inspections
"This gives you street credibility that you're doing the right thing," McCrady says.