Three large B.C. projects with a combined contract value of more than $660 million have earned Vancouver Regional Construction Association (VRCA) Silver Awards of Excellence this year in the over $50 million category.  
A Gold award winner will be selected Oct. 26 at the gala event.
The Silver award winners are KWPE, a joint-venture of Kiewit Construction Services ULC and Western Pacific Enterprises Ltd. for the $83.9 million Trans Mountain Power Interconnection Infrastructure Contractor (PIIC) project; Graham Infrastructure LP, which completed the $289 million Annacis Island wastewater treatment plant's Stage V, Phase 1 expansion project; and EllisDon Corporation which completed the $288 million Royal Inland Hospital Patient Care Tower (PCT) Phase 1 (Sept. 2018-Feb. 2022) and is currently working on Phase 2 to be completed in February 2025.
The Royal Inland Hospital in Kamloops is an aging structure that was in need of an upgrade to meet the demands of a burgeoning Interior B.C. population. In Phase 1, EllisDon took on the role of design-build-finance, while in Phase 2 it will serve as construction manager. The hospital's PCT Phase 1 is in line with current care standards, improving working conditions and infection control and prevention measures. Phase 1 is currently targeting LEED® Gold.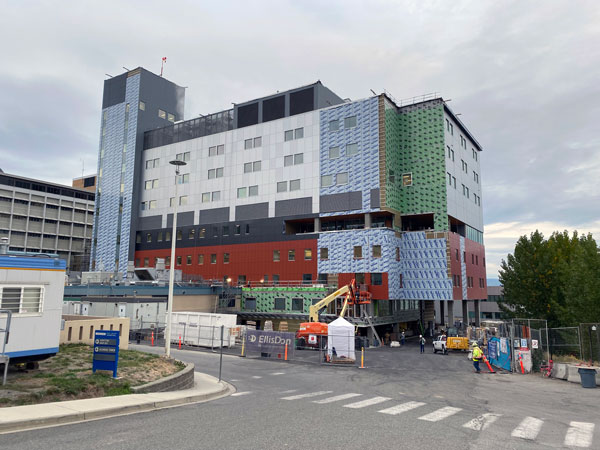 The new PCT is approximately 300,000 square feet of new clinical, administrative and support spaces. Program components include mental health and medical/surgical beds; a new surgical suite; a perinatal centre and private labour and delivery rooms; obstetrics and postpartum beds; and a neonatal intensive care unit. It also provides single patient rooms.
During the buildout, EllisDon dealt with numerous challenges, including working around a busy Interior B.C. hospital. The worksite was highly constrained with little laydown room.
Days when concrete pours were scheduled, pre-pour planning ensured hospital staff, workers onsite, equipment and trucks were synchronized.
COVID protocol was developed and used to both prevent workers bringing COVID into the hospital and also spreading amongst the crew as workers attempted to stay in teams. The company also dealt with forest fires and the 2021 atmospheric river which closed highways and constrained the supply chain and routes.  
The Annacis Island wastewater treatment plant handles the wastewater of 14 Lower Mainland municipalities and is one of the largest in the region. Phase 1, carried out by Graham Infrastructure, is the largest of several Stage V upgrade projects currently being implemented by Metro Vancouver as part of a multi-year $1.27 billion program. 
Work at the project site included upgrades, improvements and expansion of the existing facility. The project goals were to increase the liquid stream treatment capacity by 50 percent, ensure continued operations in the event of a major earthquake and improve odour management at this prominent urban location.
In a presentation to the VRCA, project directors Stephen Henderson and Iain Kirk described how the company was able to bring in the four-year project three months early and how BIM was used to ensure cranes and work sequences did not conflict.
One of the unique features of the project was the thickest-known, heavily-reinforced shotcrete wall in North America.    
The work undertaken by Graham included the construction, testing and commissioning of new primary treatment facilities; construction of new solids contact tanks, secondary clarifiers and associated channels; new primary odour control; and refurbishment of the existing primary and secondary odour control systems.
Major electrical replacement work to the existing primary treatment facilities was also carried out with Status Electrical Corporation named as a trade in the award submissions.
Challenges of the job included tie-ins to existing pipelines and large concrete structures with the treatment facility still live and operating. 
Significant temporary works required workers to access confined spaces for major demolition tie-ins, which could not comply with OHS regulations (Part 9). Graham had to devise and implement means to have the work carried out under alternate measures approved by WorkSafeBC.
"This required many months of advance planning, including incorporation of temporary
openings in new and existing concrete structures up to two years in advance, to facilitate
safe work," Graham said in its VRCA presentation.
The KWPE partnership undertook the Trans Mountain PIIC project on a lump sum and design build basis utilizing Kiewit Engineering Group Inc. as the designer.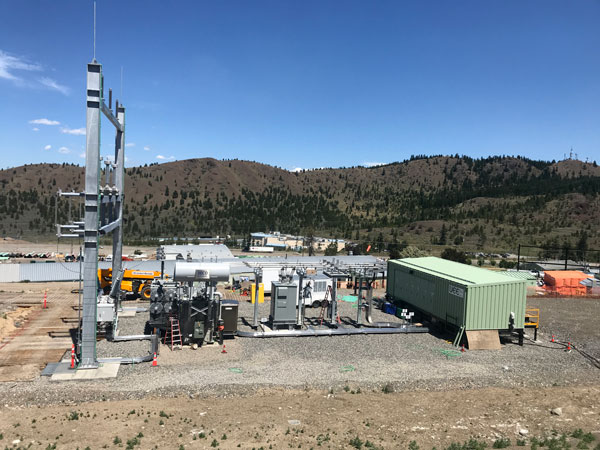 The project was to build new or upgrade electrical infrastructure for pump stations at 14 points along the pipeline route as capacity was increased with the twinning of the line over 1,150 kilometres from Alberta to B.C. 
A total of 12 new pump stations were being added.
The expansion will create a pipeline system where the nominal capacity of 300,000 barrels per day will rise to 890,000 barrels per day. 
"Logistics," said district manager Shawn Wyndham, PMP, for Western Pacific Enterprises Ltd., when he describes the challenges to complete the project.
The work was carried out at 14 different sites that ran from Edmonton to Burnaby with crews dealing with geological conditions, weather (floods) and fire as well as COVID.
To access areas, crews used mobile equipment while the tight working sites called for just-in-time deliveries.  
A key element was scheduling to ensure one phase of work was completed on time to allow the next crew to move onto site seamlessly.
Last year's series of atmospheric fronts wreaked havoc.
"It was an absolute nightmare," said Wyndham.