In a post-pandemic world, putting health and wellness as a focus in building design has become the new normal for many architects.
"I think it's starting to definitely impact more how we think about spaces, not just designing residences but doing child care and schools," said Adam James, principal with Ryder Architecture.
Ryder and Hotson Architecture Inc. worked together on the tə šxʷhəleləm̓s tə k̓ʷaƛ̓kʷəʔaʔɬ, or the Houses of the Ones Belonging to the Saltwater, a series of five residences on the University of British Columbia's Vancouver campus.
The buildings provide housing for up to 1,000 students and the Musqueam name was gifted to the University in 2021. The first of the residences opened last winter and saw students move in over the course of 2022.
Student wellness and creating a connected yet personal community were at the forefront of the design process.
"We've spent a lot of time trying to make the amenity spaces more than an afterthought. Really paying a lot of attention to those spaces and trying to set the bar a little higher and make them really livable," said Kai Hotson, principal with Hotson.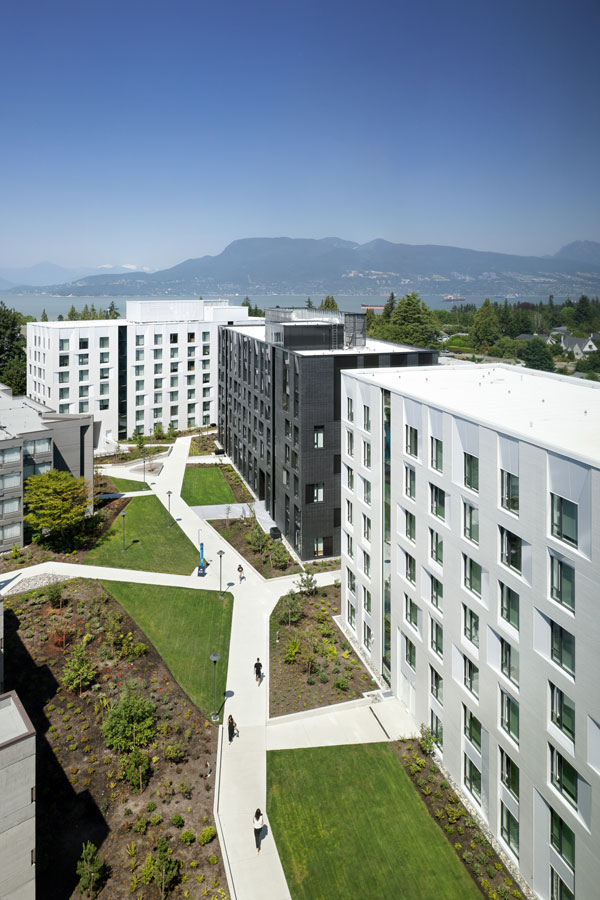 One of the challenges post-COVID is developing binary spaces, where they are at once communal and private.
"There's this idea of being together but apart at the same time. It's providing space that allows people to be a little bit wary and get close when they want to," said James.
This philosophy realized itself mainly in the residences' common areas.
"We wanted to give them tons of natural light and make them really communal spaces and not just squirreled away little study lounges," said Hotson.
"Trying to celebrate them and make them places for people to interact."
He said the communal areas are generally double height and that extra space can contribute to a level of comfort.
The shared spaces have lounges, study areas, fitness, music and dance studios as well as administrative facilities.
The residences were built to LEED Gold standards and have airtight envelopes which enables the heat recovery ventilation system to operate efficiently.
"When we did tests on one building we found it was pretty close to Passive House levels of performance, which is great," said James.
The HRV system also allowed the team to tackle another newer aspect of building design.
"Increasingly, unfortunately, it's more about building resiliency as well. How do we make buildings survivable of the impacts of climate change?" James said.
One example of how these new residences are more resilient to climate change consequences is through temperature control.
"We designed it for future climate change scenarios, such as the heat dome of 2021, and we used modelling to look forward to 2050 and 2080 climate scenarios that actually inspired UBC to add a cooling system to the HRV," James said.
"It allows us to cool incoming air on that 35 C day in Vancouver during a heat dome down to 14 C and supply it into the suites."
He said designing for sustainability and comfort go hand in hand.
"The better the building performance in terms of the sustainability standards, the more livable it is and internal environmental quality improves. It takes the peaks and troughs out of the external temperature.
"It's the way to go if you are going to design more sustainably and achieve really excellent thermal comfort."
The architects said one of the bonuses of designing for the University of British Columbia is that timelines can be faster as the university has its own governance structure.
"We know there's a housing crisis in the Greater Vancouver area, but suddenly there's a big demand for student housing, so it's important for them to deliver buildings quickly to address that," said James.
"UBC being its own jurisdiction really does offer advantages sometimes because it is a smaller team to work with and quite often you can make a phone call work collaboratively to achieve a building permit.'"
He said working in a jurisdiction where buildings can go from planning to construction in shorter time frames is refreshing. His practice has been working on a projects in Vancouver that have taken four years, from first principles to shovels in the ground.
Hotson said the project was a "true 50-50 collaboration" between the two firms.
"It worked out really well. We had a good working relationship and it went as smooth as you could imagine," Hotson said.
Follow the author on Twitter @JOC_Evan.