An all-female leadership team from the non-profit and design and development industries is behind a unique new housing project being built in Vancouver that will provide affordable, long-term housing for women.
Soroptimist International (SI) of Vancouver, a women-focused organization, intends to build a 13-storey concrete tower with 135 units on a 14,500-square-foot lot it owns at West 13th Avenue and Cambie Street.
There is an aging, two-storey rental building with 21 units on the property.
It will be demolished and replaced.
Purpose Driven Development, a real estate development and planning firm founded by Carla Guerrera, is the development lead on the innovative project. The company has been working on the venture since 2018.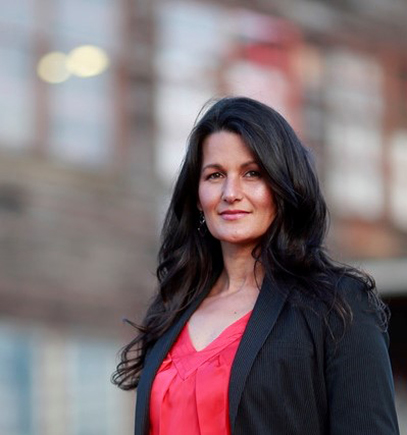 "It's the only project in North America that's providing housing for women by an all-woman team," explains Guerrera, CEO of the firm. "It's a really great project. The architects and the engineers, the arbourists, and every single person on this project are part of a huge team of all women. It's a very unique project team."
Most of the units in the tower will be apartments of various sizes for single mothers with children and senior women. A portion of the building will be for geared-to-market rental units for women in the workforce.
Because of its makeup, the team has brought a gender-based approach to all areas of design and development. Renderings show a sleek-looking structure with large windows, lots of space and curved white metal balconies that wrap around the building like horizontal ribbons. The structure will have a rooftop terrace with views of the city. A large lobby has been incorporated into the design to encourage social connections.
"The building feels very organic and flowy and is quite beautiful," says Guerrera. "It's stunning and one of the comments that we repeatedly get is that this building is too beautiful to be affordable housing. The design of the building is very intentional architecturally."
The structure will be a net-zero-equivalent building, in line with new requirements set by the City of Vancouver.
Shovels are expected to go into the ground in July. Construction will take about 36 months, with occupancy of the building anticipated in July 2026.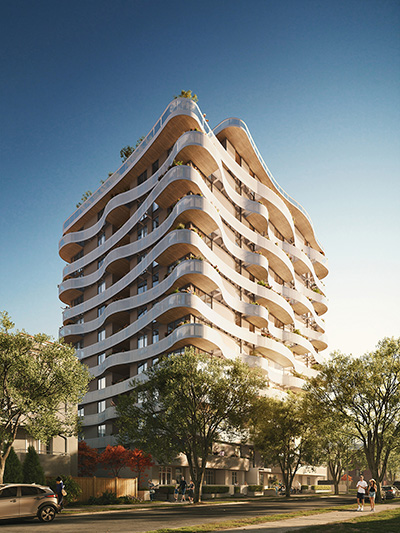 SI chose to redevelop the site because the lack of affordable housing in Vancouver, especially for women and those seeking escape from gender-based violence.
"Metro Vancouver has the highest rents and lowest vacancy rates of any region in Canada," says SI Vancouver board president and redevelopment chair Carla Busnardo. "Almost two-thirds of minimum wage earners in B.C. are women. High rents mean that safe and adequate housing is out of reach for many women, especially women parenting alone. The lack of housing options places women at greater risk of returning to or staying in an abusive situation. The housing crisis also makes women vulnerable to exploitation."
Busnardo says it makes sense to tear down the existing building because it's getting old and there are deferred maintenance issues.
"We want people to stay, live and build a future in our city. To meet the needs of our growing population and ensure our city remains vibrant and diverse, it's important that we have an affordable and varied supply of housing."
The existing neighbourhood consists of low-, mid- and highrise residential buildings, as well as medical offices. Nearby, there is a shopping centre and the Broadway City Hall Skytrain station is a few blocks north.
SI had been considering a redevelopment of the site for some time and brought in Purpose Driven five years ago to help guide the project.
"One of the roles we played early on was to look at their mandate as an organization which is to improve the lives of women and girls," says Guerrera. "We helped them create a vision and a mandate for their real estate assets and enabled the project to access the financing that it needed."
Because SI's focus is to help women, it was decided redevelopment of the site should be led by an all-woman team.
Ledcor is the general contractor on the project and has also brought together a team of women to work on the plans.
"They are really aligned with the mandate and trying to use this project, as we are, to amplify the leadership of women," says Guerrera.
Construction will not be without its challenges. The site is small and the footprint of the new building is quite large, so the team has adapted its methods.
"Because it's such a confined and constrained urban site with a large building footprint, we are actually having to excavate half the site and pour the foundation and then excavate the other half of the site and pour the foundation because access is that restricted," explains Guerrera.
Stormwater discharge is also an issue, so the development will feature a green roof to mitigate problems during heavy rainfalls and reduce the flow of water into the city system. A parking garage will be dug down one-and-a-half storeys. The parking garage will have to be properly waterproofed as the water table is high.