Vancouver-based Bridgemans Services Group is celebrating the 10th year of its marine-based project support business with the announcement it has started work on its newest "floatel."
The 650-bed refit adds another chapter to the firm's legacy of providing floating workforce accommodations for such global projects as wind farms, LNG construction and mining development.
Every project involves a unique set of circumstances, said company president Brian Grange, starting with the first ship rebuild a decade ago, accomplished in less than 100 days by two crews of 40 working on the high seas. That initial request came to provide sea-based accommodations for construction crews tackling the Kitimat modernization project on B.C.'s west coast for Rio Tinto Alcan.
A ship was secured and with the clock ticking, the first gang took apart the ship while sailing from northern Europe to the Panama Canal. Debris was disposed of and construction materials loaded, and then the second crew worked to assemble the 800-bed workforce vessel as it sailed up the west coast. After a one-week stop for finishing work in Vancouver, the completed floatel was delivered to Kitimat.
"I can tell you this much, no one believed we were going to be there on time, and the vessel arrived 10 days ahead of schedule," said Grange. "The project wasn't even expecting us.
"They got their instant accommodations, which met all the standards, and we had heads on beds within 48 hours of arriving."
As Grange tells it, a number of jobs, such as floatels for the Australian Gorgon LNG infrastructure build and the Labrador Voisey's Bay mine expansion, were similarly urgent. When the call came for the Gorgon project, Grange had already explored local health and safety, environmental, labour and other standards and Bridgemans was able to deliver 1,400 beds after a 35-day refit that employed some 600 workers.
Grange grew up working on floating fishing lodges off B.C.'s coast. Ten years ago it appeared the province would experience a construction boom of LNG plants and Grange and other investors hatched the idea of providing floating accommodations and other marine services to project builders.
It turned out the LNG boom did not materialize as projected but Bridgemans has been able to prosper by finding other clients around the world — in Mozambique, Norway, the Caribbean, the Philippines and elsewhere — and introducing other services using a second fleet of smaller work boats.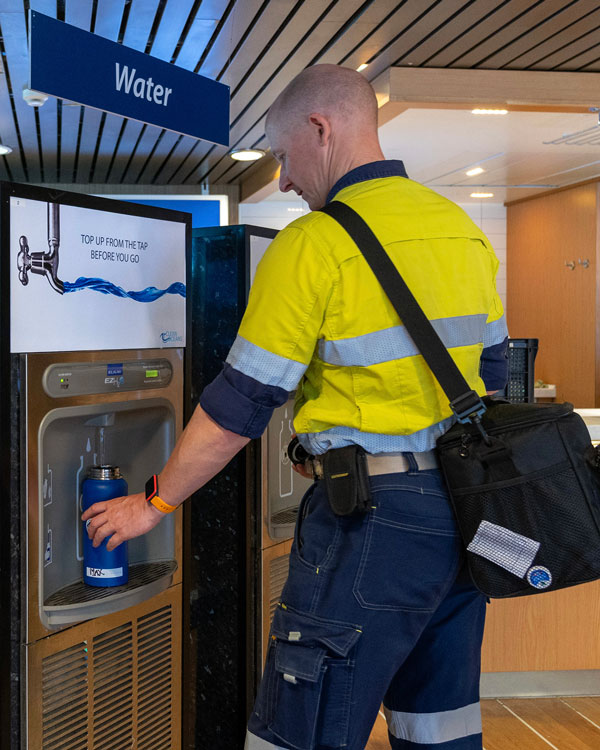 "Our business model is very, very clear. We're a marine services company that 100 per cent specializes in floatels. So the floatel division is the floatels and the integrated catering and hotel services.
"Over time, we realized that we had to start engineering the locations where we're going to moor the vessels. It just made sense that if we have the small vessel fleet, which is needed to service the engineering, we may as well start branching out into the marine construction side of things."
Among its accomplishments, a Bridgemans joint venture assisted in identifying the best location on the Kitimat coastline for a temporary roll-on, roll-off (RoRo) facility with stakeholders, then engineered and installed the RoRo along with a floating breakwater; Bridgemans Marine Transport's BridgeCat 45 and crew provided support during the cleanup of a historic fuel leak off B.C.'s Bligh Island; and Bridgemans partnered with Safetech Scaffold to build a temporary bridge over an existing tunnel at Kitimat to allow 35-tonne trucks to transport materials upstream.
Last month Bridgemans and another joint venture partner, the Haisla Nation, announced a new contract in Kitimat supporting construction of a 60-metre-long breakwater and four 45-metre-long tug berth floats by Pacific Marine Construction. The Haisla, Grange said, is a "great nation to work with."
Grange touts his firm's in-and-out services as less environmentally disruptive than land-based work camps. Workers housed in floatels have little impact on local housing and rental markets; there is no environmental degradation of land; and they are removed after construction ends, leaving no trace.
The ships used as floatels are either owned by the firm or they are chartered. Bridgemans has done a half-dozen retrofits, generally of ships obtained in northern Europe and refitted there, where there is local specialization.
The latest acquisition is the MV Isabelle, currently being refitted in Estonia to include 650 single cabins with private ensuites, a dining room, lounges, meeting rooms, WiFi, offices, a first aid clinic, 8,000-square-foot fitness facility, billiards and games room. Grange said the refits are on a whole other order compared to cruise ships, with customized water, wastewater and power systems.
"Our whole ability is to be able to deliver premium accommodations in remote locations, so we typically have to rework the water systems so that we're able to generate our own water in vast quantities," he explained. "We create our own ecosystem."
Follow the author on Twitter @DonWall_DCN.