Finding skilled personnel who can handle explosives for building implosions isn't easy but Winnipeg-based Rakowski Cartage & Wrecking has assembled its own crack-team of former military explosive ordnance demolition (EOD) technicians and active or retired police officers with bomb squad experience. 
"We have eight working across Canada," said Tristan Rakowski, grandson of demolition company founder Kazimir, who started with one truck and a dream in 1964 and was joined by son Fred as the company spread into Western and Eastern Canada.
Fred saw the need for implosion work and in the late l970s was importing retired EOD veterans from the U.S. However, by 2000 the company had accumulated its own explosion expertise and also moved into subcontracting to other demolition companies.
In 2021, Rakowski Cartage & Wrecking established a dedicated division known as Rakowski Energetics and Engineering to carry out contract and in-house explosive work in Canada.
"It has taken more than 20 years to build that trust," he said as Canadian companies now knock on its door.
"We have about 95 per cent of the market," he said as the company blends six decades of demolition expertise with explosive and engineering skills. 
Eight buildings were imploded across Canada this year by the division.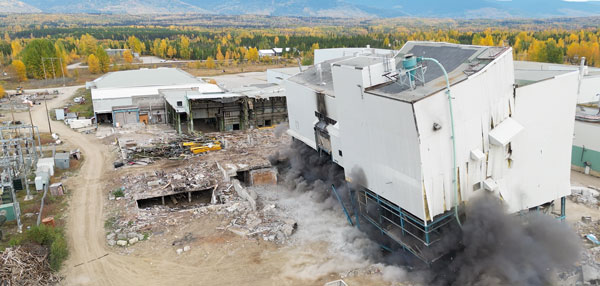 More recently, its U.S. registered company Rakowski Energetics stepped into the American market and began working with two U.S. explosive experts, one retired police officer and one active bomb squad member.
"Officially, we did our first job in August this year and we will be doing two more before year end," Rakowski said, with some large projects looming for 2024.
"We are honest with contractors," Rakowski said, adding only projects that don't lend to conventional demolition are considered.
Implosion is not a fast fit; large projects can take up to a year to assess, engineer and devise an engineered plan as well as get a third-party assessment.
The plan is reviewed "every step of the way," he said, adding it is thorough engineering "that keeps everyone alive."
The demand for imploding buildings isn't coming from the urban areas as it once did, as city governing bodies are concerned about dust plumes and infrastructure damage today. Industrial sites such as power plants and tall buildings are the bulk of the business. They tilt towards implosion when the logistics of sending individuals up to heights over 150 feet pose safety risks or structures are beyond the grasp of high-reach excavators.
Paul Pitzel, Rakowski's superintendent of explosives, blasting and vibrations, called his team "very unique" as the military and police expertise has been blended with Rakowski's long legacy of demolition knowledge.
Implosion techniques are different from conventional rock or mine blasting. There is no public training facilities in Canada offering such explosive training. There are several U.S. universities that offer short programs. 
Pitzel, who is also a serving member of the Saskatoon police bomb squad, studied explosive technology at the Missouri Science and Technical University. But, even such courses do not match the extensive training that bomb squad members and EOD technicians learn in the military or police training facilities, he said.  
"We have been able to bring all our knowledge and expertise together," he said, as the training police and military personnel undergo leads to a more diverse range of techniques that can be applied to building implosions such as the low-impact explosions used at the Port Alice pulp mill site to bring down a boiler tower and mitigate flying metal shrapnel.   
The eight individuals in Canada and the two in the U.S. all possess senior skill levels and work on a casual basis with Rakowski.
They are either retired or nearing retirement and do not want to work full-time, said Pitzel.
They are individuals who are safety-minded but also skilled at handling explosives.
"That is the beauty of our business model," he said, as they bring decades of expertise.
They are also detailers.
"Every charge has to be exceptionally well done with no shortcuts taken. There needs to be high degree of attention to detail," he said.
The community of companies with implosion capability is small.
"I'm not sure about South America or Africa, but there are less than a dozen companies that can take on large projects in North America and Europe and that is one of the prime reasons we are expanding into the U.S.," said Pitzel. "There is a glut of work and only a small group of blasters able to do it."