The construction team building Canada's first liquid propane export terminal on the West Coast in Prince Rupert is being watched by propane hungry eyes, especially those in Asia, as Calgary's AltaGas Ltd. has committed $450 to $500 million to opening this new facility in northern B.C. by spring 2019.  
"It is important to demonstrate that we are capable of developing this resource and construction is done exactly on schedule with the project," said Dan Woznow, AltaGas vice-president of energy exports. "It is relatively a small project (by global standards) but it is being watched in Asia as a new opportunity and resource to diversify its market."
Asia and India are both large consumers of propane for domestic uses such as heating and cooking while B.C. has an over-supply of propane. 
The AltaGas Ridley Island Propane Export Terminal, which Vopak (a Dutch storage tank company has 30 per cent interest in), is situated on an unused sulfur export site next to the Ridley coal terminal. The buildout involves a rail storage area off the existing CN Rail feeder line, rail car unloading equipment for 50 to 60 cars arriving daily, refrigeration equipment, a double-walled storage tank and a loading arm off the existing coal terminal dock where approximately 20 to 30 Very Large Gas Carrier (VLGC) vessels per year will transport propane to market.
The project will also develop BC Hydro infrastructure. The storage tank, central to the complex, can hold 96,410 cubic metres of liquid propane, enough to fill a VLGC vessel, resulting in 1.2 million tonnes shipped annually.
Ridley Terminal spokesperson Michelle Bryant-Gravelle said currently the port has four major terminals: coal, grain, container and wood pellets. Coal and grain are the only terminals with their own dock and AltaGas will share the dock with Ridley coal, from which it leases its current site. 
Woznow said AltaGas is serving as its own construction manager and general contractor, a model it has used in previous construction to ensure delivery deadlines. The company has signed a deal with Tokyo's Astomos Energy Corporation to buy half of its 1.2 million tonnes of liquefied propane gas production starting in first-quarter 2019. Japan alone has 24 million domestic households using propane.
AltaGas is relying on a number of subcontractors with expertise and a local workforce to bring the project on time and carve out a new B.C. market where LNG development has not materialized. Approximately 61 per cent of the workforce is local contractors, local employees and First Nations.   
AltaGas had LandSea Camp Services construct a camp able to house 250 individuals outside nearby Port Edward with employees bused to site.
"We have the camp operational but we are using as many local people as possible so the camp is under-utilized," said Woznow.
AltaGas and LandSea both have implemented strong First Nations programs. Currently there are 220 employees committed to the Ridley Island job site, with the labour peak happening in 2018; the site is averaging 120 employees. 
At project completion, approximately 40 permanent jobs will be created. AltaGas has also signed an agreement with the local longshoremen's union and Woznow said the propane terminal will provide the union with the experience of handling a new commodity.
The propane storage tank is the central aspect of the new terminal facility and is being built by Hyduke Energy Services, an Alberta company that is expanding in Western Canada, having recently acquired Western Manufacturing Ltd. of Hythe, Alta. and Avalanche Metal Industries in Kelowna, B.C.
Originally, the propane tank called for the construction of a double-wall steel tank, large enough to hold a shipload or 95,000 cubic metres of liquid propane, said Pat Ross, CEO of Hyduke.
However, because of Prince Rupert's inclement weather and winds, erecting huge sections of steel can be challenging, Ross said. It was decided to construct the interior tank of steel while the outside wall would be concrete. The work is being done by J. Phoenix EPC Management Group with West Fraser Concrete supplying the concrete. Six of the eight pours have been completed with the final two pours occurring by year end. Approximately 12 million litres of concrete will be used – enough concrete to fill five Olympic sized swimming pools.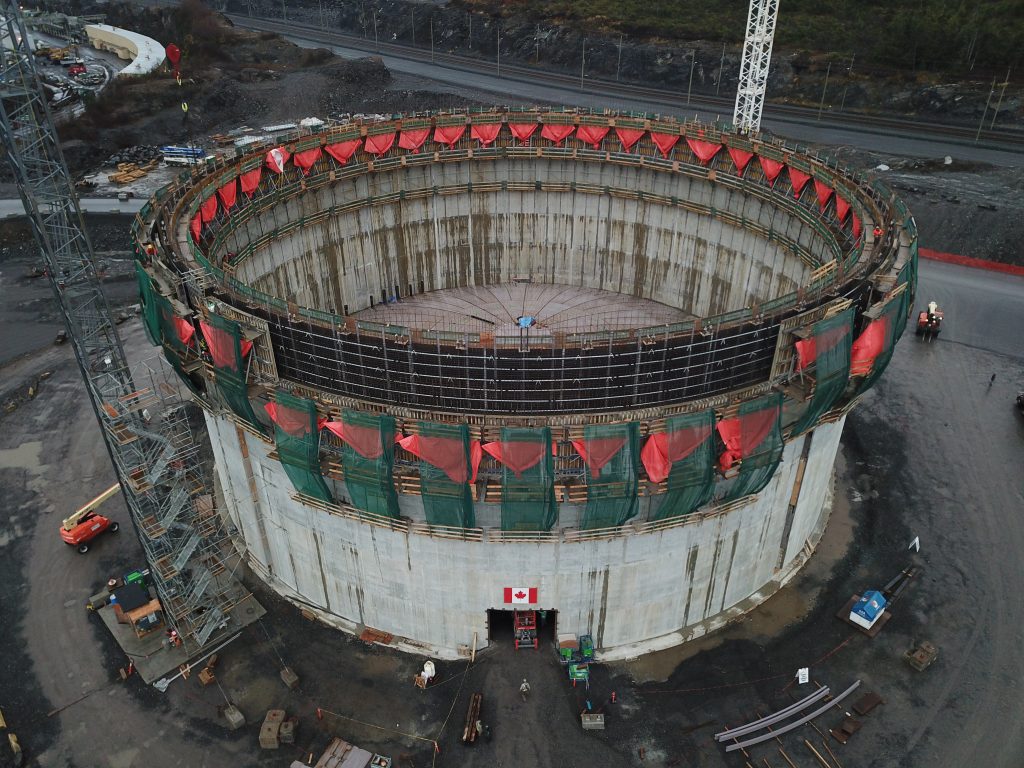 Ross said his company moved onto the site and set up a steel fabrication shop to do the work. While the concrete work is being undertaken, the shop is currently fabricating 60 segments that will form the roof. "The roof will weigh 1.5 million pounds," Ross said. 
The dome-shaped roof will be "air lifted" into place in January, he added.  
Ross describes the roof construction, which is occurring inside the circular concrete walls of the tank, as placing segments of half an orange. They form a small dome with the centre portions elevated and the lower end just off the floor level. When the complete roof is formed, air pressure is then used to lift the roof up the walls to the top and cables guide it along the route.
"There is a steel ring at the top and we weld the roof onto the ring," he said.
Once in place, another steel ring, like a collar, is placed inside the roof.  With the roof in place, construction crews are in an enclosed environment and can safely erect the steel sections of wall that will make up the inside steel tank. 
"We have done a lot of grain elevators this way," said Ross, but this is the first liquid propane storage unit the company has built and work in November was on-schedule and on-budget.
Fabrication of the inner steel tank is slated to begin in 2018. 
Other team members focused on the propane tanks include Gygax Engineering Associates of Vancouver and Technodyne International, a company that has expertise in process engineering and low-pressure storage tanks.
Once completed, with the roof, the tank will stand 45 metres in height.
Contractors and suppliers that are contributing to the buildout and site work include: Britco, United Rentals, Rupert Disposal, NCSG Crane & Heavy Haul Services, Storey's, Equipment Bandstra, Acklands-Grainger, Adventure Paving, Pacific Flagging, Leaverite Drilling & Blasting Ltd., Pacific Northwest Electric, NAPA, Tyee (Rona) Building Supplies, Home Hardware, NIS Northern Industrial Sales, Praxair, Saanich Plumbing & Heating, Allen's Scrap & Salvage Ltd. and Kye Contracting Ltd.
While the city and port of Prince Rupert will benefit from the new terminal, the district of Port Edward has also benefitted. The rail cars will go through the town, said district mayor Dave MacDonald and AltaGas has paid to upgrade the rail crossing in the town.