WINNIPEG — The Canadian Environmental Assessment Agency has launched a consultation process that will determine whether a federal environmental assessment (EA) is required for the proposed Lake Manitoba and Lake St. Martin Outlet Channels Project, located in the Interlake region of Manitoba.
The agency is asking for comments from the public on potential environmental consequences of the project, which is intended to create a new flood control management system in the province, a recent media statement said. Comments are requested by Feb. 12.
The project would be the largest construction project undertaken by the province since the floodway improvements a decade ago, the provincial website indicated. A timeline indicates if environment approval is obtained this year, construction could begin in 2019.
As proposed, the Lake Manitoba and Lake St. Martin Outlet Channels Project would consist of two new diversion channels each approximately 23 kilometres long: the first running northwards from Watchorn Bay on Lake Manitoba to Birch Bay on Lake St. Martin, referred to as the Lake Manitoba Outlet Channel, and a second running northeast from Lake St. Martin to Lake Winnipeg, south of Willow Point, called the Lake St. Martin Outlet Channel. The project would also include the construction of a combined bridge and water control structure, a 24-kilovolt distribution line and the re-alignment and construction of provincial highways, municipal roads and three bridge structures, the website outlines.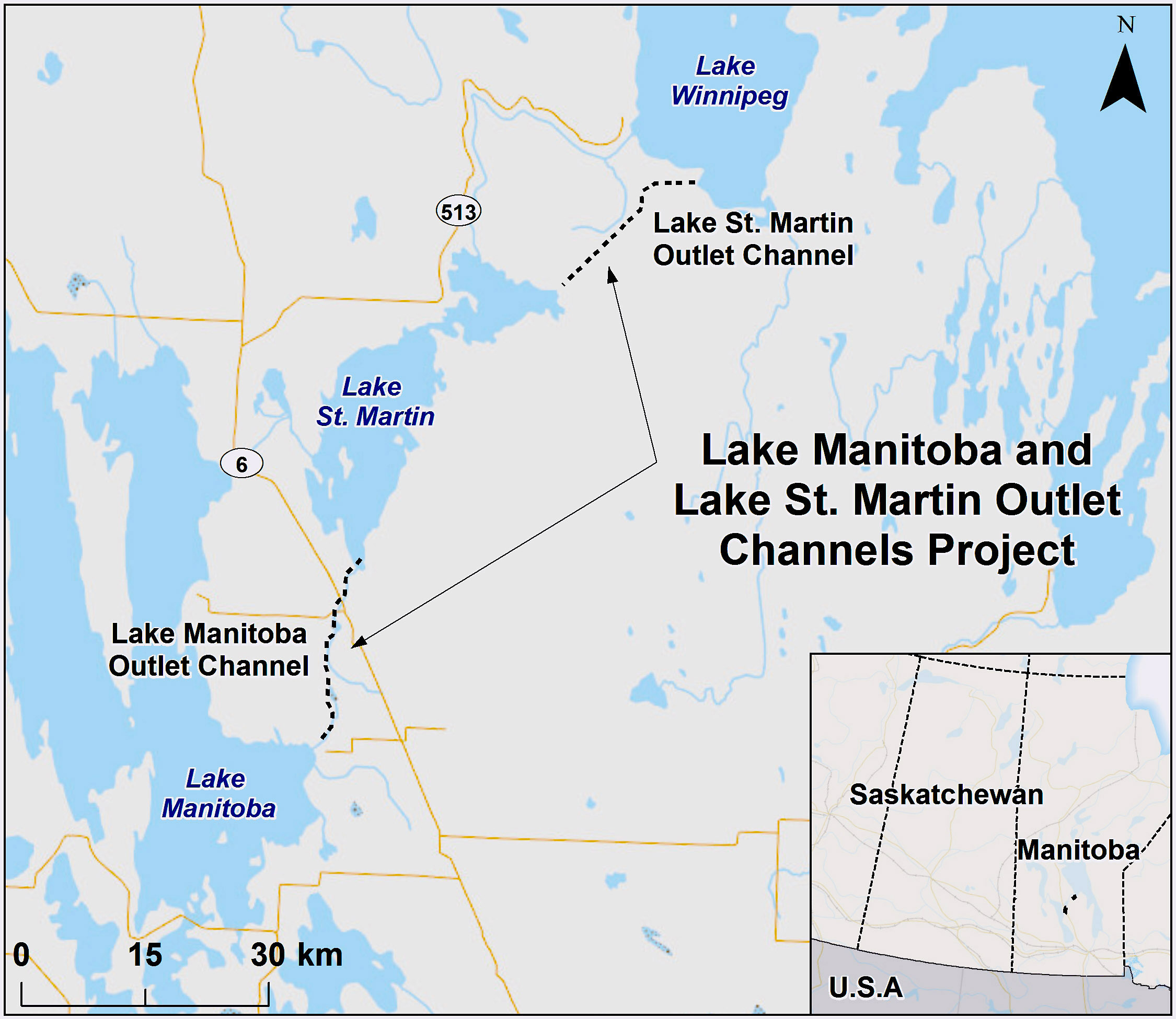 Flooding in recent years highlighted the need for a better flood control system in the province, notes the website.
The project proponent is Manitoba Infrastructure.
The Assiniboine River and Lake Manitoba Basins Flood Mitigation Study (2016), prepared by KGS Group, recommended that the Lake Manitoba outlet channel be constructed to accommodate flows of 7,500 cubic feet per second; and the Lake St. Martin Emergency Outlet Channel be made permanent and enhanced to accommodate flows up to 11,500 cubic feet per second.
A First Nations website said the Manitoba government has been consulting on numerous aspects of the project with 14 First Nation communities in the Interlake region.
The environmental agency said it would post its decision on its website.
Joint federal and provincial funding for the project, pegged to cost $500 million, was announced in 2015.