British Columbia's construction industry is reacting positively to news that, with a final investment decision, one of Canada's biggest-ever projects is about to become reality.
LNG Canada, a joint venture composed of Royal Dutch Shell, PETRONAS, PetroChina, Mitsubishi Corporation and KOGAS, announced their final investment decision to build a massive $40-billion liquefied natural gas (LNG) export terminal in Kitimat, B.C. on Oct. 2.
"The final investment decision taken by our joint venture participants shows that British Columbia and Canada, working with First Nations and local communities, can deliver competitive energy projects. This decision showcases how industrial development can co-exist with environmental stewardship and Indigenous interests," LNG Canada CEO Andy Callitz said in a statement.
After several high-profile projects have been stalled or cancelled, the LNG Canada announcement was welcomed by the industry.
"It seems like a long time coming," commented British Columbia Construction Association (BCCA) president Chris Atchison. "It's a monumental day for British Columbia and the BCCA is proud to be a part of it."
The BCCA facilitated employees looking to participate in LNG Canada's Trades Training Fund, a $1.5 million initiative to cover the training costs of foundation or apprenticeship training for those interested in developing skills needed for in-demand trades.
"We were also involved in the LNG Connect program in Terrace and Kitimat to keep the local population employed in the local construction economy in order to keep their skills relevant," Atchison said.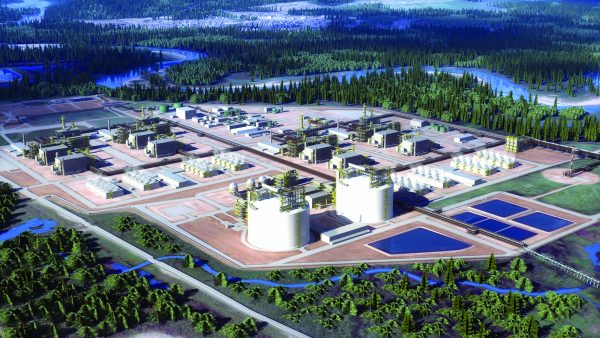 "Now that the final investment decision has come in, LNG wants to hire local and hire from the 25 First Nations in the region."
Canadian Association of Petroleum Producers (CAPP) executive vice-president Terry Abel said his organization is pleased LNG Canada decided to proceed with the project.
"It's really important to see Canada's resources available in the global market," Abel said.
"The biggest difference it makes for Canadian producers is that right now we have our gas markets constrained to North America, which means we're constrained to North American prices."
The Kitimat project could also boost investor confidence, Abel said.
"The competitiveness of our industry is determined by a number of factors, but a project of this size can help. The project has been approved and went through the regulatory and environmental assessment process some time ago. It's important for Canada, because it shows how the federal and provincial governments can work together," he said.
Independent Contractors and Businesses Association (ICBA) president Chris Gardner said the project is a win for the province and Canada but should not be an isolated event.
"The goal now is to ensure that LNG Canada is not an outlier – we need more major projects to attract the capital and develop the talent we need to support our long-term prosperity," Gardner said.
He pointed to the ICBA's own #Get2Yes campaign promoting building an LNG industry in British Columbia as well as the association's efforts to get the federal government to overturn steel tariffs on imported steel components necessary to building an LNG facility.
Progressive Contractors Association of Canada British Columbia regional director Rieghardt van Enter stated the Kitimat project is "community benefits agreements done the right way."
"It can be done right, without a labour monopoly. They really are trying to get as many workers as possible," van Enter said, citing efforts to hire local, as well as encouraging employment of First Nations workers, women and others who have not traditionally been part of the construction industry.
"It's going to be a tremendous shot in the arm for both the economy and for workers. LNG Canada and other stakeholders took a long-range view on this, especially regarding labour supply which is why they want to cast the net as far as possible. But ultimately they'll start with a 'locals first' policy and move out as the circle expands from there."
Van Enter noted LNG Canada is also actively looking to bring women into the trades.
"LNG Canada has suggested 10 per cent of workers on the project should be women working in the trades. That's an aspirational goal, but given women currently make up four per cent of the construction industry, that's phenomenal," he said.
BC Building Trades executive director Tom Sigurdson also voiced support for both John Horgan's NDP government for their role in bringing the project to fruition and pointed to his own organization's role.
"The BC Building Trades was appointed to the premier's LNG Working Group in 2013 and has been doubling down on our efforts to ensure our province has the skilled workers the industry requires, and that British Columbians have the skills to be first in line for the jobs on LNG projects. This investment signals a commitment to local workers and apprentices," Sigurdson said.
Atchison noted while the Kitimat project is a win, it will place increased demand on an already strained labour pool.
"We're going to have to work with the government and all stakeholders to make sure we have proper labour mobility. We want people up there, with housing and support in place," he said.
The project is the result of work both by the previous Liberal government and the current NDP government, he added.
"It represents a continuation of the Liberal government's legacy, and it's nice to see bipartisan support," he said.
International Union of Operating Engineers (IUOE) Local 115 also voiced its support for the project and its positive effect on trades training in British Columbia.
"A project of this size has an opportunity to play a key role in training apprentices and trainees," a IUOE Local 115 release said.
"The skills learned on this project can lead to a lifetime of success for a career in the trades."
Canada Manufacturers and Exporters (CME) expressed enthusiasm for the announcement, hailing it as creating significant opportunity for manufacturers in B.C. and across Canada.
"Energy remains a key component of Canada's export profile and this project will provide a significant boost to our overall economy and for manufacturers to take part in the supply chain. The potential economic benefits go well beyond the specifics of this project," said CME BC divisional vice-president Andrew Wynn-Williams.