As construction industry leaders in Alberta are busy working to weather multiple health and economic storms, they were heartened by news that the Keystone XL Pipeline project will be moving forward. 
"Keystone going ahead restores some faith that the business momentum will come back. Obviously it doesn't deal with the current issues," said Bill Black, president of the Calgary Construction Association (CCA). "We are not looking at an instant relief to some of the austerity that is happening. But these are the kinds of projects we know we need to restore jobs and investment confidence in the country, the region and the province if we are to have any chance of seeing business recover."
The Keystone XL pipeline is moving ahead thanks to a $1.5 billion investment agreement from the province of Alberta. Government officials announced they finalized an agreement with Calgary-based TC Energy Corporation to provide financial support to accelerate construction of the Keystone XL pipeline starting April 1. This investment will include $1.5 billion in equity investment in 2020 followed by a $6 billion loan guarantee in 2021. The project is expected to be completed and in service in 2023.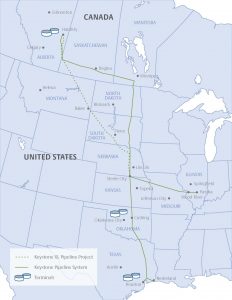 "We have the addition of a post-COVID world to what we were already working through," said Black. "It's positive news, it's money, it's jobs, it's investment, it's work, it's an opportunity for the energy industry to start flowing. The world price of oil is in the toilet, but that too in time will recover."
While Black is encouraged that the government is responding, many members are confused if help applies to them or if it will arrive in time. 
"We are trying to keep up with government announcements, we are trying to help people stay somewhat up to speed on the right practices and the emerging options they may have," said Black. "The government is responding to the crisis, but nobody understands the qualifications for the wage subsidy. It is great to announce these things, but people's needs are instant.
Black explained that one of the association's members, a consulting group, put their entire team on temporary layoff because revenue dried up completely.
"You have people whose entire businesses are on pause," said Black. "They need that relief now. The granularity of 'how' is not keeping up with the announcements of 'what'." 
Alberta's unions also praised the pipeline news.
"The Building Trades of Alberta is pleased the provincial government will invest in the Keystone XL pipeline, which will provide thousands of jobs for Albertans in the unionized skilled trades and others," said Terry Parker, Executive Director, Building Trades of Alberta, in a press release. "Over time, it will also add billions to government revenues for important services like health care, education and more.  
Parker added that the investment signals strong support for the province's energy industry and the workers who rely on it to feed their families. He called it a much-needed boost of confidence and demonstrates the continued need for a safe, stable and secure energy supply.
Canada's Building Trade Unions were also encouraged by the news but noted worker safety must be maintained.
"On this job, like any other work site right now, health and safety must remain at the forefront with all necessary precautions being taken surrounding the COVID-19 pandemic," said Robert Kucheran chairman of Canada's Building Trades Unions, in a press release. "Canada's Building Trade Unions will work hand in hand with our contractor partners to ensure safety protocols are met and our members, and the broader community, are kept safe."