A sparsely populated area of fields, farms and cattle-grazing land southwest of Lomond, a tiny village of about 170 people in southern Alberta, will soon be home to one of the world's largest solar projects.
The $700-million Travers Solar Project in Vulcan County southeast of Calgary and north of Lethbridge, will be the largest solar farm ever built in Canada, transforming the region into a showcase for renewable energy.
The long-awaited project, being built on a sprawling 3,300-acre parcel of land, is the second major renewable energy project in the region. Seven years earlier, Blackspring Ridge, a $600-million venture featuring 166 wind turbines, was built in the same county. At the time, it was the largest wind project in the country.
The new venture is developed by Greengate Power Corporation, a renewable energy company based in Calgary, and funded by Copenhagen Infrastructure Partners (CIP), a fund management company with seven energy infrastructure funds under management.
"The project is a true win-win for both the environment and the economy," says Greengate chief executive officer Dan Balaban. "It creates long-term economic benefits in the form of local jobs, significant contribution to the municipal tax base, payments to landowners and a community fund."
The company began field studies for the project in 2017. The studies covered wildlife, vegetation and habitat, as well as wetland mapping which was completed the following year. Results were submitted to Alberta Environment and Parks for review and the project got the green light from the Alberta Utilities Commission in 2019.
Greengate worked with CIP to fund further development, construction and operation of the project in February 2020. Originally, the project capacity was set at 400 megawatts (MWs) but it was raised to 465 MW in 2020, enough electricity to power 150,000 homes annually over a period of 35 years.
The project will offset more than 472,000 tonnes of greenhouse gas emissions every year.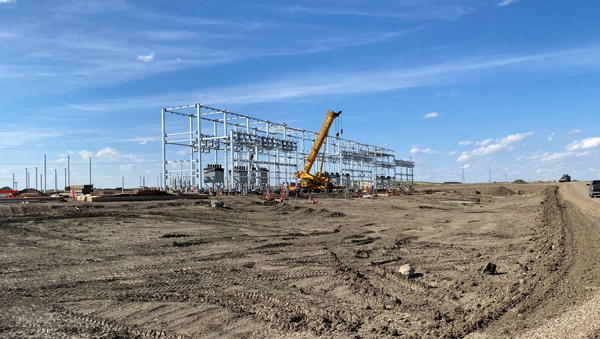 Shovels went into the ground this past spring. Since then, heavy equipment operators have been preparing the expansive site and putting posts into the ground to set the foundation for the racking and panels.
The project involves installing the solar photovoltaic (PV) modules, power conversion stations, an electrical collection system, access roads and construction of the Little Bow Project Substation to connect to the Alberta Interconnected Electric System.
"The project will make use of the latest in solar PV technology with bifacial solar modules and single-axis tracking which maximizes production," says Balaban.
PCL Construction is in charge of the work and expects to have the project operational in late 2022. The project will create about 500 full-time jobs during the peak construction phase, including electricians, welders, heavy equipment operators and general labourers, and up to 10 full time positions when the site is operational. The contractor is looking to the local community, where possible, for trades.
Approximately 1.3 million solar panels will be installed at the site. Jinko Solar Canada will be supplying the panels.
Amazon technology company of Seattle has signed an agreement to purchase nearly 400 MW of power from the project
Southern Alberta has become a mecca of sorts for companies seeking to install renewable energy projects. Greengate, a privately held company, has built several large wind and solar installations, including a 300-MW wind farm about 50 kilometres north of Lethbridge and a 150-MW wind farm east of Stettler.
The company has a growing portfolio of renewable energy projects and has developed close to one gigawatt (GW) of operating or in-construction projects in Canada. The projects represent more than $1.6 billion of investment and are expected to produce enough clean energy to power more than 350,000 homes.
Greengate also has close to two GWs of solar and battery storage projects under development across various sites in southern Alberta.
According to Balaban, the province has become a magnet for solar projects and investment in renewable energy projects because it has abundant sunshine, the fact carbon pricing is coming, and the power generation market is deregulated which allows energy users to choose from multiple energy providers.
Alberta is now the fastest-growing market for solar energy in Canada. Many towns in the southern part of the province have already, or are planning, to commit to net zero.
The Business Renewables Centre of Canada says 2021 is already breaking records for corporate renewable energy deals and Alberta is leading the way. Every one of the deals to date this year means shovels in the ground for Alberta.
At of the start of 2019, Alberta was generating only 15 MW of utility-scale solar power. At the halfway mark of this year, however, solar capacity was at 877 MW, almost 60 times what it was only three years ago.
Deals announced since the start of 2019 will foster around $2.5 billion in new renewable energy investment and create more than 3,000 construction jobs in Alberta.
Currently, Alberta has more than 6,500 onsite solar installations for a total of 90 MW of capacity, as well as seven operating utility-scale solar farms, totalling 174 MW of capacity.
Alberta is now the fastest-growing wind energy market in Canada with several hundred megawatts of projects currently under construction or getting ready to start construction. The province ranks third in installed wind energy capacity in Canada with 1,815 MW, behind Ontario (5,436 MW) and Quebec (3,896 MW).