British Columbia's construction sector is tackling the challenge of climate change and thinking differently about the environmental impact of materials they specify. They're looking for ways to change from a 'take-make-waste' approach to a more circular economy. When designed with this in mind, buildings, like biological processes themselves, can have a more regenerative life cycle. And naturally renewable products, such as wood, have an important role to play in this shift to more enduring, climate smart design.
Circular entrepreneurism sparking change
"We've been committed to the circular economy since our company's inception. That's really the basis of our dual enterprises … This year, we're already diverted over 5,000 tons of wood and other materials, so it's quite substantial. We've expanded into the commercial deconstruction game. We're completely all in on the circular economy," Adam Corneil, CEO of Unbuilders and Heritage Lumber.
Unbuilders, as its name suggests, take timber buildings apart to minimize waste. Its sister company Heritage Lumber is a reclaimed wood brokerage specializing in old-growth Douglas-fir and western red cedar that is salvaged from old buildings, barns, and structures.
Corneil is an example of a growing number of eco-conscious entrepreneurs in the province looking to change how we construct and deconstruct our buildings. This includes a number of BC-based construction projects, along with their design teams, taking full advantage of prefabricated light-frame and mass timber construction. They want to see a shift to more regenerative, less wasteful methods whether it's single-family homes, multifamily projects, or even larger public and commercial infrastructure.
What is a circular economy?
But what exactly is meant by the term 'circular economy'? While the principles are not new, the term reflects momentum within the industry to more seamlessly connect sustainable building efforts, according to Paul Shorthouse, an economic development expert who has been at the forefront of advancing the green and circular economy for over a decade. He serves as managing director for Circular Economy Leadership Canada and led the completion of the recent report Circular Economy & The Built Environment Sector in Canada.
"The circular economy is about shifting away from the linear model of inputs and outputs. It's about extracting raw resources with the entire life cycle in mind. It's thinking in a more regenerative way about how you can build products and assets so they last longer, are more durable and repairable over time. It ensures we get the full value out of those resources at the end of their life. It's about coming full circle and getting materials back into the supply chain for secondary or tertiary use," Shorthouse explains.
BC's home advantage when it comes to building a circular economy
Wood, bamboo, hemp, straw, and other agrifiber are naturally renewable, reusable, and biodegradable materials. From this view, sustainably harvested and manufactured naturally renewable products fit well into the circular economy—something BC has right in its backyard.
 "Timber offers some significant advantages in the circular economy. Wood products have an environmental benefit from being able to sequester carbon. They don't take a huge amount of input energy to produce—trees are grown by sunlight and manufacturing can be powered using renewable biomass. As a lighter material, it can cut down on transport emissions. And BC has an advantage with a supply of sustainable wood products here at home," Shorthouse further explained.
Designing timber buildings for easy assembly, disassembly and reuse
To fully realize a circular economy, and timber's potential contribution, experts point to the growing need to boost optimization across the entire industry, with each player in the supply chain working together with greater integration. This includes thinking of buildings as a kit of parts that can be assembly and disassembly for future use.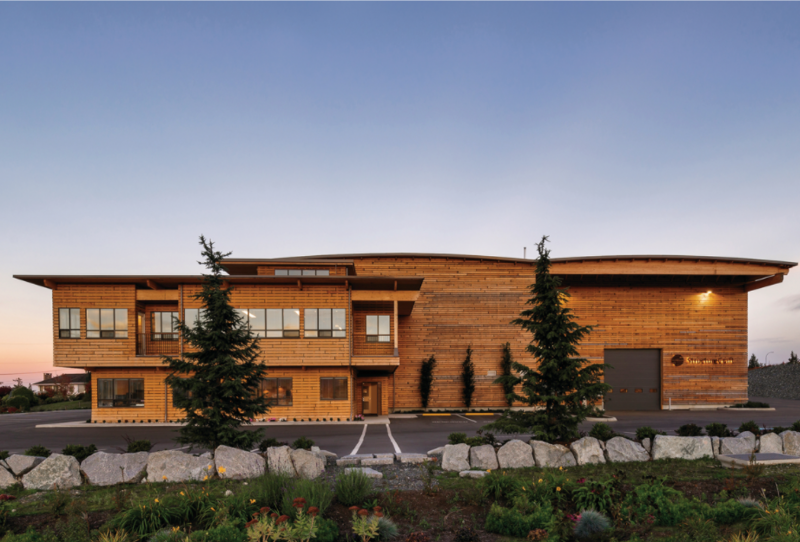 StructureCraft, a structural engineering-led firm creating innovative timber structures, did just that. The company's 4,700 square-metre Abbottsford-based manufacturing facility combines a variety of mass timber and engineered wood products, including dowel-laminated timber (DLT), nail-laminated timber (NLT), and glue-laminated timber (glulam) to form an entirely demountable structure.
"We believe there's a more efficient and effective way to construct the industrial buildings of the future using these [prefabricated mass timber] methods. The new facility was designed to explore what could be possible using wood for a simple industrial building with a tight budget," said Gerald Epp, president and chief engineer at StructureCraft.
In just one week, all four walls and the roof were installed and the company estimates about the same time for deconstruction. Buildings like this makes it easy to expand or move the facility to a new location.
Over 700 kilometers north of BC's lower mainland, in Prince George, the Wood Innovation and Design Centre showcases a deep focus on repeatable, reusable, prefabricated timber construction. It features wood floor slabs made of overlapping panels of 3- and 5-layer cross-laminated timber (CLT) joined together with adhesives and a mesh connector, reducing the amount of concrete needed and making much of the structure easier to disassemble and reuse. In fact, the vast majority of the building—including CLT panels and glulam timber columns and beams—can be disassembled at the end of its functional life, and the wood products used in a future structure.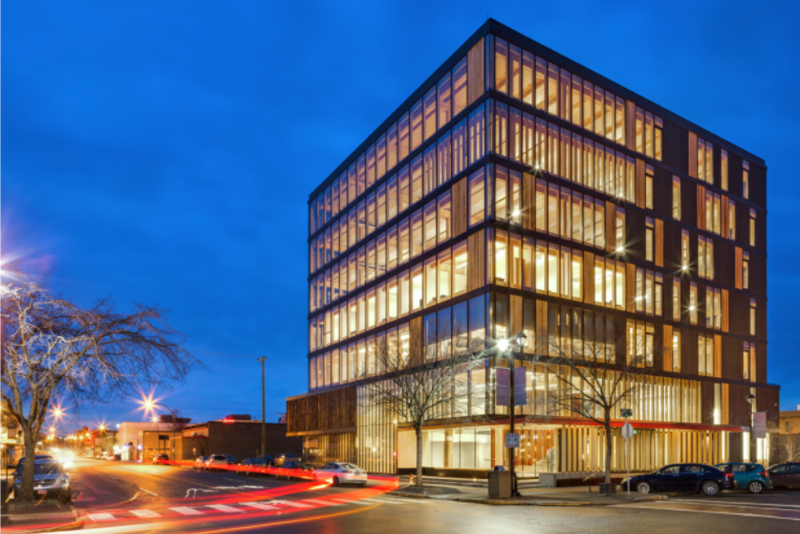 Optimizing BC's wood construction for a more circular economy
Along with designing for disassembly and reuse, a growing number of BC-based projects, along with their design teams, are helping advance the optimization of mass timber construction. This includes just-in-time construction and digital technologies.
 "Optimization tools like building information modelling (BIM), modular construction, the circular economy, and mass timber—all of these components are incredibly synergistic," said George Patrick Richard Benson, Manager, Economic Transformation Decarbonization & the Just Transition at the Vancouver Economic Commission.  "It makes it easier for a building to be disassembled or adapted to new uses, and enables an entire industry to collaborate more effectively," he adds.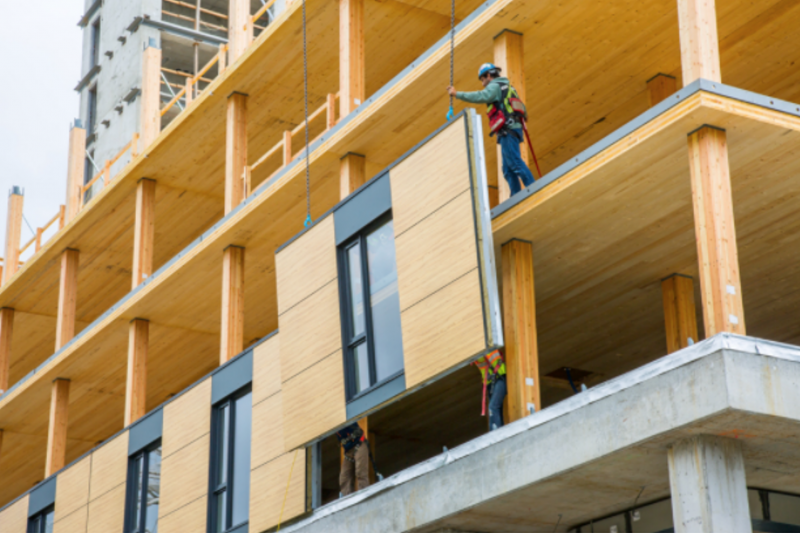 BIM and Virtual Design and Construction (VDC), along with Digital Twins (DT), played a central role in the design of one of the world's tallest wood buildings, Brock Commons Tallwood House. From design modelling through to construction modelling for onsite assembly, the design team leveraged the full capacity of these tools to test, troubleshoot, and ultimately streamline the entire construction process end-to-end.
A number of other mass timber projects are also showcasing what is possible when it comes to optimization of prefabricated timber construction. 1 Lonsdale Avenue Commercial Building, constructed entirely out of CLT and glulam, made use of advanced BIM and virtual design tools helping to mitigate the challenges of a zero-lot line. When it comes to the circular economy, the project shows how renewable building materials—in this case CLT—can be used as a firewall in place of more energy-intensive materials.
BC-based companies Naikoon Contracting Ltd., Hemsworth Architecture, Timber Engineering, MCW Consultants, and Peel Passive House worked together to fully leverage the benefits of these digital tools. Team members credit new, more collaborative methods as critical to the collective success of such mass timber projects.
Coming full circle: Where do we go from here?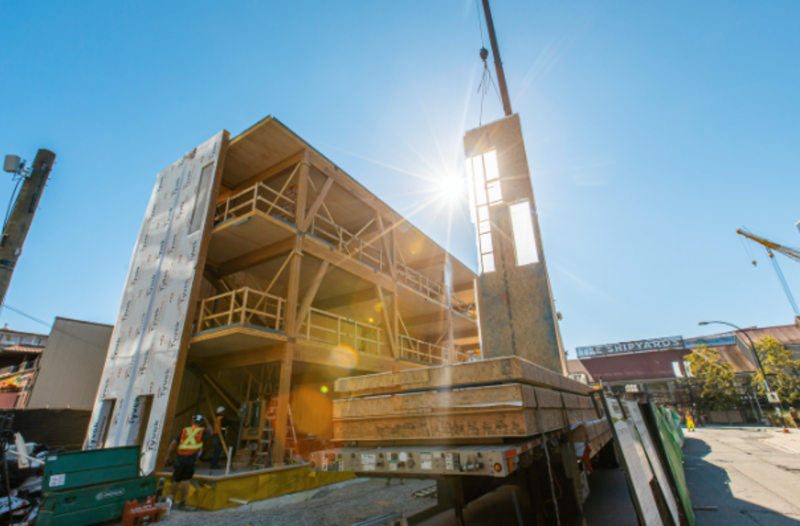 "The economic incentive is becoming clear. With the old model of 'take-make-waste' we're leaving money on the table. We need to fix that and therein lies the opportunity with a circular economy," said Benson
And made-in-BC timber products have an important role to play and momentum is mounting, according to Benson. Continued focus is needed on waste reduction; optimization; digital technologies; and design for durability, disassembly, and reuse.
"The thing about the circular economy that's so exciting here in BC is we have strong expertise in wood and mass timber and there is some real tangible potential for positive change. We have the capacity to advance mass timber potential and ultimately contribute to a more circular economy overall. There is something really coming alive right now about the circular economy in our province, particularly in the buildings and construction world. We've just got to keep our eye on that prize."
This is an Industry Special by naturally:wood in collaboration with ConstructConnect® Media.  To learn more about naturally:wood, visit www.naturallywood.com.