CALGARY, ALTA.—Pembina Pipeline Corporation and global investment firm KKR have agreed to create a joint venture that will merge their respective western Canadian processing assets.
Pembina will have 60 per cent ownership of the venture, which is called Newco, while KKR's global infrastructure funds will make up 40 per cent.
Pembina will serve as Newco's operator and manager. Included in the transaction are Pembina's field-based natural gas processing assets, the Veresen Midstream business, which is currently owned 55 per cent by funds managed by KKR and 45 per cent by Pembina. Veresen's business is carried on by Energy Transfer Canada (ETC) which is owned 49 per cent by funds managed by KKR.
Concurrently with closing of the joint venture transaction, Newco will also acquire Energy Transfer LP's remaining 51 per cent interest in ETC. Collectively, the ascribed value of these transactions totals $11.4 billion, excluding the value of assets under construction.
According to Pembina, the agreement has several major benefits. It combines three complementary platforms to create a competitive western Canadian gas processing entity, generates $700 million in cash proceeds and creates efficiencies.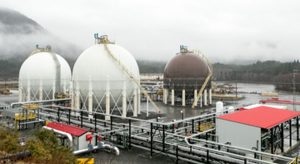 Pembina noted it has owned and operated natural gas processing infrastructure in Western Canada since 2009 which gives it a long-term, fee-based cash flow stream.
As the energy sector has evolved, the opportunities available from bespoke partnerships between public and private infrastructure owners have become more compelling, noted Pembina, particularly in the natural gas processing business.
"By partnering with KKR in Newco, Pembina intends to extend its strong operating foundation, focused on safety, reliability and operational excellence, to a larger asset base across Western Canada," said the company in a media statement. "Pembina will realize greater exposure to growing NEBC natural gas volumes in a capital efficient manner through increased ownership in the Veresen Midstream assets."
The company added the transaction is structured to create solid alignment between Pembina and KKR. It stated the combination of three adjacently located processing platforms will enable the joint venture to realize incremental efficiencies and economies of scale.
Pembina will also receive strategic benefits through the diversification of its natural gas processing asset suite and customer base.
"Pembina has enjoyed a strong relationship with KKR as a partner in Veresen Midstream over the past four years," said Scott Burrows, Pembina's president and CEO, in the release. "We work well together and share a mutual desire to invest capital and generate attractive returns. The formation of this new joint venture is a natural extension of our relationship, unlocks value for Pembina and creates another growth platform. We are extremely pleased to be creating this exciting new company with KKR to drive real synergies and deliver a wider suite of commercial opportunities."