Worldwide — and in Canada — there is a fledgling architectural movement that is pushing the envelope of green construction beyond simply structure or mechanical elements and right into the bushes in a bid to moderate climate change impact.
"We have to change the way we live," said Joseph Passa, OAA, MRAIC, LEED AP of Passa Architects in Windsor, Ontario, an advocate of green construction but with aspects such as vertical forest building design, a term that emphases the use of plants as a facade. The trend builds on the concept of green roofs and walls.
Vertical forests are also part of the biophilic design movement which attempts to reconnect individuals with a natural environment, said Vancouver's Architek Group principal Ron Schwenger, especially in an era of climate change and growing urban densification.
Glass and concrete building exteriors, reflecting and absorbing heat, are not proving conducive to comfortable living in an era of global warming. Large cities are experiencing the "heat island effect" as they become hotter than surrounding areas, Schwenger said. It is a concern voiced by the United Nations that growing urban populations are also creating large brown spots eroding natural habitat and degrading living conditions.
Both Passa and Schwenger see the use of plants as a solution to many of the environmental ills that densification and climate change are landing on Canadian cities.
In downtown Windsor, Passa is moving forward on the vertical forest concept as his firm is in the initial planning phase of two twin towers that will provide 544 rental units and incorporate hundreds of trees and shrubs on the building's exterior. Passa is looking to start construction for a group of investors in mid-2023.
Passa views such design as restoring some of the urban area's natural setting, providing visual benefits as vegetation changes colours or blooms during seasons, supplying critter habitat, but also battling climate change.
"Vertical forests can definitely play a role in cooling out the buildings, freshening the air (absorbing CO2 and releasing oxygen), and providing habitat for birds, insects and butterflies," he said.
The Windsor complex is not Canada's first proposed vertical forest complex, he said, adding that Toronto projects are using the concept. Brian Brisbin of Brisbin Brook Beynon Architects has been an early advocate of vertical forests with a development project proposal dating back to 2018.
Canada has been slow to adopt the trend of massing vegetation while Europe, Australia, and especially China have completed projected. China moved the concept into a whole new realm with communities of plant-covered buildings.
Italian architect Stefano Boeri is credited with introducing the vertical forest concept over a decade ago. Projects include Bosco Verticale, two mixed-use towers in Italy that feature 900 trees and 20,000 plants; One Central Park in Sydney, a housing complex that is home to 38,000 indigenous and exotic plants; eco neighbourhoods in Brussels transforming former industrial sites into green spaces with vertical forest buildings and Liuzhou's forest city which has 70 heavily greened buildings.
Boeri had been criticized for this architectural style as providing housing that is too expensive for the average buyer but countered with the recently completed the plant-covered Trudo Vertical Forest social housing tower in the Netherland. The 70-metre-tall building features staggered, protruding balconies with 10,000 indigenous plants and trees.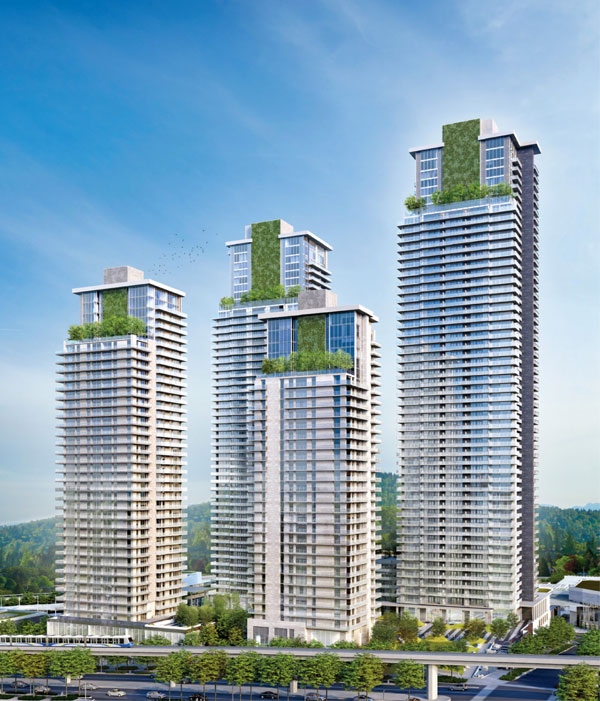 The concept of using vertical forests and integrating them into building's design is still developing. "It is evolving," said Passa, as each development comes with a number of specific design challenges. Planters stepped along buildings need to be at least a meter by a meter to accommodate the bolted-down tree root-balls. (The Eindhoven project also has trees secured by cables). Suitable indigenous plants and slow-growing trees need to be evaluated, craned into place and sited as some require more sunlight than others. In addition, the building's interior operating systems need to consider the vegetation such as using grey water from the roof and interior for irrigation.
Schwenger said that while vertical forest relies upon use planters, there are other forms that can be used. Architek has used integrated cable trellises on a building's exterior onto which vines can grow. It's a spin-off from traditional living walls. "Living modular or custom-built walls can be very expensive and require a tremendous amount of maintenance," he said.
The cost of a cable-based trellis system is less expensive and closer to the concept of the vertical forest design. "We have done these throughout Vancouver and a number across the country," he said, with recent installation at 400 West Georgia and the City of Lougheed, a four-tower development where the top 10-storeys have vertical living facades installed using tension cables. Architek is also working with the Bjarke Ingels Group (BIG)-designed redevelopment of 485-539 King Street West in Toronto, integrating a residential community with existing heritage properties and will use the vertical forest concept with lush vegetation.
Cities are striving for greater density, Schwenger said, but city planners also know the importance of having green spaces and parks for healthy living. As developers are allowed to build to a property line, eliminating side and front and back yards, municipalities are demanding more creative integration of vegetation on a building's exterior to gain that healthy living environment.