"Efficiency First" is a design and execution approach for building envelopes gaining popularity today. The concept is straight forward. Building a new structure or retrofitting an existing one, focussing on measures to improve the energy efficiency performance at the project's outset will reduce operational costs for years to come.
Buildings are normally designed or retrofitted for a life of 50 years or more. An owner considering that time horizon needs assurance that any extra energy-efficiency investments will be paid back later and preferably quickly. In fact, the ROI case for a quick financial return can be confirmed by software services like those offered by SEEFAR Building Analytics Inc.
When put into a life cycle perspective, the upfront costs of construction represent only 10 to 20 per cent of the total cost of ownership over time. That assumes the structure stands for 30 to 50 years. The remaining percentage is spent on operations including energy use. Therefore, the argument is that spending a little more upfront for "Efficiency First" will pay off handsomely over time.
"Typically, between 30 per cent and 40 per cent of the building's components are energy end-use components," SEEFAR says. "The combined consumed energy and maintenance costs related to these components (mechanical, electrical, water, waste, and envelope) comprise the major costs associated with ongoing building ownership."
At the same time, there's more to building envelope performance than upfront cash investments.
Being considered closely today are the embodied carbons associated with the choice of construction materials. Steel and concrete are targets for criticism due to their carbon-intensive manufacturing and fabrication processes. Wood, more specifically mass timber components, is seen as a better choice. This is despite the fact that wood in its many variants also carries carbon consequences.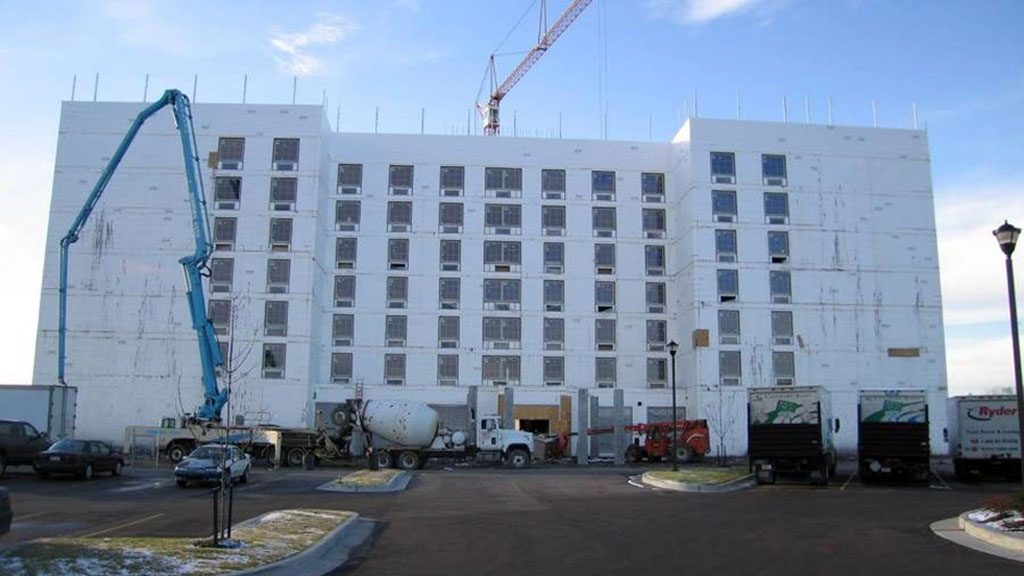 One material choice seen mostly in residential construction and mid-size commercial buildings is ICF (Insulted Concrete Forms). These hollow, Lego-like blocks are filled with concrete which is reinforced with rebar to create walls that rise from footings to roof. Their continuous form provides an extremely high level of insulation and low air leakage.
However, ICF comes under attack for the expanded polystyrene (EPS) foam used to manufacture the blocks themselves. The concrete and steel rebar components are also subject to criticism, even though over 95 per cent of rebar is made from scrap steel and many concrete mixtures are low carbon mixtures.
However, that's only the upfront carbon story. A 2010 study conducted at the University of Tennessee, Knoxville looks further down the road at the long-term operational carbon reductions made possible by ICF.
Using a standard frame house as a reference, researcher Sherman Matthews suggests 10 to 12 per cent lower lifecycle GHG intensities over 60 years when ICF is substituted for wood. He concludes that despite "a substantially higher embodied energy input," an ICF building nevertheless "offers significant energy returns, ultimately reducing the building's life cycle energy use and GHG intensity."
In other words, the embodied carbon payment made upfront is more than offset by significant carbon emission savings over time.
Another study, conducted in 2011 by Neethi Rajagopalan, Melissa Bilec, and Amy Landis, comes to much the same conclusion.
"An ICF structure has energy savings of more than 25 per cent during the use phase, since the forms provide additional insulation and improve energy efficiency in building structures. The heating, ventilation and air conditioning (HVAC) energy consumption can be reduced by 25 to 50 per cent."
These two studies might lead one to conclude that higher upfront carbon expenditures for long-term carbon savings are similar to the financial ROI associated when spending more cash for an "Efficiency First" building envelope.
A side benefit is ICF's  improved structural resiliency in quake-sensitive areas like the West Coast of Canada. Furthermore, most insurers offer reduced premiums due to an ICF structure's resistance to fire and high winds.
Paying it forward is the foundation of an "Efficiency First" approach. A long-term energy-efficiency payoff is also available by using ICF, despite the upfront GHGs.
John Bleasby is a Coldwater, Ont.-based freelance writer. Send comments and Climate and Construction column ideas to editor@dailycommercialnews.com