EllisDon, in partnership with Vancouver architecture firm DIALOG, recently filed global patents for the Hybrid Timber Floor System (HTFS), a 105-storey hybrid timber tower design concept.
The HTFS combines cross-laminated timber (CLT) panels with steel and concrete to build highrise towers with a reduced carbon footprint.
According to EllisDon and DIALOG, when combined with other smart building technologies, such as solar panels, algae bioreactors and other renewable energy innovations, structures as tall as 1,137 feet can become carbon neutral.
Although mass timber has become well known for sustainability, sometimes timber cannot efficiently achieve all of the competing objectives of today's complex projects all by itself. That opens the door to hybrid construction.
Thanks to post-tensioned steel cables encased in concrete bands and embedded in CLT panels, HTFS will allow for a 40-foot column-free span.
Present-day standard CLT design systems, on the other hand, cover just three-quarters of that distance.
EllisDon and DIALOG say the novel combination and unique features of engineered wood, steel and concrete mean the HTFS could be deployed at great heights in buildings around the world.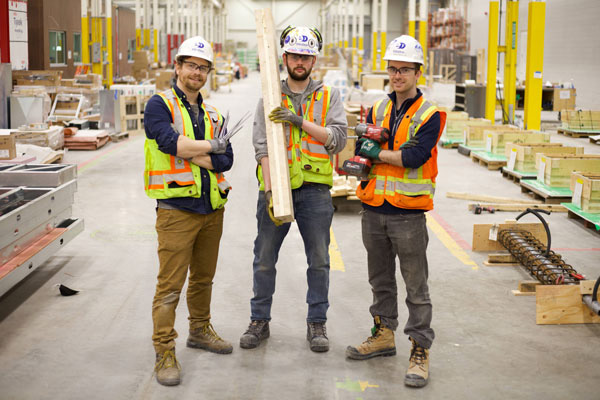 Mark Gaglione, EllisDon director of building and material sciences, says the hybrid panel system is unique in that it combines carbon sustainability, offsite prefabrication and the long-span exposed ceilings that many commercial tenants like.
"The mass timber structural system can be used to construct buildings of all heights, including the super-tall tower category, which will reduce the environmental impact of tall buildings in high-density urban areas," said Gaglione.
Gaglione and Vince Davenport, another EllisDon director of building and material sciences, say hybrid structures have some unique characteristics that require designers and builders to adjust accordingly.
For example, because most hybrid structures require multiple supply chains and subcontractors, it's important to plan for subcontractor optimization and to do that at the same time as the design is developed. 
"The best design on paper is not the best design in practice if you can't efficiently buy it in your market," said Davenport. "Unlike more conventional structural subcontractor trade groups that are used to working together, such as the reinforcing and formwork trades, many of the subcontractor combinations that are required for a hybrid structural system are not only not familiar with each other, they may not even know what mass timber is."
As the market matures, subcontractors will learn more about hybrid structures and there will be fewer supply glitches and hiccups.
"However rosy the future looks, it's important today to educate prospective subcontractors about the realities of mass timber, to make sure their estimates are accurate," said Gaglione. "Supply and installation contracts and the planned work sequence become a balancing act between cost, schedule and the project's appetite for risk."
Davenport says the HTFS initiative is an example of how mass timber construction is becoming more accepted in Canada.
"There has been lots of mass timber construction in B.C. for some time, but Ontario and Quebec and other provinces are beginning to catch up," Davenport said.
The benefits of mass timber include a beautiful appearance, sustainability and efficient onsite assembly.
Plus the costs of using mass timber have been coming down at the same time as those of concrete and steel have been going up.
"As building codes change nationally to allow for larger and taller mass timber structures, that building material has become mainstream," said Gaglione. "In addition, Canadian supply chains have matured and today there are more suppliers of mass timber in this country."
Davenport says that although residential construction has been slower to adopt mass timber, many commercial and institutional structures, such as universities and government buildings, are being built with the material. 
"They're looking for a premium esthetic that helps them reach their sustainability goals," said Davenport. "Mass timber is more sustainable than other building materials and those institutions want to demonstrate publicly their commitment to sustainability values. The mass timber buildings are a physical representation of their goals."