For the better part of a decade, B.C.'s schools have featured more innovative, eco-friendly and flexible designs. Today's schools are more versatile and adaptable, offer ample daylight and are focused on health and well-being, along with safety and better seismic performance.
Increasingly these schools are being built with locally supplied wood products and advanced hybrid-mass timber prefabricated construction. That's the finding of a recent report Wood Use in British Columbia Schools, authored by B.C.-based architecture firm thinkspace and structural engineering firm Fast + Epp.
The report highlights several B.C. schools built by an expanding roster of timber experts in the province including architects, engineers, fabricators, contractors and building specialists.
The report cites numerous benefits to building schools with wood, especially in B.C. It can be provincially sourced from healthy and certified forests, while also supporting communities across B.C. and the provincial economy.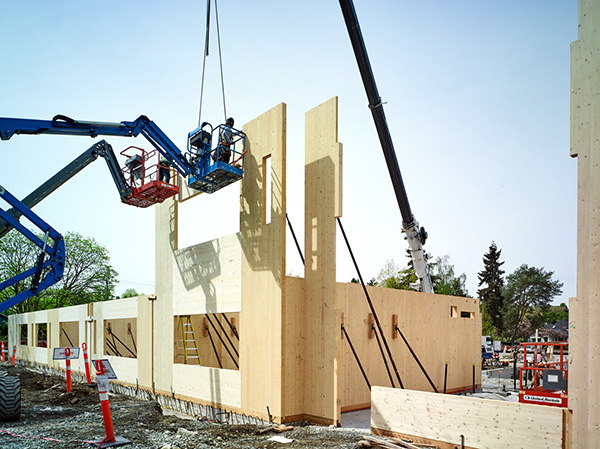 Today's modern light-frame wood and mass timber buildings have a proven fire safety record and are suitable for meeting the stringent safety guidelines for schools. Mass timber structures can offer advantages over conventional construction in the event of an earthquake.
Wood buildings, particularly those using engineered wood products, are well suited to withstand and remain resilient against lateral seismic forces. Along with environmental and safety benefits, the report says prefabricated light-frame and mass timber schools can potentially be built better and faster. Manufactured off-site and quickly assembled onsite, these building systems can shorten the construction timeline, by months in some cases.
Traditional school layouts, with long hallways and rows of classrooms, are no longer the norm. Today's schools need to offer flexible designs and incorporate shared multipurpose community spaces.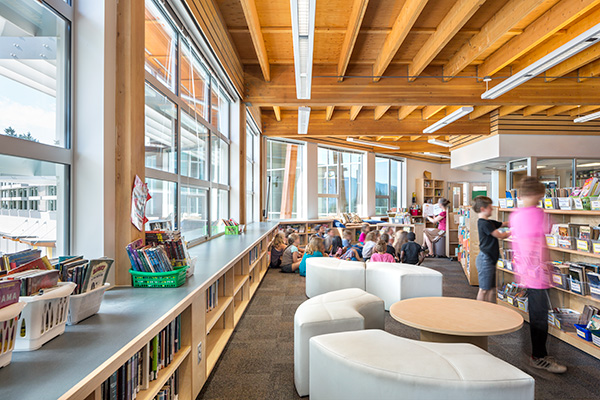 According to the report, timber building systems allow school designers to be flexible in their approach to layout, helping create large learning commons, as well as private places for study.
In some cases, this means building up. Ta'talu Elementary School in Surrey will be the first three-storey, hybrid mass timber elementary school in the province.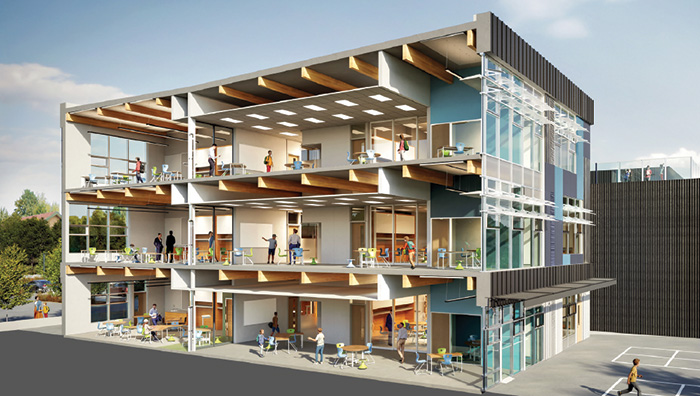 The report also highlights the health benefits of building more schools with wood. Recent research shows incorporating wood into our buildings can reduce stress and contribute to good mental health. Sometimes referred to as biophilic design, bringing nature indoors can have a positive impact on our health.
The report concludes B.C.'s mass timber industry is rapidly evolving, making materials more accessible and technologically advanced. Nonetheless, industry experts say more work is needed to ensure the broader industry and general public understand benefits of building with wood.
Overall, the report's authors expect to see more educational facilities built with sustainably harvested wood products in the future as industry and school districts become more aware of the benefits they can offer.
Interested in learning more about wood use in B.C. schools? Read the naturally:wood blog.