When Travis Butler became president of family-owned Butler Concrete and Aggregate in 2018, he saw the opportunity to push for greener practices in an industry well-known for notable emissions of CO2.
"Growing up here on Vancouver Island, seeing the natural beauty, I want to do my part to save it," says Butler. "Now, we're striving to improve the environmental footprint of our product."
On Feb. 1, in Langford, near Victoria, over 700 cubic metres of specialized carbon-cured concrete was poured for a five-storey, mass timber building that will house local educational institutions.
From 7:15 a.m. until 3:45 p.m., Butler's fleet of trucks supplied two pumps with CO2-infused concrete. "It was probably the second biggest pour I've done in my career," says Lee Vermette, senior superintendent with Blackrete Builders, the Victoria company handling the concrete work. Ranging from a minimum concrete depth of four feet up to nine feet, Vermette says the structure is being built to high seismic standards.
Butler became aware of carbon-cured concrete about five years ago and by mid-2018 had installed the infrastructure necessary to produce the product at three of its Victoria-area sites.
Carbon dioxide, from Linde (formerly Praxair), is stored in a tank and added to the batch based on directions from a control box and a valve box, which measures the quantity.
As the CO2 is added to the concrete mix, it changes from liquid (in the supply tank) to dry ice. 
About two to three litres of CO2 are added to each load of concrete, Butler says.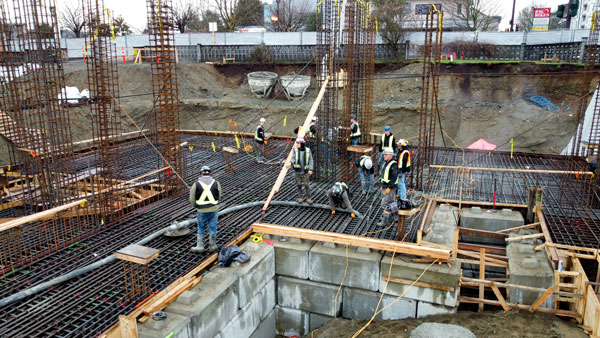 When the CO2 makes contact with the mix, it undergoes a chemical reaction and transforms into the mineral calcium carbonate. This improves the compressive strength of the concrete, while reducing the amount of cement powder needed.
According to Butler, adding the CO2 means anywhere from four to eight per cent less cement is needed in the concrete mix.
There are no adverse or negative impacts on the placing, finishing or strength of the concrete. And there is no impact on batching or cycle time at the plant. The CO2 used in the concrete mixes will never again be released into the atmosphere even if the concrete was to be demolished.
The 8.5-hour pour in Langford featured a 55 per cent lower embodied carbon value than the Canadian average and a 30 per cent lower value than the B.C. average, according to Butler.
For Vermette, it was his first exposure to the CarbonCure product. A Red Seal carpenter, with 25 years of experience, Vermette says the concrete handled and looked the same as traditional concrete.
"It doesn't hinder performance," he says. "It's more beneficial going this way. It's at the forefront of the green spectrum."
As well, CarbonCure concrete requires a 28-day-cure, not 56 says.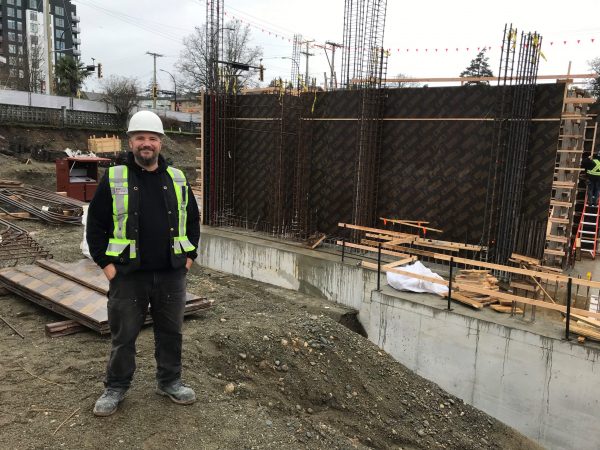 While he wouldn't divulge the cost, it's similar to regular concrete, says Butler.
"We strive to keep pricing at traditional levels, to match prices," he says.
One aspect of the project, a joint venture of Royal Roads University, the University of Victoria, Camosun College and the Justice Institute of B.C., was to follow Zero Carbon Building standards and aim for LEED Gold certification.
Since using the CarbonCure recipe, Butler has cooked up almost 495,000 cubic metres of CarbonCure concrete, eliminating 5,200 metric tonnes of CO2 from the preparation process which equals almost 2,600 hectares of forest land absorbing CO2 for one year.
Numerous Canadian and American concrete suppliers are using the CarbonCure method, founded by Canadian Rob Niven in 2012 in Halifax.
On Feb. 28, a second pour of 450 cubic metres of CarbonCure concrete will take place at the Langford site, Vermette says.
The $78-million building is expected to be operational by the fall of 2024.