Western Canadian municipalities are turning to solar to power water and wastewater treatment plants (WWTP) as a means to decarbonize and cut costs.
The trend is particularly strong in sunny Alberta and Saskatchewan, where electricity is traditionally produced by natural gas or coal.  
Lumsden, a Saskatchewan town with a population of 1,800, turned to solar when its outdated lagoon system near a river meant stepping up to a mechanical WWTP.
"When we knew we had to go down that road, we had pollution concerns," said Lumsden councillor Rhonda Phillips and project manager, as the town didn't want to trade one set of environmental concerns for another.
Solar proved to be the solution.   
The town was able to build a $21 million WWTP under the New Building Canada Fund with federal and provincial government help. The plant, built by Graham Construction (Regina) with solar installation by miEnergy (Saskatoon), began operating in 2021 with solar nearing completion.
The WWTP solar cost is $2.5 million with $1.1 million coming from Canada's Low Carbon Economy Fund. Solar panels were installed at the WWTP, the solid waste/recycling centre and the main sewage lift station with the last new small lift station installation of solar to occur in early 2023.
According to Phillips, the carbon dioxide equivalent reductions achieved over the 30-year life of the project will amount to a total of 13,116 tonnes with an energy cost savings of $1 million.  
Extra power generated at the WWTP will be saved to a 1.2 MW battery storage unit.
"The battery will run the plant at night," said Phillips.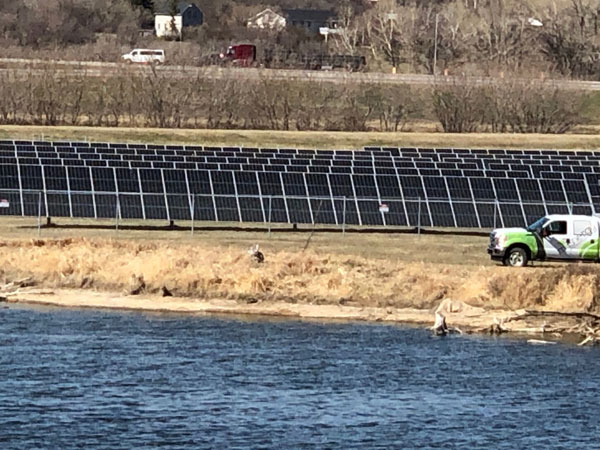 Lumsden Mayor Bryan Matheson said that as well as finding the greenest solution, the municipality was conscious of its small tax base.
"We were concerned about operating costs," he said.
The solar power solved both concerns.
"It is a win-win for us," he said.
Jasper is also eyeing hooking solar to its existing WWTP, said the municipality's energy manager Faraz Khan, although the move is predicated on using five hectares of underutilized old lagoon land in a special municipality where land is at a premium. The abandoned lagoon land sits next to the current WWTP and has the potential to yield energy savings. 
"It can really be a cost saving and displace electricity produced by natural gas," he said.
ATCO has provided a viability study which recently went before council and has moved forward into a feasibility study.
The ACTO viability study looked at two options.
Option one is a 750 kWAC solar array that uses a portion of the land and fits within the micro-generation regulations, meeting an estimated 99.99 per cent of the WWTP requirement.
The second option is a for 2.38 MWAC solar array utilizing the majority of the land and still fitting with the micro-generation regulations but would produce enough electricity to 96 per cent of power for the sewage plant, activity centre, pump house and aquatic centre.
Khan is now looking at searching out funding for a comprehensive feasibility study.
EPCOR senior manager of capital projects Dave Hostin, based in Edmonton, said the kīsikāw pīsim solar farm, started in late 2022 and built by PCL Construction (Edmonton) with Stantec, fit with corporate goals of reducing GHG by 50 per cent by 2025 and 100 per cent by 2050.
The farm currently produces half the energy required by the E.L. Smith Water Treatment Plant, which supplies 65 per cent of the water required for Edmonton and surrounding communities.
"It makes sense. We are using clean energy and producing clean potable water," he said.
With 30,350 solar panels capturing energy from the sun, the solar farm will generate enough power to cut GHG emissions by an estimated 14,000 tonnes every year.
The solar farm cost $40 million to build and $11 million for the battery energy storage system connected to it.
Hostin said there will be a cost savings to EPCOR, which will trickle through to the water rates paid consumers.
"Smith is one of the largest consumers of power," he said. "So, ultimately the operating costs transfer to ratepayers and residents."
Hostin said EPCOR is pursuing other such opportunities and is willing to share knowledge with other organizations and municipalities attempting to use solar for WWTP or water treatment.
One of the earliest projects was in 2017, when the City of Calgary installed solar systems at the Glenmore and Bearspaw water treatment plants. 
Associated Engineering provided review, design and commissioning support to incorporate new solar photovoltaic systems into the existing electrical distribution systems. 
New Brunswick's Grand Bay-Westfield, at the end of 2022, started up its solar array project for its WWTP with panels supplying 40 per cent of the power needed and yielding 70 per cent GHG reduction.