Steel, concrete and glass are the three major components of construction. The Romans developed concrete in 200BC and in 100AD began to use glass to allow light to flow into interior spaces. Steel came much later, in the 1700s in the U.K.
All three materials are an important part of the embodied carbon story currently at the forefront of discussions concerning sustainable building. That being said, while much attention is paid to the emissions associated with steel and concrete production, less is said about glass manufacturing.
Glass is almost unavoidable in construction. According to a 2020 report published by Glass for Europe, glass often represents from 48 per cent to as much as 100 per cent of a building's façade.
While the energy efficiency of glass cladding systems has improved immensely over recent years, creating flat glass still involves carbon-heavy processes.
Extreme temperatures are required to melt the raw materials. Kilns must run almost continuously at temperatures around 1600 C in order to ensure proper light transmission and transparency of the finished glass product. The carbon emissions resulting from the combustion of fossil fuels used to melt the materials can represent up to 75 per cent of the CO2 associated with the overall manufacturing process.  
Any reduction of CO2 emissions in glass manufacturing will require a two-pronged approach.
First, alternate combustion methods must be developed.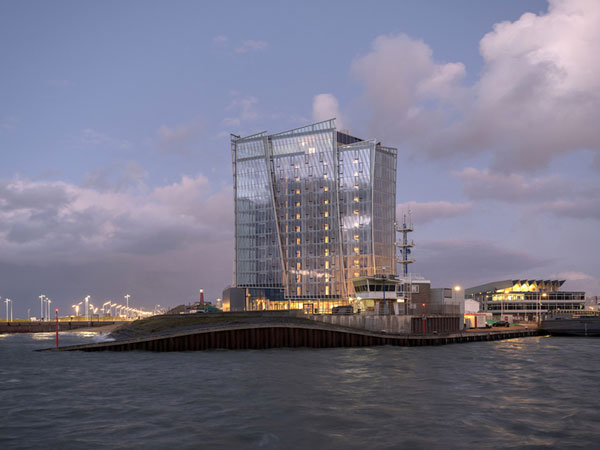 Cleaner fuels such as hydrogen, biomass and electricity from renewable sources are promising. However, all are years away from being either economically viable or available at sufficient scale to allow wide-spread adoption in high temperature kilns.
Second, the use of recycled glass material, called cullets, must increase. Cullet material can be blended with new material and requires less heat to melt, roughly three per cent less heat for each 10 per cent of cullet used.
Industry leadership is important. In the U.K., leading glass manufacturer Saint-Gobain has committed to increasing its use of glass cullet to 50 per cent by 2025, and has introduced crushing and collection systems to help customers setup and manage the collection and return of waste glass.
Another pathway towards carbon emission reduction is the adoption of carbon capture technology at glass manufacturing facilities themselves. Such carbon capture initiatives are already being undertaken by other heavy emitters like the oil and gas, steel and concrete industries.
Although carbon capture and storage technology is in its infancy, U.K. developer C-Capture Limited has received funding from Innovate UK's Sustainable Innovation Fund. The company says this will allow it to work with leading manufacturer Pilkington Glass to assess the feasibility of deploying its carbon capture technology at the emission source. However, one of the challenges is to offer carbon storage at scale for an industry that is geographically wide spread.  
It's important to note what progress has been made. Glass for Europe reports the EU's flat glass sector has reduced CO2 emissions by 43 per cent since 1990. However, with demand increasing year-over-year, further progress is required.
Using glass effectively would help
Some full glass façades have nothing to do with lighting interior spaces or offering an outward view. Instead, glass simply presents continuous coverage of floor slabs and non-transparent wall sections for esthetic reasons.
However, Peter Dushenski, managing director of leading Canadian glass façade manufacturer GlasCurtain, told the Daily Commercial News conversations about the embodied environmental impact of glass should be more substantive and holistic, rather than simply about reducing its use.
Progress towards reducing CO2 in glass will require a global effort, Dushenski said, adding the European industry will likely lead these efforts in the form of an "evolution rather than a revolution."
Yet, Europe is only one part of the global glass industry. Although Europe retains an edge in the production of high valued-added and specialized flat glass products, China has massive capacity for producing glass of all types along with price point advantages. This puts emphasis on accurate LCAs and conscientious procurement to ensure low embodied carbon inputs.
John Bleasby is a Coldwater, Ont.-based freelance writer. Send comments and Climate and Construction column ideas to editor@dailycommercialnews.com.
This is the first of a three-part series on the evolution of glass in construction.