The growth of Electric Vehicle (EV) sales is placing pressure on MURB and commercial property owners to increase the number of onsite charging stations. However, there are logistical and structural concerns operators and owners of parking facilities need to consider.
To begin, the regulatory framework under which EV charging falls is far from straightforward. In Canada, EV charging stations are regulated under the Electricity and Gas Inspection Act, outlining safety requirements and measures to ensure EV charging stations dispense the stated amount of kilowatts of electricity to a charging vehicle.
Beyond that, it remains largely to municipalities to control the installation of EV chargers, particularly in the case of MURBs, says Electric Autonomy in their 2022 annual by-law report.
"In multi-unit residential buildings (MURBs), which include apartments, condos, strata and townhomes, the situation and the experience are quite varied for Canadian EV drivers depending on the city in which they live."
Having determined the building code and electrical regulations that might apply, there is next the question of what type of charger to install in each particular commercial or multi-unit building. Here, the BDC offers a helpful guide to assist property owners with the numerous considerations and options.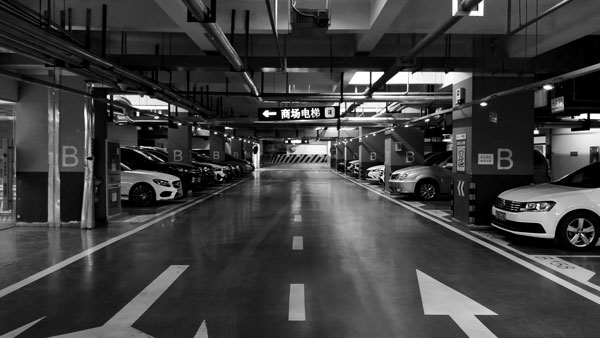 Other challenges remain, including the shortage of qualified electricians in some areas that can delay installation, part of the overall skilled trades shortage being experienced across North America. The electrical contractor must determine whether the service being provided to the building is adequate for the added load of EV chargers and what costs might result from any required upgrades. 
Dedicating space to EV parking and charging stations in a parking facility, while keeping clear of loading docks, stairwells and maintenance areas, also requires thought.
However, there are other issues to consider, particularly when it comes to multi-level parking structures.
Fire risks can increase with the addition of EV chargers and vehicles, leading to insurance implications as well as required fire protection measures which can vary by jurisdiction.
Because vehicles are parked in close proximity, fires in garages are highly dangerous and can spread very quickly. Temperatures of fires involving EVs can be three times higher than those with gas or diesel vehicles. Such temperatures can damage a concrete structure if not brought under control quickly.
Concrete and rebar deterioration due to fire could pose considerable risk to the facility's structural integrity. Mitigation efforts should include adequate and secure water supply with hoses that can reach all parts of the garage, fire blankets and battery extinguishing systems.
Concerns over spontaneous combustion of electric vehicles, in both above grade and underground garages, have led in some cases to the banning of EV parking, raising potential tenant rights issues.
Last month, a Toronto apartment complex notified tenants that EV parking would no longer be permitted. EVs, along with electric bikes and motorbikes, hover boards, mopeds, Segways and skateboard scooters were ordered removed from the building immediately.
The weight of EVs can increase risks to a parking facility's structural integrity never anticipated when originally designed and built. Today's ICE vehicles are 30 per cent heavier on average than those popular three or four decades ago. Their EV counterparts are typically 30 per cent heavier again.
Added to this is the fact that many older parking facilities are falling into disrepair. In April, a concrete parking structure in New York City collapsed, killing one person and injuring five others. The building reportedly had active building violations going back 20 years, four relating to construction.
It's a global issue and has led to the release of a checklist for existing parking facilities by the British Parking Association, followed up by the U.K.'s Institution of Structural Engineers' design guidelines for new parking facilities that include vehicle weight limits. 
The increased risks posed today by fire and structural risks, particularly related to EVs, leaves parking facility owners and operators with the choice of lowering vehicle capacity, limiting weight, reinforcing their structures or taking their chances.
John Bleasby is a Coldwater, Ont.-based freelance writer. Send comments and Climate and Construction column ideas to editor@dailycommercialnews.com.