U.S.-based SkillSignal, a digital comprehensive safety and compliance platform launched for the construction sector, recently found itself helping investigate a serious incident.
The company got a call from a major general contractor in the U.S. which explained that a female security guard on one of its sites had reported an incident of harassment and wanted to know if the SkillSignal team could assist.
"We were shocked when we received that call from the client," said SkillSignal founder Sebastien de Ghellinck. "It was delicate. We didn't want to make mistakes. It was very serious."
It hadn't occurred to the SkillSignal team that their ecosystem of apps could be used in this way but they got to work anyways. The app was designed to check workers into a site, ensure all site regulations are met and be a tool to rapidly assist if a serious incident occurs.
In a normal harassment case, security would have needed many hours or even days to investigate and track down one individual on a massive jobsite with more than 250 workers. But because SkillSignal was already deployed on the site, the harasser was found, expelled from the site and blacklisted from the contractor's sites in 90 minutes.
Further investigation confirmed the harassment and police were contacted. 
De Ghellinck explained the data collected by their apps was able to narrow down the list of suspects and eventually zero in on the perpetrator.
"I think our app was very focused on being able to help manage a medical emergency or incident, but I think that the fact we were able to do this was a tremendous accomplishment and something we are very proud of," he said.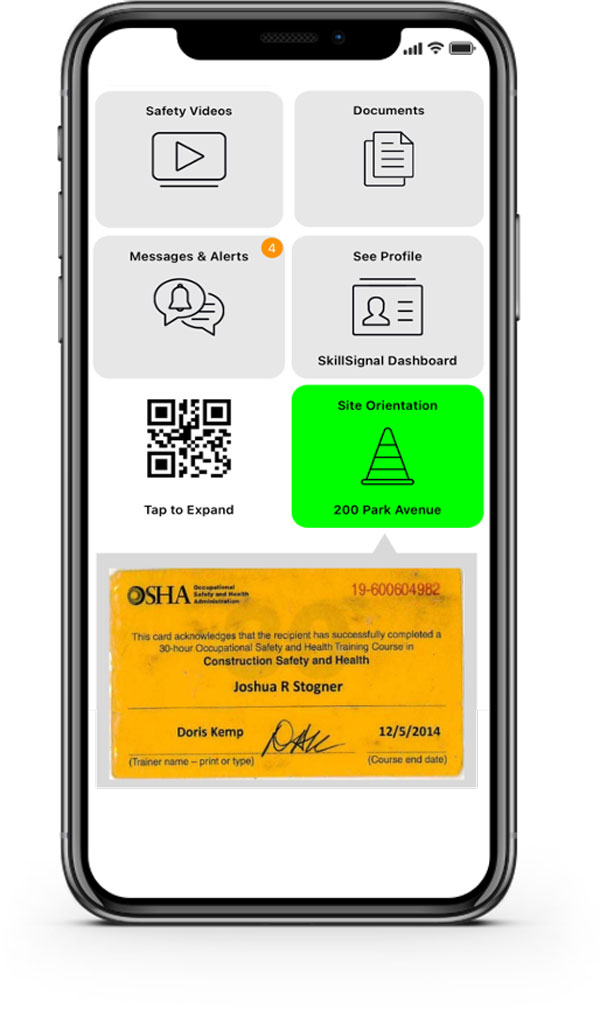 The ability to rapidly adapt was always at the core of SkillSignal when it launched in 2018. Vivian Burgnon, the company's co-founder, explained these values proved invaluable when the pandemic presented a massive opportunity.
"We really found our footing in the industry because of COVID," said Burgnon. "Basically in New York there were still several sites that were deemed essential when everything was on lockdown. They needed to come up with ways of ensuring things on site were taken care of, symptoms were reported and that people felt safe coming to site."
The development team was able to quickly re-tool the app to address those needs, including COVID-19 questionnaires.
"That's really how we got buy-in from the industry," she said. "Otherwise we were hitting a wall. They were more accepting of technology in general and we could convince them that this is really for them."
Now that the tools are up and running, SkillSignal is able to make changes when requested and calls up other clients to create quick focus groups to assess if there is broader demand for any change.
SkillSignal also aims to go where few others in the space have gone: to the boots on the ground.
"Basically we are connecting the workers to all of the field personnel and beyond," said Burgnon. "It goes all the way up to the executive level if clients wish. You see a lot of systems out there with clever field process at the administrative level but it doesn't go as deep as we do when it comes to workers."
Part of the challenge is hesitancy to adopt something new that collects information. SkillSignal began to receive calls from unions asking about the company, what members are being asked to register for and if collected information would be kept private.
"We always appreciate these calls," said de Ghellinck. "We are extremely focused on people's privacy."
He noted the team has been careful to trim down personal information to only what is absolutely useful and necessary. For example, the team abandoned collecting dates of birth when it was deemed passwords could be reset without it. The apps focus primarily on public professional information that might already be available on sites like LinkedIn.
One strategy to increase usage among workers is to make it more useful for them in addition to the employer. De Ghellinck says he envisions the company eventually incorporating features that use the thousands of user profiles to crunch what training is most beneficial for career advancement or which region of the country has the best salaries for a particular trade.
"Say there is a shortage of electricians in Boston and you live in New York – if you were flexible and can go work in Boston you might make more money. We have a dream of being able to at some point being able to process that professional data and give it back to the workers."
Follow the author on Twitter @RussellReports.