At only 24, Scott Fairley is the manager and major owner of Optimotive, a startup tech company with three employees, a heavy workload and big plans to lease and service robotics to contractors.
Based in Windsor, Ont., the robotics manufacturer has already made inroads into the construction market with its IRIS 2, which is used for collecting and recording site conditions.
"We named it IRIS because it goes around and 'sees' things while collecting data," he says.
Design of the IRIS 2 prototype started in late 2019, with the physical construction beginning at 2020 and then used for the first time on a construction site that same year. It's called the IRIS 2 because there was an original test model built from a golf cart chassis.
Recently used at a large construction site in Alberta—which Fairley says he can't release details on due to client confidentially agreements—it is the porotype for six production units.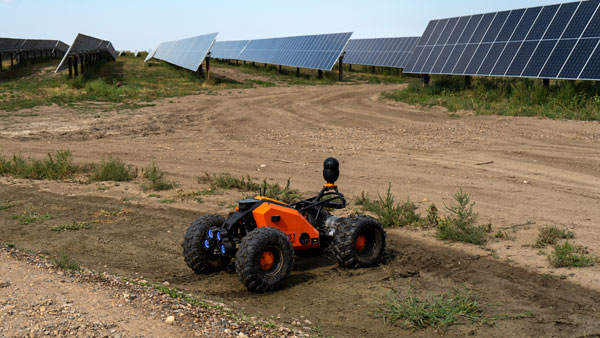 All six are in various stages of being manufactured in the company's 10,000-square-foot plant, with the first of those scheduled to be completed by the end of this year. The other five will be rolled out on a monthly basis next year.
"We automate tasks, not jobs," says Fairley, explaining that the tasks IRIS and other robots undertake are boring, repetitive ones that construction workers would rather not do.
The robot itself is basically a mechanical device on wheels. It's the extra-value equipment, such as 3D cameras and scanning equipment that provide the real service, he says.
Asked about his technical background and educational qualifications for building robots, Fairley says he never really like school and, for the most part, is self-taught.
However, it was the robotics club offered at Windsor's Vincent Massey Secondary School which provided the foundation for the business path he is now on. He was member of a school team which travelled to St. Louis, Miss. to participate in First Robotics, a yearly competition in which school teams design, program, and build robots from a standard assembly of parts.
"It (the competition) was an eye-opening experience," says Fairley, who graduated in 2015 and launched Optimotive the following year.
The original plan was to build robots to serve the autonomous car manufacturing sector. But the company "pivoted" in 2018 after recognizing the potential of robots in construction.
However, the research and simple cold calls and emails made by Fairley revealed there are a number of barriers to wide-spread use of robots in construction, namely the upfront costs. "Then there is the ongoing maintenance."  
To overcome those barriers, the company's business model is a robot-as service, a kind of lease arrangement.
To keep its own costs low, the company manufacture its robots using 3D printing and "as many off-the-shelf components as possible," citing, as one example, the IRIS' all-terrain vehicle tires, shocks, and suspension system.
One of the critical elements other robot manufacturers lack is being low cost while still being capable. Customers operating in construction like the proposition of automation, though never have had a price point that was attractive enough to scale, he says.
Besides renting the IRIS 2, Optimotive provides somewhat of a consulting service. Fairley and his three employees will and have travelled to construction sites to provide contractors with assistance in operating it. As contractors become more familiar with the robot, there will be less need to perform that service, he says.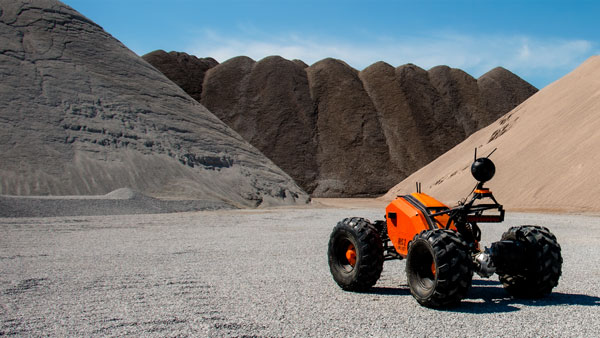 "Our robots have overcome site challenges in many ways. We like to characterize the environments we operate in as being 'muddy, dusty, and otherwise unpredictable.'"
Operating in those types of environments poses many challenges that are not always foreseen until the robot is actually tested on site. On one project, the battery system broke down because of the added weight of the mud on the tires. "That was a lesson learned."
There were, in fact, a number of lessons learned and a few setbacks. Shortly after getting the IRIS 2 operational, the company set up its first construction site demonstration.
"We began running a set of tests before the visit and had a catastrophic steering failure, setting us back multiple months."
As a startup, the company tries not to be "failure-adverse," says Fairley, stressing the objective is to pinpoint the limitations of the design which, in turn, provides the incentive to make improvements necessary to build the best products possible.
And a recently-launched added-on product is what is known as "The Box" Not only can the box be used to transport the IRIS, it is equipped with a full range of computer services, solar panels, and a Starlink antenna for sending the information the robot collects—often in remote locations—over the Internet, he explains.
Besides the technical challenges, there have also been financial ones and the first few years Fairley kept the business afloat using his savings. However, the company now has private minority ownership investor and has acquired the services of a three-member advisory board, which will probably morph into a full board at some point.