ABBy – that's her name– is a seven-axis robot that, with the help of a 3D laser scanner, builds log houses.
The machine with the catchy moniker is the brainchild of Dusko Ballmer in Mattawa, Ont.
Ballmer said his company, Ballmer Systems Inc., is the only company in the world that can produce hand-crafted log houses with machines.
"All other companies that construct log houses do so by hand, with chainsaws," said Ballmer. "But ABBy can cut logs with high precision, so that the logs can be assembled like LEGO bricks to make houses that are not only cheaper, but also highly energy efficient."
The way of building log houses hasn't changed in centuries, said Ballmer.
Hand-crafted log houses that are built with natural log shapes give the tightest fit but require countless man-hours and skill to produce.
Chainsaws are used to shape the logs, and in the past 100 years the chainsaw has become more efficient and effective.
"The challenge with this method comes from the emissions of internal combustion engine saws," said Ballmer. "The chainsaw also requires training and safety equipment for the operator. Worker fatigue can lead to lower quality work or worse, to injury."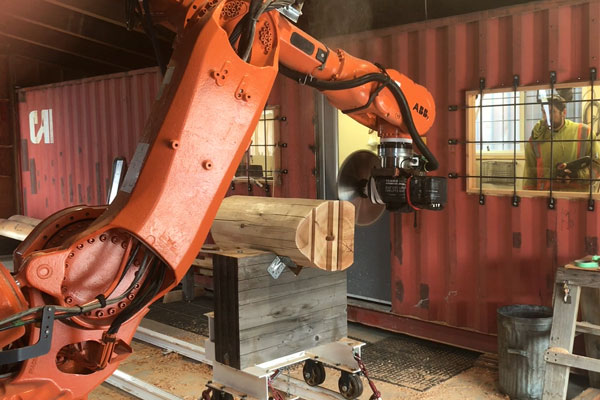 In addition, building log houses with the help of chainsaws is time-consuming and expensive.
"Building this way contributes to 30 per cent of the cost of your log home," said Ballmer.
ABB Robotics Canada are partners in the project.
"They provided a new robot – ABBy – plus the tools and manpower to run and maintain all the equipment," said Ballmer. "The partnership also gives us access to more advanced and practical robots."
To get the logs to the stage where they can be put together to create a log house, Ballmer begins by peeling the logs.
"We peel the logs using high-pressure water with a rotary nozzle," said Ballmer. "This enables us to keep the natural shape of the logs."
Then the logs are scanned at a rate of 1.5 metres per second, to a tolerance of 0.02 millimetres.
Finally, the log is cut to a tolerance of 0.07 millimetres.
Ballmer took the scenic route to founding his company.
"Many years ago I was taking a break from my work as a software engineer and I took a course in handcrafted log homebuilding," he said. "But the moment the instructor started teaching the chainsaw, I knew this wasn't for me. Way too dangerous, too loud and too physical.
"Two years later – right out of the blue – it hit me how it would be possible to produce those homes using machines. I decided to spend my time on this project with the goal of building log houses that were affordable for everyone."
Ballmer also wanted to help companies that make handcrafted log houses stay in business, since they're slowly disappearing.
Nicola Logworks Limited in Merritt, B.C. was Ballmer's first customer.
"We use ABBy to cut our post and beam log homes, architectural components and spiral stairs," said Nicola founder and owner John Boys.
"We call ABBy robot-assisted log building," he said. "The benefits of using her are many. We can produce more efficiently, more accurately and, most importantly, we can assign the heavy work to her, leaving our team of log builders free to focus on the finer details."
Boys said the robot has proven to have many benefits.
"ABBy the log building robot not only helps us to produce our existing product range more efficiently, she has also given us the opportunity to develop some new product lines," he said.
For example, Nicola's Advantage Log Panel System is much cheaper than the more labour-intensive, and more expensive, way of cutting logs by hand.
"We've been using ABBy for about five years," said Boys. "There were some growing pains in the beginning, because we were the first to use Ballmer's system, but by now we've worked out the kinks."
Boys said using ABBy to do the heavy lifting not only makes the logs and log houses more affordable, it also gives Nicola more design flexibility.
"All of this is the result of the efficient use of robotics technology that enables us to keep the natural shape of the logs," he said.