Drones, or Unmanned Aerial Vehicles (UAVs), have been buzzing around construction sites for several years and in increasing numbers. The data gathered from cameras and sensors, communicated back to site supervisors and project leaders in real time, have altered key elements of site construction, operation and maintenance.
Yet very little detailed study has been undertaken to measure what, if any, impact on worker safety and psychology occurs when drones are in operation on the worksite.
That's why a 2022 study, undertaken in the United States by the Center for Construction Research and Training (CPWR), the research and training arm of North America's Building Trades Unions, is worthwhile reading.
In order to observe and measure worker responses to drones as scientifically as possible, the CPWR created virtual construction sites to simulate different high-risk scenarios. Using wearable sensors and self-reported questionnaires, 153 construction professionals participated in two experiments: one to measure distraction levels caused by the drones themselves, and a second to determine if workers experienced any psychological effects from having their movement and behaviour monitored.
The study notes increased drone usage is part of an overall initiative to improve productivity. Construction productivity has lagged behind most other industries and is becoming increasingly acute due to skilled worker shortages. Increased automation across many site functions is seen as an important solution. The study says in recent years, construction has been the fastest adopter of UAVs.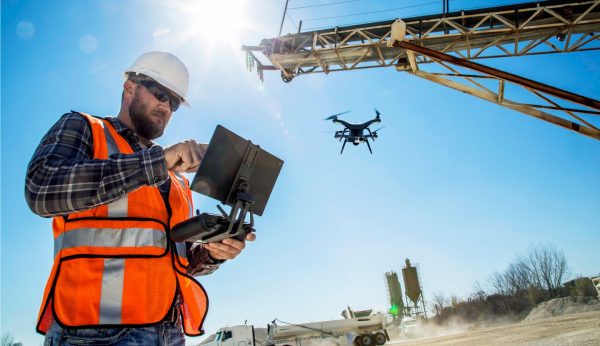 Of specific interest to the study were observations concerning distraction stemming from drones and any relationship to accidents. There were several important findings.
"UAVs can cause visual and cognitive distraction, increasing the likelihood of a fatal fall," the study concluded. "In fact, being distracted at work while at a significant height is one of the leading causes of falls. The human brain possesses a limited amount of attentional resources, and when this limited resource is diverted to a distracting stimulus (i.e., a UAV), performance in other tasks often deteriorates."
Being unable to rationally quantify the risks associated with a certain task due to distraction can result in "impaired situational awareness," increasing the risk of what could be a fatal accident.
Interestingly, a correlation was found between drone distance and levels of worker distraction.
"The results indicate that UAVs working at some distance (12 to 25 feet) cause more distraction than UAVs in close proximity (1.5 feet to 4 feet), as participants looked away from their tasks more when the UAV was at some distance."
Worksites need to be better prepared for drones. One of the recommendations suggested by the study was to either eliminate the use of drones when workers were present, particularly when working at heights, or to find alternate ways to perform the function.
"UAVs need not be used for everything just because they are available. UAVs should be reserved for applications that offer significant benefits over traditional methods."
However, the study failed to establish any evidence of psychological or emotional distress in workers.
What was measurable was the attitude of the workers under study to robotics in general.
"All participants had slightly higher levels of negative attitudes toward situations of interaction with robots and negative attitudes toward the social influence of robots."
This is consistent with anecdotal evidence concerning the boots-on-ground reluctance to embrace new technologies versus doing things the way they have always been done.
Attitudes did change over the course of the study, pointing to ideas that might encourage more adoption.
"Workers who will have to share their work environment and interact with these UAVs need to be properly trained. A hands-on VR interaction with UAVs helped participants view UAVs with a less negative attitude."
For drones and workers to work collaboratively, safety must be front of mind.
"The virtual environment can be used to help workers practice working with or around UAVs to help them get used to these flying machines, which can greatly reduce the distraction caused by such robots in the real world."
John Bleasby is a Coldwater, Ont.-based freelance writer. Send comments and Inside Innovation column ideas to editor@dailycommercialnews.com.