In a third-floor engineering lab at the University of Victoria (UVic), PhD, master's students and researchers are perfecting artificial intelligence (AI) to make work practices safer, faster and more efficient for many industries.
Construction, as well as agriculture, mining, aerospace, manufacturing, transportation and oil/gas are fields ripe for AI polishing.
Amid the hum of computers and fans, a dozen researchers in the Advanced Control and Intelligent Systems lab are creating AI and machine/deep learning applications that will be able to control machines at a modular building factory or a bridge-building project.
Overseeing it all is mechanical engineer professor Homayoun Najjaran, who says AI is simply one more element to a machine.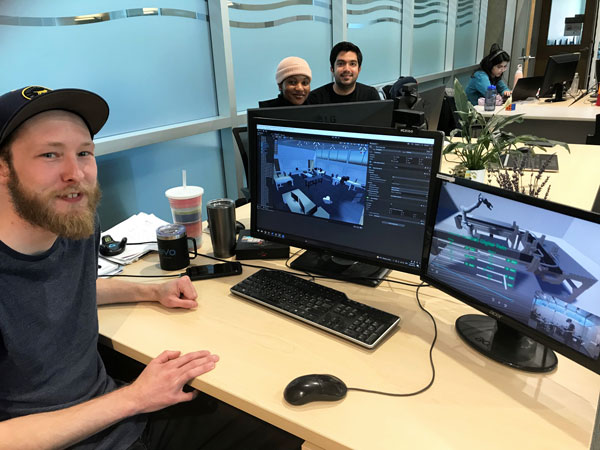 "Humans create machines to make jobs easier."
From ancient water clocks to weaving looms to robotic dogs, at the end of the day, they have all been programmed.
"There's a human behind it," Najjaran says.
When it comes to construction, the UVic researchers, guided by Najjaran, are working on multiple fronts, using tools such as robotic arms, virtual reality, drones and unmanned ground vehicles.
Two hundred years ago, a large building project would have had one or two engineers and 20,000 workers.
Today, there's likely 200 engineers and specialists, 200 workers and 1,000 machines at the worksite, Najjaran says.
Younes Al-Younes, a postdoctoral mechanical engineer specializing in robotics and autonomous vehicles, is using a Jackal, an unmanned ground vehicle with an onboard computer, featuring plug-and-play, for the use of robotic accessories.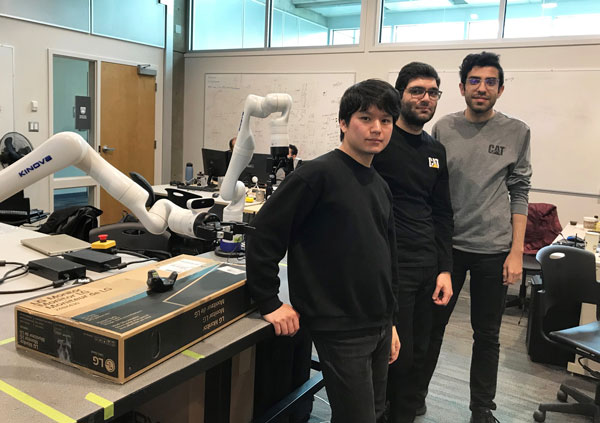 One project involves using the Jackal in vineyards and strawberry fields to measure ripeness of the fruits.
Multiple Jackals are being taught to communicate field conditions with one another.
Another project takes place inside aviation fuel tanks, where the fuel must be kept free of contaminants, even water.
The Jackal is being trained to move inside the dark tanks full of piping, to survey tank conditions.
"AI is being used to detect objects," Al-Younes says.
Once detected, the robot is taught to recognize objects in the tank and create a plan based on the items.
Another team of researchers is working with robotics.
As mechanical engineer master's student Jayden Hong explains, on an assembly line or anywhere where robotic arms or robots are being used, when the machines have to be reprogrammed, the whole line has to halt production.
In a modular building factory, the downtime could be substantial.
Since December 2021, Hong and his fellow researchers have been employing machine learning to program the robots to learn from one another rather than having to program each individual robot.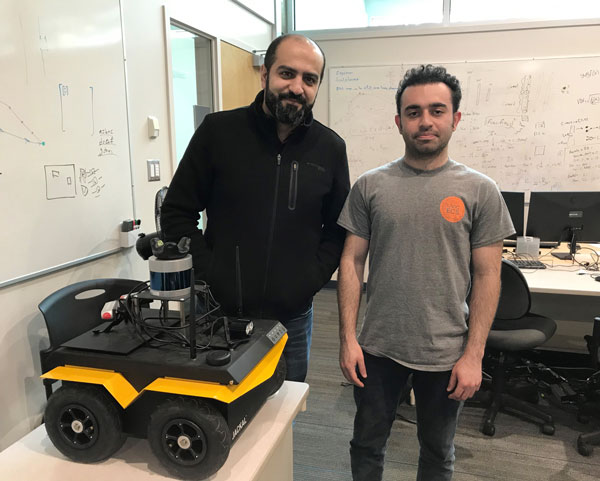 As well, robots can be mounted atop a Jackal and programmed to do customized work at a construction site.
A third group of researchers are using machine learning and virtual reality to address assembly line problems or machine scheduling.
Todd Charter, a master's student and electrical engineer, creates digital twins (exact copies) of assembly lines and rooms by using virtual reality.
The digital replicas mirror reality; when issues arise on the digital version, they are corrected digitally and the solution can be applied to reality.
In their UVic lab, virtual reality trackers are placed throughout the room and update the digital replica of the lab created by Charter. Such digital corrections, applied to unsafe working conditions, would be invaluable at construction sites, Charter adds.
One more team has taken up photogrammetry, which uses photography to survey and map objects to determine the distance between objects and gather physical information about them. As well, 2D images are transformed into 3D.
Computers cannot recognize perspective, whether something is close or distant and the machines have to be trained, says Matthew Tucsok, an electrical engineer and master's student. 
The team is using drones and applied machine learning to produce 3D perception.
That ability would allow drones to not only examine and assess sites such as bridges, dams and pipelines.
"They could do smart repairs," says Najjaran.
Scaffolding would not be needed, human risk would diminish, work would be done faster and it would cost less.
"Workers will not have to do dangerous, dirty work," Najjaran says.