Large Language Models (LLMs) like ChatGPT, LLaMA and PaLM2 are dominating the news across all industry sectors, offering the potential of remarkable efficiencies contrasted against concerns over the future of human learning and overall accuracy.
Construction is no exception.
One such platform is called Wendy, a multi-lingual AI assistant for the built environment developed by Aiforsite. Wendy responds in real-time to text or voice commands on a smartphone, tablet or computer.
"Wendy AI empowers managers and teams to make smarter decisions, optimize project efficiency, and elevate overall performance," developer Aiforsite says.
Wendy is highly multi-functional. It can manipulate a BIM model, use that data to generate 2D images, and then link to other data sources. Wendy can verify and analyze changes in large numbers of files, even read and understand contracts and documents, and then make intelligent comparisons and risk analysis.
Wendy can also "present situational awareness in the form of images, schedules, conditions in real-time and compile reports from them that it can send and make alerts automatically."
By conversing with the user "in a relevant way regarding the built environment" and linking its knowledge base to context, Wendy can "tailor its responses based on the specific situation and user needs," creating a "structured and organized knowledge base linked to context that can tailor responses based on the specific situation and user needs."
Another AI platform receiving attention is Togal.AI, developed by Coastal Construction, one of Florida's largest general contractors. In recognition, Coastal won first prize in the 2023 Associated General Contractors of America Construction Innovation Awards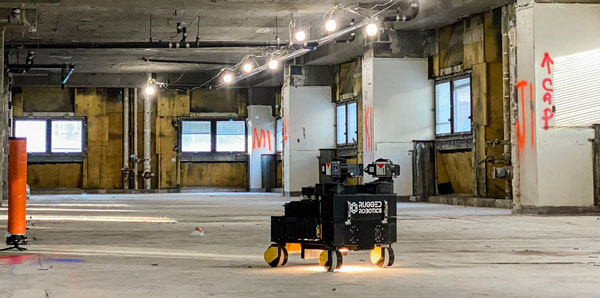 "Togal.AI uses machine learning to automatically calculate the square footage of areas and complete full takeoffs," Coastal Construction said in a media release. "It crunches a process called 'takeoffs' or 'square foot analysis', which used to take days or weeks, into mere seconds."
Togal.AI reportedly saved Coastal nearly 14,000 hours of work and close to $1 million during the first year of use.
"The construction industry is one of the least digitized in the world and is ripe for disruption," Togal.AI founder and CEO Patrick Murphy said.
There's much truth in that statement.
Productivity growth in construction has lagged other major industries. It's not that technology hasn't been available.
BIM, virtual reality, digital twins and sophisticated project management software aiding project design and realization have been around for many years and are constantly developing.
But today is different. AI based on LLMs challenge construction like nothing before. Like all industry sectors facing a flood of AI developments entering the market, construction must balance the potential benefits with the risks inherent in any AI-based technology.
Concerns are particularly alarming when discussing fake responses or "hallucinations."
"The answers you get back are 80 per cent correct, but 20 per cent can be very wrong," Martha Tsigkari, head of U.K.-based architects Foster + Partners, told building.co.uk. "There is a lot of danger with that 80 per cent because you cannot have a sense of comfort that this is right, as the information you get back might be completely misleading with that 20 per cent of error. Much of the data used by Large Language Models is sourced from the Internet, which is awash with misinformation and false narratives."
The efficiency gains of AI are compelling when faced with labour shortages. Leading contractors are pressing forward with the latest ideas. Even robots are gaining traction in certain instances.
Houston-based Rugged Robotics has developed autonomous robots that draw architectural and engineering designs directly onto concrete floors, helping contractors know where to build. The company is starting to scale up commercially to supply several multibillion-dollar general contractors. 
Construction's instinctive reluctance for the widespread embrace of technology may actually help avoid some of the major problems experienced by some sectors.
As Aarni Heiskanen put it in a recent AEC Business Newsletter; "Will we ever be able to accept the machine's 'optimal solution' if it's against our interests, beliefs or expectations? I'm doubtful."
What is being learned from AI's disruption of other industries is that humans must remain in charge.
John Bleasby is a Coldwater, Ont.-based freelance writer. Send comments and Inside Innovation column ideas to editor@dailycommercialnews.com.