In this month's Harvard Business Review, Mark Erlich gives a summation of construction's hesitant relationship with technology.
"Industry observers routinely deride the lack of technological sophistication in the construction industry and have pigeon-holed it as old-fashioned and lagging behind more forward-looking and purposeful industries such as manufacturing."
He also references the futuristic vision of construction imagined by French artist Villemard over a hundred years ago in contrast with today's reality. Perhaps fear instilled by Villemard's drawings sparked resistance to labour-saving devices. After all, the artist's illustrated jobsites are entirely devoid of workers and show only mechanized devices.
Erlich traces the construction industry's decades-old reluctance  to embrace labour-saving devices, detailing anecdotes such as the tradesman who threw an electric circular saw off the roof of the building saying, "The saw's too fast; I'm going to cut my hand."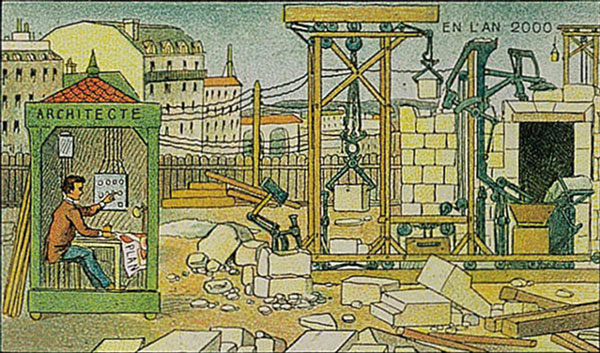 The industry is used to hearing outside observers reprimand construction for being a slow adopter of technology.
Erlich cites a 1940s article published in Fortune magazine ridiculing the industry's "feudal character" and "picayune scale."
Those labels have stuck to this day. Erlich points to a February 2023 article by University of Chicago economists Austan Goolsbee and Chad Syverson, referencing data that "demonstrate a large and decades-long decline in construction sector productivity."
In May this year, the Global consultancy McKinsey published a report making similar suggestions.
There are regular announcements concerning new robotic devices promising to reduce costs and speed up repetitive worksite functions. Nevertheless, the industry bears no resemblance to the mechanized fabrication of automobiles or appliances.
Yet, there are autonomous earth moving machines at some sites.
"Spot," the Robot Dog, has been videoed making advanced dance moves that demonstrate its manoeuvrability.
Wearable exo-skeletal devices that allow workers to lift more weight all day long are always a hit at construction shows across the continent. However, despite enthusiastic projections, robots have yet to make a meaningful impact on the industry in terms of actual devices deployed.
Slow adoption of robotics is not really related to fears of job displacement. In fact, if there was a time to bulk up on robotics it would be today, when labour shortages across all trades make headlines in the popular press.
As Erlich points out, many of the problems concern cost. Robots and exoskeletons are very expensive. Large general contractors may have the funds to buy these devices, but subtrades further down the construction pyramid do not or at least cannot justify the long payback periods.
That doesn't mean the industry isn't adopting technology. There have been notable gains in terms of digital technology in numerous forms, most summarized under the title of Building Information Modelling (BIM).
For example, project participants at various levels have been willing to make the necessary investments in construction management software platforms that allow digital twinning. That's because cost savings are quantifiable. These savings improve as other levels of the pyramid become engaged. The potential for clear, real-time communication and collaboration from top to bottom has never been more possible.
Numerous studies confirm the industry's willingness to embrace this form of technology.
KPMG states 81 per cent of 300 E&C respondents to their 2023 Global Construction Survey said their organizations had either adopted or were starting to adopt mobile platforms, up from 69 per cent in 2017. Robot enthusiasts will be pleased to hear 43 per cent were either using or starting to use Robotic Process Automation, up from 10 per cent in 2017.
A 2023 KPMG survey conducted among 275 Canadian companies confirmed a similar level of commitment to technology. In fact, 85 per cent acknowledged "disruptive technologies" could make their companies more competitive.
Of course, the term "disruptive" can mean different things to different levels of the construction pyramid. Construction is extremely complex, making even digital adoption a challenge. And beyond that, Villemard's vision of worker-free sites is not much closer today than it was 100 years ago.
John Bleasby is a Coldwater, Ont.-based freelance writer. Send comments and Inside Innovation column ideas to editor@dailycommercialnews.com.