Two office towers in downtown Manhattan are modern, state-of-the-art structures conceived not only to be architecturally attractive but also with the objective of addressing climate change. While both should be celebrated for their numerous sustainability features, they have a major difference.
Although built only a few years apart, one of them is already becoming out of date.  
One Vanderbilt, a 77-storey skyscraper that opened in 2020 sits in the crosshairs of Local Law 97. That's the recently passed NYC law requiring most buildings over 25,000 square feet to cut GHG emissions by 40 per cent by 2030.
Rather than drawing its entire electrical requirement from the grid, One Vanderbilt generates much its own electricity and hot water. And therein lies the problem. Its turbines run on natural gas.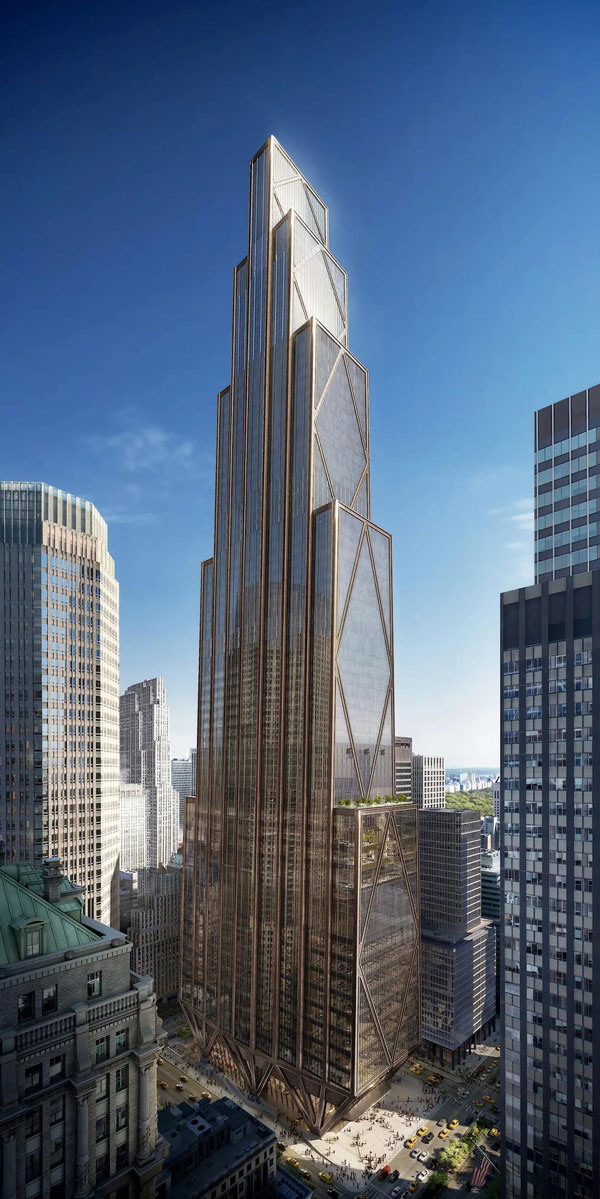 When the building was first conceived over 20 years ago, that seemed a reasonable fuel choice. However, natural gas contains methane and emits GHGs when burned. It's estimated the burning of fossil fuels in buildings is the single largest source of N.Y.C.'s carbon dioxide. Local Law 97 aims to cut those emissions dramatically.
The law is aggressive, not only addressing new construction but existing buildings too, even ones as new as One Vanderbilt. As a result, building owner SL Green, the city's largest commercial landlord, will have to undertake adjustments.
Only five blocks away, another new 60-storey skyscraper is under construction, scheduled for full completion in 2025.
270 Park Avenue is the new headquarters for global financial company JP Morgan Chase. It too is remarkable, but notably different from One Vanderbilt in several ways.
The main difference is that 270 Park will have no gas line connections whatsoever. It's an all-electric building that will operate with net-zero emissions. All power will be sourced from a New York State hydroelectric generating facility, relieving it from any entanglement with the city's Local Law 97.
What also sets 270 Park Avenue apart is the degree to which the project has recycled or reused 97 per cent of the materials from the late-1950s office building that stood on the site beforehand. That beats the 68 per cent of recycled materials used in the award-winning Quarter Quay Tower in Sydney, Aus., a project featured in this column a few weeks ago.
The building is built in rectilinear steps. The top of each step are intended to be green spaces with trees and plantings. By lifting the structure 80 feet off the ground, the open ground level offers an enlarged public space on Madison Avenue.
Also notable is the rainwater harvesting and storage system that reduces the building's draw on the city's municipal water supply. A circadian lighting system adjusts the amount of artificial light in relation to available natural light, improving occupants' health and wellness as they work. Extensive use of A.I. monitors and controls adjust all aspects of the building interior environment, including the solar shading incorporated into the triple-glazed exterior façade.
Although One Vanderbilt will have to confront N.Y.C. regulations concerning the emissions of its internal power plant, there are also many reasons to note the building's notable achievements.
Its location adjacent low-rise Grand Central Station allows an abundance of natural light to flow into the interior, reducing the demand for electrical lighting.
On the roof, 1,300 feet above the street, cooling towers contain the water collected by the building's extensive rainwater reclamation system below. Fans discharge heat from the warm water as mist. The water is then sent back down to cool the electrical power plant several floors below and used to cool the building's interior space.
The potential for reuse and recycling of materials gathered from demolition, as demonstrated by 270 Park Avenue, is the latest step forward in sustainable building that will hopefully inspire future project owners and designers. 
In fact, both buildings stand proudly as high-profile examples of what can be achieved, not only in terms of design but also in terms of self-sufficiency and reduced operational carbon emissions.
John Bleasby is a Coldwater, Ont.-based freelance writer. Send comments and Inside Innovation column ideas to editor@dailycommercialnews.com.