The application of robots and artificial intelligence are helping transform parts of the construction industry, reducing time-consuming and repetitive tasks and helping solve skill shortages.
A good example is two robots from Pittsburgh-based Advanced Construction Robotics (ACR), whose new TyBOT and IronBOT autonomous robots are now in commercial use in several U.S. projects, and which hopes to enter the Canadian market.
TyBOT was released first and has been utilized at more than 40 construction projects, specifically in bridge deck work. What it does is saves human labour by autonomously tying a multitude of intersections of rebar grid.
The second product is IronBOT, which gathers, holds and spatially places rebar in the proper grid pattern, so that TyBOT can follow and perform the automatic tying.
The robots are the brainchild of ACR founder and chairman Stephen Muck who also owns a Top 400 ENR heavy civil construction firm. Muck saw labour shortages even before COVID-19. He also saw tie work as "very dangerous, dirty, repetitive tasks," says CEO and president Danielle Proctor.
In fact, workers' productivity can vary up to 50 per cent on the same jobsite. And 40 per cent of lost time injuries are caused by strains and sprains.
The system works this way.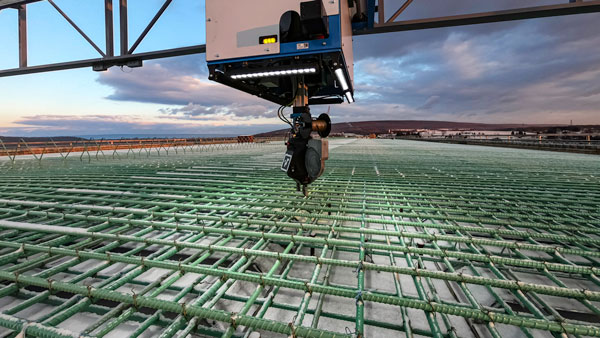 ACR delivers the equipment to the site, assembles it. A gantry system contains both IronBOT and TyBOT but TyBOT can work alone if the grid is already in place. The gantry is attached to the existing screed rails on either side of the deck installation or ACR can lay its own portable rails.
For TyBOT there is no pre-programming, pre-mapping or BIM input.
"It is an autonomous robot in the sense that it is actively looking for and tying intersections on its own, it is not remote controlled," Proctor says.
The gantry can be adjusted from nine to 117 foot widths.
TyBOT moves across the grid longitudinally and transversally. Vertically?
"We cannot go vertical yet," Proctor says.
But, she says, it might not be long before ACR modifies the technology so that it can.
"There are just so many opportunities as you pursue where the problems truly lie in the construction processes, where they're dangerous, repetitive, dirty," she says. "That's what we like to do — identify those problems in the industry and automate them as much as we can."
Bridge deck work is ideal but it's also the project size.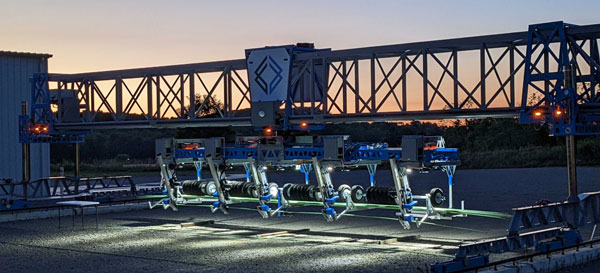 "Some bridges are not big enough really to realize the full impact and opportunities gained by applying the technology," Proctor says.
"So as a rule of thumb if there is a manual estimation of completion for about one week, that's a good candidate for TyBOT," she says. "If the structure is planned to be done in two weeks that would be a good candidate for the IronBOT and TyBOT combo."
That's primarily because of the efficiency gained.
"It's not as simple as just getting out of your truck and tying a couple of ties for a day or two," she said. "But anything over three, four days you'll start seeing efficiencies gained. The bigger the bridge, the more bang for your buck essentially."
TyBOT ties reinforcing steel at a rate of over 1,100 ties per hour. A recent project in Wisconsin saw 17,823 ties in two shifts over a 7,775 square foot grid. Altogether TyBOT has completed 3.5 million ties on more than 40 projects in 12 states.
Meanwhile its carrying companion, IronBOT, lifts, carries, in up to 5,000 pound bundles, and places rebar within the required spacing, say, of four, six or eight inches. Some information is inputed by a site supervisor for the TyBOT tie pattern.
So IronBOT is "not as autonomous" as TyBOT but does self-place in the specified locations, Proctor says.
The equipment is rented and pricing is based on a per tie price for TyBOT and on weight for IronBOT.
"Contractors benefit from using TyBOT and IronBOT because our robots augment their current crews, filling in the labour gaps due to worker shortages," Proctor says. "With the schedule hours saved, both contractors and subcontractors are able to reallocate their crews and increase their capacity."
While not so far utilized in Canada, Proctor has done a Canadian podcast and will be speaking on a panel on the impact of robotics on construction at Building Transformations in Toronto in August.