Manhattan's multi-billion-dollar Hudson Yards development might seem to have little in common with Middle Eastern refugee settlements or maternity shelters in Malawi.
But four globally acclaimed architects invited to discuss urbanism at the recent Construct Canada conference in Toronto were able to offer delegates an abundance of takeaways as they compared those and other diverse projects to kickoff the three-day event.
The topic for discussion at the Nov. 29 International Architectural Roundtable was Cities and Densification: Weaving Our New Urban Fabric.
Claudia Cusumano, director, Kohn Pedersen Fox Associates of New York City, addressed her role as project manager for 30 Hudson Yard. At 1,300 feet tall and 2.6-million-square-feet it's targeted to be the largest tower in the massive Hudson Yards development; Kelly Doran, senior director for East Africa programs with Boston's MASS Design Group, talked about designs that heal, with MASS projects in Malawi, Rwanda, Haiti and elsewhere illustrating how health care builds can promote greater dignity among users; Zhu Pei, founder of Studio Zhu-Pei in Beijing, explained how his Jingdezhen Imperial Kiln Museum was built with sensitivity to local traditions; and Don Weinreich, a partner with Ennead Architects of New York City, outlined how modern refugee settlements can be integrated into local communities.
"Underlying each of the presentations there were commonalities and attitudes about what it takes to make an urban space," Weinreich said in an interview. "And what's common in all of them, as Zhu Pei talked about, was an understanding and respect for the preservation of culture and history.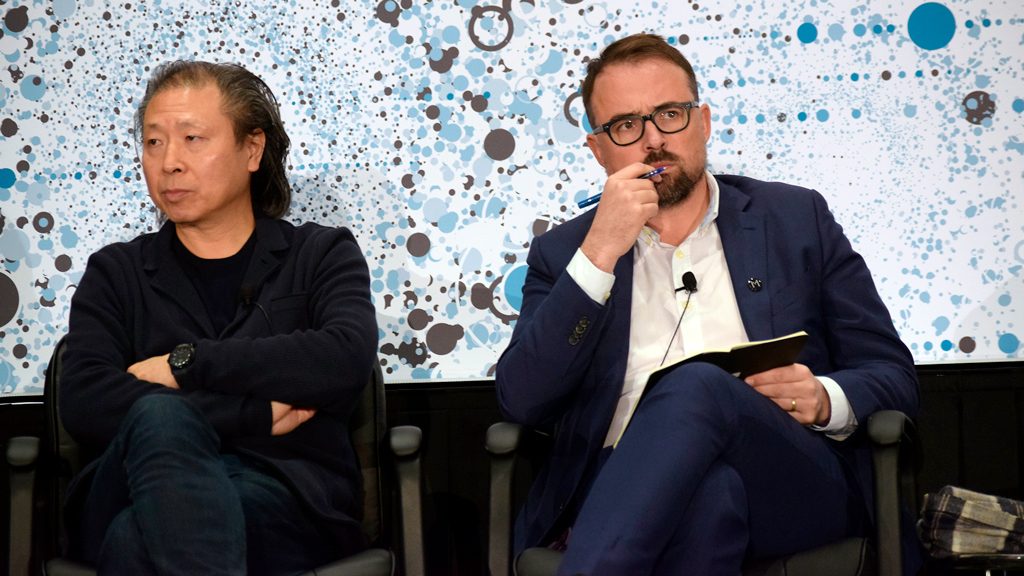 "In the world I talked about, it has that commonality as well. We are always looking for ways to make refugees feel as comfortable as possible in uncomfortable and stressful surroundings and a lot of that has to do with how the space and surroundings are designed. While a refugee settlement may not look superficially like a city, it is exactly like a city. Resources flow in and out, people work either formally or informally, they deal with health issues, governance issues, all the complexities exist plus additional ones with these particular circumstances."
Weinreich said the average length of stay in a refugee camp is now 24 years.
For a major project in an urban setting to be successful, the architects said, efforts should be made to understand the local culture. The kilns that existed in Jingdezhen were more than sources of building materials, they were an integral part of the community fabric, said Zhu — on cold days students would carry a hot brick from a kiln in their schoolbags to stay warm. And so the museum he designed features a series of arched exhibition spaces that are open to the sky in places, welcoming the outside in.
Hudson Yards is the largest private development in the United States with some 18-million-square-feet of mixed-use development slated to be built. Cusumano admitted that despite best efforts to minimize the impact of construction on existing neighbourhoods, it was unavoidable there would be complaints. Designers are aiming to create a people place that will accommodate an estimated 65,000 daily visitors when completed.
Commented Doran in an interview, "My main message would be the imperative in getting involved early in any project process to help shape it the right way and yield something that is not expected. With the Hudson Yards project, get involved early enough to deal with all the complexity and thinking of all the players and not just showing up and taking it for granted.
"The refugee camp, the same thing, how do you engage your constituency early in the process. That is what we do and the Chinese project as well, with the archeology."
Doran's firm began working with the Malawi Ministry of Health to address the fact that in Malawi, one in 36 women had a lifetime risk of dying during pregnancy or delivery, in part because there are so few skilled health care professionals in smaller villages. MASS designed maternity waiting villages for pregnant women after their 36th week, with clusters of four-bedroom units built around a courtyard offering protected spaces.
MASS was also asked to design a cholera clinic in Haiti after there was a outbreak following devastating earthquakes.
"Cholera is an infrastructure problem, it is the failure of infrastructure and planning that leads to it," said Doran.