The design of connection systems for modern mass timber buildings is critical and "can be a major cost factor that requires a detailed understanding of fastening systems to find economical solutions."
That is the word of Max Closen, owner of Vancouver-based MyTiCon Timber Connectors, a specialty supplier of connection systems for new mass timber and heavy timber buildings.
Through Ontario Wood WORKS!, MyTiCon recently delivered educational seminars on timber connections in Ottawa and Toronto to builders and designers keen on learning more about the new mass timber midrise movement.
"It is almost impossible for a design consultant to keep up with developments in connection technology while being proficient in all other aspects of building design and construction," Closen said. "There is a wealth of different connections and each connection has its very specifics which a person can do multiple PhD studies on."
MyTiCon and companies like it can be retained by the project's prime consultant or act as a consultant to a speciality engineer.
Closen said while government agencies, industry partners and not-for-profit groups have helped raise the profile of mass timber structures, increased education is still needed as the pace of construction picks up.
Along with understanding the technical and engineering aspects of a project, the designer should also know how to make the connections "clean and appealing." This includes the best means of concealment for esthetic and fire code reasons, he said. 
MyTiCon's Jean-Philippe Letarte told a Toronto seminar held in the Distillery District's Mill St. Brew Pub that most mass timber buildings are designed by people experienced in concrete and steel.
"They are not used to timber," he said. "They need to know how to reinforce it and its reinforcement options."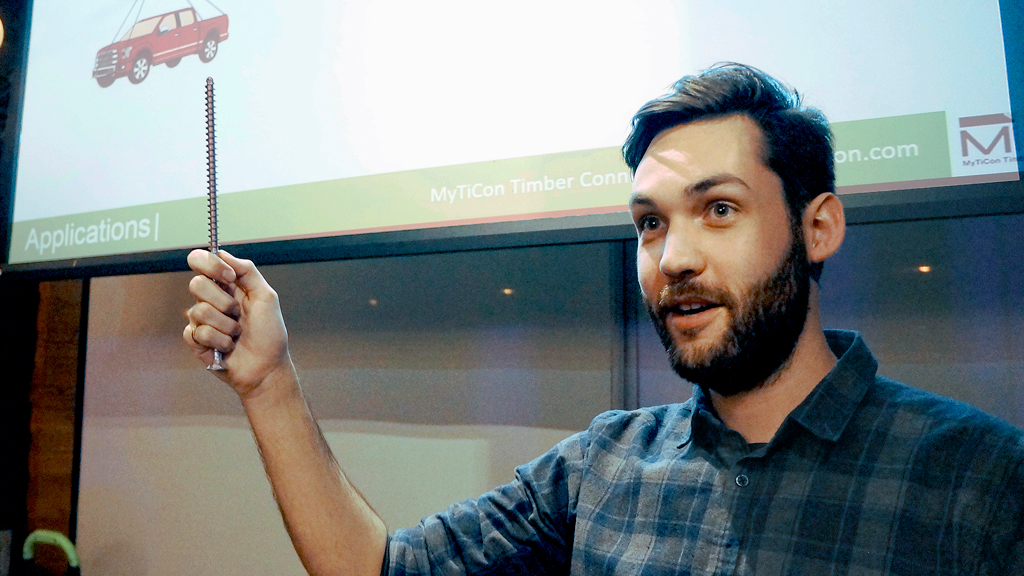 Letarte, a technical support engineer, said MyTiCon assists manufacturers and consultants with the design of timber connections.
The firm, which has supplied connectors for many of the new mass timber buildings in Canada and the U.S., does research and development with universities in Canada and the U.S. and it offers educational sessions for industry. It publishes its new research on its website.
Closen said connection systems vary from one project to another.
If a slip reduction or deflection reduction is required, a stiff, rather than ductile, connection is a good choice. Connections with both stiff and ductile properties have obvious benefits but cost a premium.
He added design consultants need to consider the advantages of using connectors that are pre-installed, which will speed construction, or installed onsite.  
Typically, it takes a first-time installer about an hour to figure out a connection's details and the best means of installation.
"From there a template or setting jig can be created so the install is repetitive," said Closen, adding it is critical that installation instructions are followed and engineering specifications are maintained.
MyTiCon has seen an increase in requests for design assistance on mass timber structures in the past few years as the industry has grown, particularly in B.C.
While installations are generally straightforward for experienced carpenters, Closen said for design consultants needing to understand technical considerations and options to detail mass timber structures, mock-ups can help them with connection details.
"The cost of a scaled mock-up seems always very high initially but it sure helps contractors and other suppliers understand what they are bidding on and how complicated the installation will be," he said.
That can translate to "a more accurate bid," he said, which can lead to cost reductions because the contractor can "physically see what they are bidding on and what they are getting into."
Mock-ups also work in the design consultant's favour through design optimization, although Closen said 3-D computer modelling software can build the project in a virtual environment "with impressive accuracy and detail."