National construction stakeholders who have been championing federal prompt payment for years received good news recently as the Liberal government is taking steps to implement a prompt payment regime and adjudication process.
Independent experts Bruce Reynolds and Sharon Vogel from Singleton Urquhart Reynolds Vogel LLP have been contracted to conduct a third-party review, lead a consultation process to seek input from industry stakeholders across the country and provide a recommendation report to Public Services and Procurement Canada.
The government will use the recommendations to inform the development of legislation that will direct terms of payment and provide for an adjudication process to ensure contractors, trades and subtrades working on federal construction contracts get paid in a timely manner, a statement said.
"The goal is to improve the efficiency of payment mechanisms for all of those in the construction pyramid, but especially those at the lower level of the pyramid, and to improve the efficiency of dispute resolution in the federal context," said Vogel.
Representatives from the Canadian Construction Association (CCA), the National Trade Contractors Coalition of Canada (NTCCC) and the General Contractors Alliance of Canada (GCAC) were invited to the Public Services and Procurement Canada office in Gatineau, Que. Jan. 30 to meet with Steven MacKinnon, parliamentary secretary to the minister of public services and procurement, and Judy Sgro, chair of the standing committee on transport, infrastructure and communities.
"Since April 2016, the CCA has been engaged with the Government of Canada in an initiative to improve the flow of payment," said Ray Bassett, chair of the CCA's task force on prompt payment, in a statement he read at the meeting.
"We have made some good progress on a number of tools that we hope will improve the timing of payments. Effective legislation that balances the fair interests of stakeholders and reflects a broad industry consensus is an important tool in that tool box," said Bassett.
Reynolds and Vogel have been tasked with providing a recommendation report to the government by May 1.
"We're going to have to have our running shoes on. We're going to have to move quickly," said Vogel. "We want the word to get out that we are going to be engaging in this process. We want to have meaningful input from stakeholders.
"The end result of this process is a recommendation package that we're going to prepare and deliver to the federal government and that recommendation package will take into account feedback that we have received from the construction industry."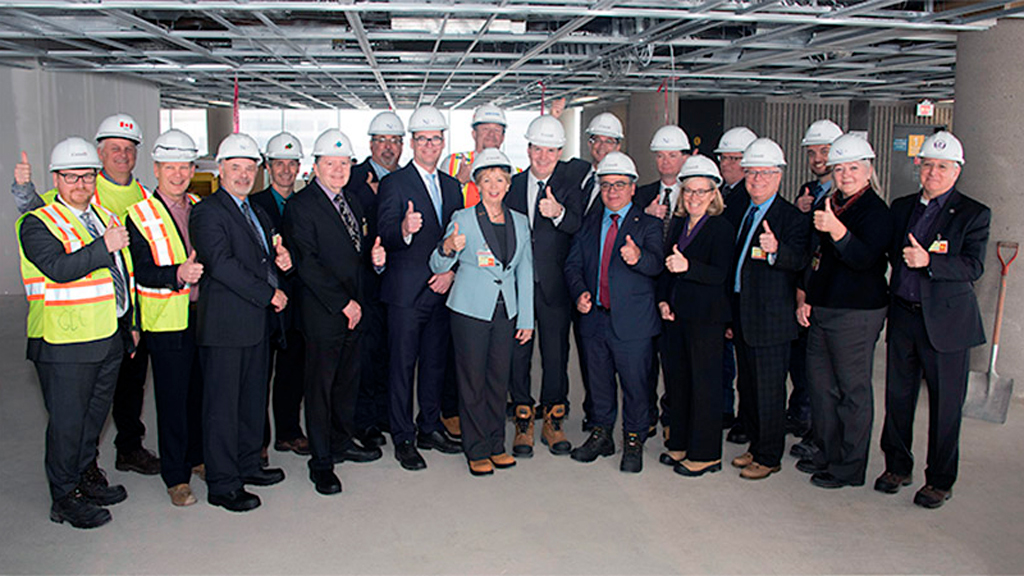 Reynolds and Vogel were instrumental in leading Construction Lien Act reform in Ontario. Following sector-wide consultation held by the lawyers, the Ontario government passed Bill 142 in December, which amended the Construction Lien Act.
"As with the Ontario process, our goal in this consultation with industry is that it be an inclusive, collaborative and transparent process," said Vogel.
John Galt, chair of the NTCCC, said he was encouraged by the news.
"We saw before us today a consensus building process that we think will be successful at getting prompt payment legislation for federal projects," he said, adding legislation will result in trade contractors taking less risk on federal projects, which will give them the ability to put forward more competitive bids.
Galt said in some cases it is taking up to 90 days for contractors to get paid and he hopes the legislation will change that going forward.
"The real benefit of what is coming out is prompt payment legislation that is going to mean a more reliable, predictable payment scheme allowing contractors to honour their commitment to things like benefit plans. If they are unionized contractors, even non-unionized all across the country, they'll be able to keep benefits and everything paid up, keep their companies afloat. We've had some that have actually gone right out of business just because of lack of prompt payment."
Matt Ainley, chair of the newly formed General Contractors Alliance of Canada, agreed the move by the feds is a step in the right direction.
"It's looking at the entire supply chain," Ainley pointed out. "It has to be a holistic review and that is what will drive the right kind of report and legislation. We want it to be fair for everyone and that includes the owner."
Reynolds said the steps taken by the federal government to work towards prompt payment legislation nationally illustrate "industry leading thinking."
"The end result of the process will see the federal government of Canada setting a template for those provinces who are still thinking about the issue of prompt payment to use as an example," he said.
Ainley echoed his comments.
"The other provinces are going to take some real lessons learned from the process in Ontario and what will happen in the next few months with Bruce and Sharon during their consultations," explained Ainley. "I think you'll see the rest of the country march forward with provincial prompt payment and adjudication legislation.
"When you look around to other countries that have prompt payment and adjudication, it works very well. It's going to make the construction industry much healthier, more competitive for our economy and on the world stage."