John Bockstael, the president and CEO of Bockstael Construction Ltd., says equality on the jobsite starts with the "tone from the top."
He was one of five panellists who spoke during a recent seminar entitled Making the Business Case for Women in Construction at the Canadian Construction Association's 100th annual conference in Banff, Alta., which was moderated by Grand Valley Construction Association president Martha George.
He recalled one situation where the company's harassment policy had be to enforced after a woman was treated unfairly on the jobsite.
"They were making her very uncomfortable, leaving her sketches," he described, adding they went to the site and addressed her fellow workers. "No one would fess up. We sent them home for the day, without pay. We said, 'This is what we want in the workplace from now on. If you don't like it, let us know by 7:30 tomorrow morning. If you're not here, we'll understand.'
"One gentleman didn't show up, so we weeded him out. You have to be very firm and you have to show affirmation of your policies. You cannot let it perpetuate. You have to train your people and yourself and react on the spot."
It's also about ridding stereotypes, stated Henry Borger, the president of Borland Construction Inc.
"In preparation for this (panel), I met with a few of our women employees and it allowed me to learn a bit more about my own organization," he explained. "I'm in heavy civil. In the field…it's less than 10 per cent women."
But with advances in technology over the last 10 to 15 years Borger noted the operation of heavy equipment has become easier. In the company's quarry operations, there are 14 people and six of them are women.
"You don't need to be a super strong person anymore to run a loader," he stated. "One woman who was three months pregnant at the time was running a 988-sized loader. It's the biggest piece of machinery we have in the corporation and she's running it like anybody else."
Christine Lithgow, the president and CEO of Aon Risk Solutions, Canada, said it wasn't easy making her way into a leadership role in a heavily male dominated field.
"It took me 30 years to get here," she said. "To fit in you had to adapt. Going through you just had to learn to be, as it was, one of the boys."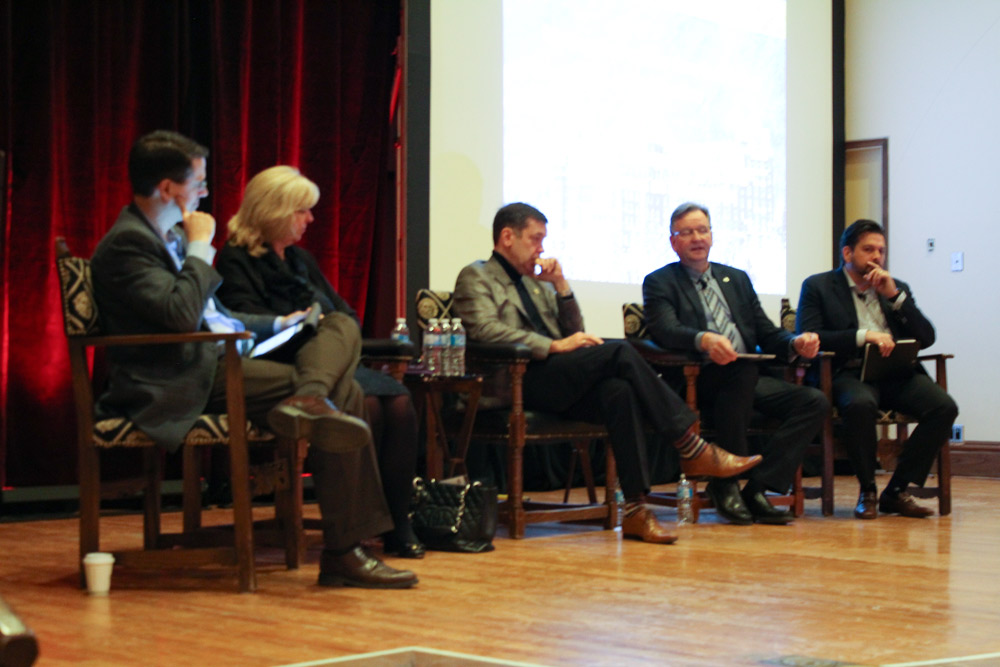 Having supportive male mentors and sponsors, she said, was extremely helpful, but added there is still work to be done to make women feel like they can succeed. She witnessed this first hand when her company conducted its annual engagement survey.
"I expected our female results to be pretty positive. I was leading the company, I had good representation on our executive group from females," she said. "I thought we would have a good engaged female population. I was stunned to find out that our male population was 20 per cent more engaged."
"Women didn't feel like they were being given opportunities to advance, that we weren't training and encouraging them," said Lithgow.
As a result, specific plans were put in place to allow women to feel more engaged, she added.
Stephen Coote, the president of Group 92 Mechanical Inc., added it's also about properly marketing careers in construction to women and underrepresented groups.
"I was always perplexed when we were looking at marketing the trades and saying there's a trades shortage and we're not marketing to half the population," he stated.
He said in his line of work, many of the leadership roles are a result of people working their way up through the trades, which is why it's important to encourage women to embark on trade careers.
"In our world, when you move to a project manager path, it comes from a trade. That gap continues all the way through," he said. "I think if we start to get more women in the trades, that will help us shed our draconian image.
"For my firm, we're trying. We recently managed an educational session for a project. We took students on a tour. I went to the school myself and encouraged some females to come out to it. There was one that showed up out of the 20 that signed up."
Raymond Brunet, the president of Ed Brunet and Associates Canada Inc., went so far as to change the company name to be more inclusive.
After 80 years Ed Brunet and Sons became Ed Brunet and Associates, he said.
"My first two children are girls. For me it was a no brainer that we had to open the industry for them," he explained. "It made common sense. What kind of signal are you sending to your daughters if you're going to have the name of a company like that?"
He says the company is now close to 55 or 60 per cent women and "believe me they're not just clerical positions."
Brunet highlighted the advantages of having women on board.
"Women are more organized to start with," he added. "Women are the primary caregivers in families and running a family is a business by itself.
"Women will not hesitate to ask questions. Women are much more risk adverse. We know in our business how risky it is to begin with. Having this balance…I've found that it has helped me a lot."
Bockstael added he saw the panel discussion as a way "to talk to the male colleagues, and the employers in this industry about what you have to do to create the gateway for women. Why would you not want to engage women in our industry when the availability is growing and they have the skills and ability to do so?"