Two yellow sticky notes placed on Susan Ershler's home and work computers contained one simple message: 29,035 feet.
The top of Everest.
Those notes were her commitment to reaching the summit, her way of telling herself that after all the challenges she had faced and extensive preparation, she wasn't going to try and climb the mountain, she was going to climb the mountain.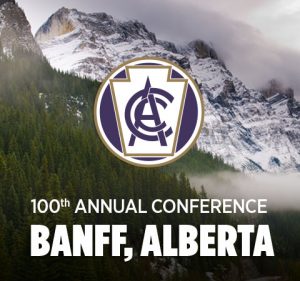 "At first that's impossible. How am I going to climb that high?" she recalled, reliving her story to delegates attending the Canadian Construction Association's (CCA) 100th annual conference coined Building to New Heights in Banff, Alta. "But then everyday, as I am looking at it, it became doable in my mind."
Ershler and her husband were the first couple in history to conquer the "seven summits," which are the highest mountains on each continent. Their journey culminated at the top of Mount Everest on May 16, 2002.
But while she was climbing the highest mountains, she was also climbing the corporate ladder as a business and sales executive. According to a biography on the CCA's website, Ershler has had a 23-year corporate career and held leadership positions in several Fortune 500 companies.
She has also authored two books, Together on Top of the World as well as Conquering the Seven Summits of Sales.
Ershler said the lessons she learned from her business experience and those while mountain climbing influenced each other. She shared several messages to CCA delegates on steps they can take to better their personal and professional lives.
Ershler said when she and her husband, who was already an accomplished international mountain guide, decided to embark on Everest the first time, she didn't know how she was going train as she was travelling a lot for work and worried about the time commitment.
She ventured to an Olympic training facility in Colorado Springs to take a tour and see how athletes prepared for competition.
It was there where she saw a motivational quote that said, "If you can see success, you can perform."
From there she committed herself to taking hikes and feverishly training for the massive climb.
"I think I had got in the best physical condition I had ever been," she said.
But she wouldn't get the chance to try Everest. Phil became sick and was eventually diagnosed with colon cancer and had to undergo multiple surgeries
"Everest, that's over. That dream is done," she recalled "At one point he lost hope."
She decided to write him a note for inspiration, reading, "I am guiding and climbing strong."
While it took a year to recoup and regroup, another commitment was made to train and climb Everest. This time they made it to Nepal, but it wouldn't be the trip they expected.
After overcoming dehydration, malnourishment and a host of other ailments, Ershler and Phil had made it to what's called the Balcony (at approximately 27,600 feet) and were ready to scale the summit when a storm called off the effort.
On the way back to camp, Phil began to stumble and asked his wife: "Do you see a problem with my eyes Sue?"
She replied, "Phil, instead of brown your eyes are this purple-ish colour."
His eyes had begun to freeze.
"It was the right decision to turn back from the summit of Everest," she said. "That could have been a fatal mistake."
Phil did regain his sight not long after, Ershler said, but she still felt empty they didn't make it to the top.
"I felt like a failure in my personal life. I knew that cancer kept us from the Everest dream once, weather the next," she said.
She knew they had to commit to reaching the summit again, and they eventually did.
Ershler said throughout all of these experiences she kept in mind a certain mantra: Project, prepare and persevere.
To project means to commit to the summit, she said, and this applies to leadership and business too. She stated it's ensuring leaders are encouraging their teams to work on the right activities that are going to grow the business.
When it comes to preparation, it requires planning the route as "no big mountain like Mount Everest is scaled in a single day. It takes that well thought out plan with every step delineated." It also means guiding your team to success, building a solid "Sherpa" team as "we don't climb high mountains alone" and executing the route.
One has to persevere most of all, she said. 
"How much hard work, time and effort are we willing to put in?" she asked.
For her, all of those elements allowed her to reach the "top of the world."
"On those last few steps, every emotion converges on you," she said. "It felt so good, for about 20 minutes, because now you have to go back down. The joy can turn to fear, but that's OK, because limited fear — it does keep you focused on doing the right things."
After completing the climb she said, "I felt like my life was complete. We reached the summit together."