Winners of The Construction Institute of Canada's (TCIC) 2018 National Simulated Student Bid Competition have been announced and this year's competition was a close one.
"It was quite competitive this year," said Hannah Whyte-Fagundes, executive director of the 2018 competition and a fourth-year student in the Construction Management program at George Brown College in Toronto, who added she was impressed with the quality of the bids submitted this year. "We had to really get into the nitty gritty details…those were the things we really had to look at to decide the winning teams."
The annual competition places students in a simulated bidding process for a construction project with the goal of helping them understand the real-life challenges present in bidding and estimating.
Teams from across Canada submitted bids based on a set of contract documents, which contained quantity takeoffs from actual drawings, a subtrade analysis and selection, an overhead and pricing summary, and a construction schedule. This year also included a safety component.
Teams were aided by construction industry mentors throughout the project.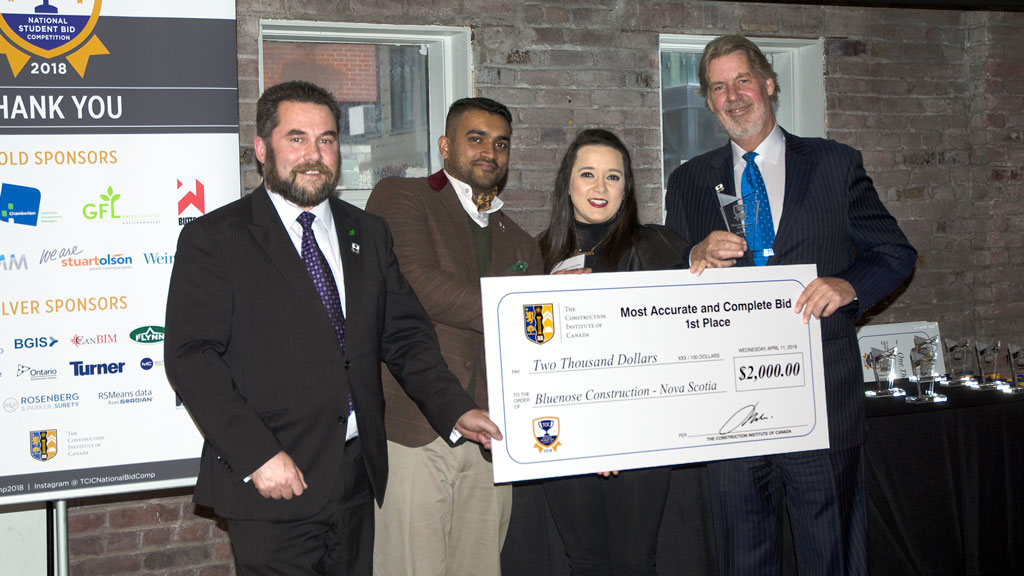 After a process that kicked off earlier this year, the awards were presented to the winning teams at a ceremony in Toronto April 11.
A team from Nova Scotia Community College took home the $2,000 top prize in the Most Accurate and Complete Bid category this year. Bluenosers Construction team members Allan Thompson, Andrew Horne, Devan MacDonald and Stephen Richard were thrilled to find out the news while watching the live stream of the awards.
"We learn stuff in the classroom and we get really good hands on experience but this competition really challenges you to rethink how to estimate an item in a building," explained Thompson. "It made us think critically about things we've never done before. The real-world experience you get from this is invaluable. When we get to the workplace that's exactly what's going to happen."
Grade Construction from George Brown College won the $1,000 first prize for being Closest to the Target Price and third place in the BIM category. The team includes Roman Solonynko, Juliano Nolfo, Alex Lema and Cameron Stitski.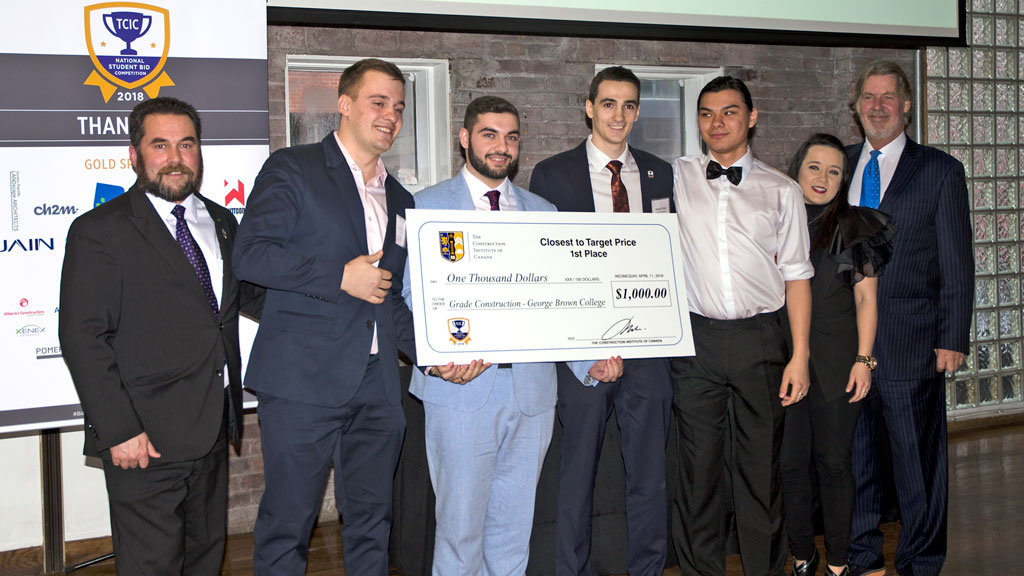 "This competition was really intense, it was really time consuming and demanding. It ended up being really rewarding not only because we won prizes but also in terms of experience we gained that will help us in the industry," said Solonynko. "The biggest challenge was organizing. It's four people working together and all of us have jobs, school, families, other responsibilities. Getting us all together was one of the most demanding aspects."
Another notable team was Skyline Constructors who won first place for Most Professional Bid, which takes home $1,000, and first place in the BIM category, a $750 prize. The team consists of Julio Castro, Jacob Anhang, Adriana Aviles and Nicolas Arevlao.
Sixty-seven teams and more than 200 students competed this year. Out of 67, 47 bids were compliant. Participation was down this year due to strikes at various colleges and universities.
Students taking part in the competition this year had to bid based on Halifax's new Downtown Redevelopment Plan and Nova Scotia's first dual-branded hotel. The project included two 15-storey hotel towers and a residential building, retail spaces, a convention centre and a 7,000-square-foot restaurant. The redevelopment was built by Bird Construction. The price was around $52.4 million.
Craig Lesurf, honorary chairman of the bid competition and vice-president of Walsh Canada, said the experience will help students in the future and encouraged students to put their participation on their resumes.
"If you don't win work, you don't have work and to have work you need to estimate it," he explained. "You need to know how much it's going to cost, how you're going to do it and some of the logistics.
"Employers are looking for these type of skills. We're looking for the next generation of leaders."
He added the contest is a learning opportunity and submitting late bids or incomplete bids is reflective of the real-life process.
John Mollenhauer, president of the Toronto Construction Association and vice-chancellor and president of TCIC, said the competition is a unique collaboration between schools, associations and the industry and one that pays dividends.
"One of the things we worry about when attending a university or college is whether we will be genuinely work ready. One of the things employers attach an enormous amount of importance to is being able to estimate the cost of work," Mollenhauer stated. "The process that you students participated in, in the weeks leading up to tonight has, from an employers' perspective, been absolutely invaluable and I think the number of employers supporting this collaboration says it all."