On a chilly day in mid-April about 175 job openings for skilled tradespeople were listed on a website for the Construction Association of Prince Edward Island (CAPEI).
That is an unusually high number of openings for this early in the season, CAPEI's general manager Sam Sanderson told the Daily Commercial News recently.
"And those are only the numbers we know of from contacting some members of the association," Sanderson says. "We still have quite a few members to reach out to and we are not even at our peak (construction) season yet."
Such is the reason why the association launched a recruitment campaign called Island Builder, which aims to draw more people to the trades from around Canada.
The campaign's website includes online job openings and a list of programs to help both employers and workers with training.
Sanderson says he hopes it will attract ex-Prince Edward Islanders who left the province for stable work in other provinces.
"Our motto is: 'You Can Build Here,' " he says.
The message is spread through social media, Facebook and Twitter, and the association has run radio ads and been at job fairs in the province.
So far, the association is getting its point across. Sanderson says there have been about 100 resumes — some from skilled trades people across Canada and even from outside Canada — since Island Builder started in February.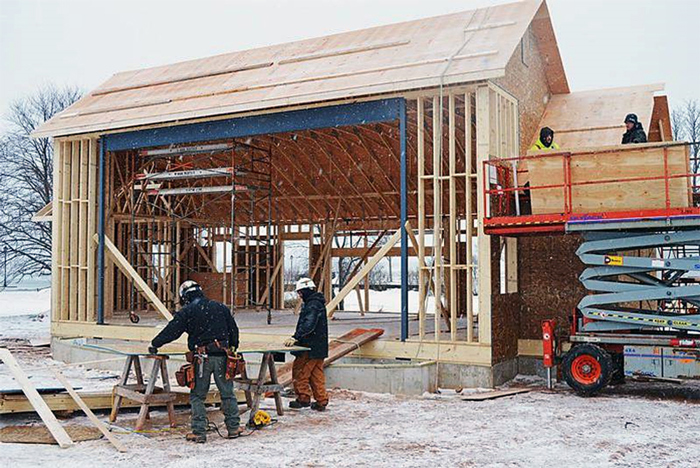 Based on the findings of BuildForce Canada, Sanderson says about 1,800 construction workers on the island will leave the industry — many through retirement — over the next decade. At the same time, the association forecasts "a very vibrant construction economy," with 2019-2020 possibly being "the biggest construction seasons P.E.I. has ever seen."
Last year saw a 25 per cent increase in work in construction on the island. Major commercial projects are projected this year in the health care and education sectors and residential construction is expected to remain "very vibrant."
Sanderson says carpenters are in the biggest demand but estimators and project managers are difficult to find as well because of their high skill level.
"Based on all indicators, we don't see the problem eliminated anytime in the near future," he adds.
Five or so years ago such a sizable demand for workers was unheard of in P.E.I.
"The number of people who have retired in the past five to 10 years has certainly been substantial and will continue to be substantial," he says.
The BuildForce Canada survey indicated 21 per cent of the workers in construction across Canada will retire this decade, says Sanderson.
"That is one in five people in the industry."
He says construction jobs in P.E.I. are year-round, not seasonal as they once were. He attributes the change partly to improvements in building practices, products and technology.
Many of the 180 members of CAPEI are small- to medium-sized contractors, often operated by one person who fills many hats.
"They are run pretty ragged," and many will be looking for help as the building economy grows, he says.
Construction isn't always heavy work.
While the job can be physical, Sanderson says today's workers are trained to work smarter, not harder.
"Education is a key to it and there is so much new equipment and resources today," he states.
Sanderson says when he was starting out in the trade, there were fewer career options to dissuade young people from choosing careers in construction.
The technology sector, for example, didn't exist and there was less societal pressure on young people to get a university degree.
The recruitment campaign is funded by SkillsPEI, which delivers training and skills development programming funded jointly by the federal and provincial governments.