All the legislation, regulations, training and equipment in the world won't make a difference in preventing falls at construction jobsites if there is not personal accountability, delegates attending a workshop at the Partners in Prevention conference in Toronto were told recently.
Infrastructure Health and Safety Association (IHSA) high-risk training instructor Sean Hooper ran through the legislative framework requiring working from heights training and laid out a hierarchy of fall prevention strategies and finished with a plea to the construction health and safety stakeholders attending his seminar to strive to create the right workplace culture to ensure the strategies breed success.
"It comes down to the old saying, 'you can lead a horse to water but you can't make it drink,' " Hooper said in an interview after the event.
"The regulations are there, and the Green Book works as the basis of an internal responsibility system, which is, we're all in it together. If I see someone working in contravention of the act, then I, as a worker, right from the CEO on down, the responsibility is, let's be our brother's keeper."
The IHSA is an approved provider of working from heights training.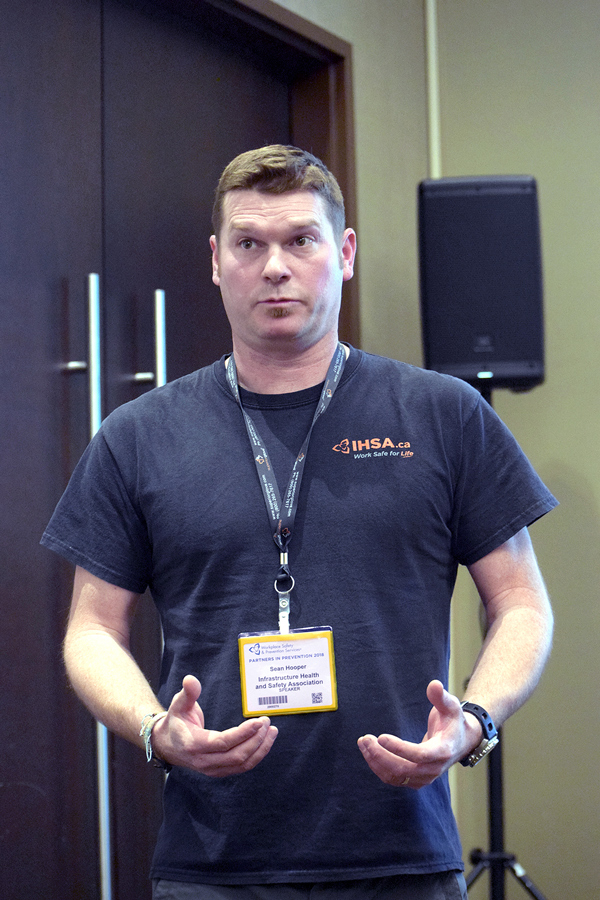 Hooper reminded the delegates falls remains a major killer of construction workers despite the onset of a robust working at heights training regime in 2015. Approximately 1,000 workers in Ontario are killed or injured in falls each year, he said. One in six lost-time injuries results from falls, according to Workplace Safety and Insurance Board statistics.
Hooper surveyed the delegates and determined most were from the employers' side and thus offered a primer on how the Occupational Health and Safety Act requires employers, supervisors and workers to participate in the training and then follow rigorous disciplines on the job. The basis for the protocols are found in Section 26 of the Construction Projects regulation.
Employers must provide workers and supervisors with fall protection training, create fall protection policies and procedures, develop written fall arrest rescue procedures and ensure supervisors know how to address fall hazards on the job.
Supervisors are required to ensure workers wear and use the appropriate fall protection equipment, inform workers about fall hazards and how to work safely at heights and ensure workers follow fall protection regulations and procedures.
Workers have to participate in fall protection training, follow the fall protection regulations and procedures and inform their supervisor about fall hazards they find.
"The best way to minimize damage is, don't fall," said Hooper. "It sounds silly, but let's not fall."
Hooper then described the hierarchy of steps to deal with risks.
"First, identify the hazard, then try to eliminate the hazard where practical, then control hazards that cannot be eliminated, then protect against injury if a hazard gets out of control, and finally minimize the severity of an injury if one takes place," he outlined.
With every step taken down the ladder, the risk of harm increases. Establishing that logic was his main goal at the conference, Hooper said.
"That was the main point of the program, but once the questioning began, it became more about, you have a requirement to have workplace-specific training, a basic program, you are going to need to deal with that yourself, whether it is a third party coming in or working it out for yourself, but it has to work," he said.
Some employers undertake extra training but even that should not be the end of their responsibilities, Hooper said. A personal responsibility system must be developed.
"The secret is producing a culture within an organization that buys in. It has to start from the top down, to get everyone to buy in," he explained. "If you see your boss doing it, then I'm going to buy in too. Every link has to be strong. That is our whole safety-chain analogy."
Even if a workplace does not have a strong safety culture that will ensure all the training and risk-prevention strategies are effective, keep pushing, Hooper urged.
"If the company doesn't have it, maybe you can be that change," he said. "If you switch companies, you can bring that attitude with you."