The Royal Architectural Institute of Canada (RAIC) has followed up on its International Indigenous Architecture and Design Symposium held in Ottawa last year by producing a report identifying best practices and highlighting case studies of successful projects designed by Indigenous architects.
The RAIC said in releasing the report July 13 that the document, available free online, is intended as a resource for architects, designers, clients, funders and policy-makers involved in the creation of new facilities for Indigenous communities.
Six Nations architect Brian Porter of the firm Two Row Architect participated in the preparation of the report, with one of four case studies examining how he worked with the local community to design and build the Emily C. General Elementary School and IL Thomas Elementary School in the early 1990s.
It was early in his career and he has since gone on to design significant projects across the continent including the Seneca Nation administration building in Allegany, N.Y. and the Kanata Interpretive Centre in Brantford, Ont. but he said the lessons learned in creating the two Six Nations schools still stand up today.
"I would say they are still relevant, I think they have withstood the test of time," said Porter, who is currently contributing to the design of the OCAD University First Nations House of Learning in Toronto.
"The main takeaway is to think of those projects holistically and the impact they have from a design standpoint, from an economic standpoint, from a long-term sustainability standpoint, all of these things have to be considered when the projects are conceived, not just design."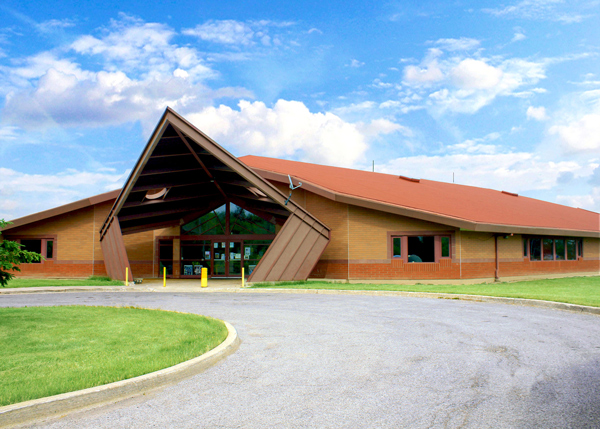 The four RAIC projects are described as co-design builds, with the architects working closely with the local community. The Six Nations case study describes the community as following Porter around from beginning right through to commissioning. Porter said full participation remains the best way to proceed.
"We try to champion a process where there is a lot of community engagement," he said. "Where the design could optimize the local workforce, and use the local materials, incorporate training and apprenticeship programs where possible, incorporate all of that into the program where it made sense."
Six Nations has a tradition of construction, with its steelworkers famous for working on New York City skyscrapers. Porter said there were other experienced trades available as well so the management team was able to use around 70 to 80 per cent local talent in a full construction management process. If there is only a 40-per-cent local participation rate, construction management doesn't work as well, he said.
"It was fun because we got to know all the trades very well," Porter said.
"When we had co-ordination meetings, it was an atmosphere where everyone felt comfortable. With the first school we probably issued a couple of hundred site instructions and very few change orders. A mason would come up to me, he would do a little mockup and say, 'Brian, this is the way you guys have detailed it, here are two or three options I could do for the same amount of money, look at it and pick one.' "
It's important for the design to reflect local traditions and culture, said Porter, as well as embody sustainability elements that First Nations have followed for centuries. The IL Thomas school was built in the shape of a turtle while the entranceway to the Emily C. General school features huge bolted steel beams to reflect the steelworkers' legacy. A large sundial feature at that school enabled the students to follow the passing of the sun and also the seasons.
"When we put the project together we had the sundial on a true north-south axis, and I got pretty good at telling time in that place, the angle that the sun came down, I could tell what season it was too, so we wanted the kids to be able to feel that too as we worked our way through the school year," he said.
The projects would not have been eligible for Indigenous and Northern Affairs Canada funding for air conditioning but Porter argued the schools would function as community centres as much as for schooling. In the end he was successful in getting approval for a ground-source heat exchange and heat pump system that cost more upfront but scored as the lowest cost option over a 20-year life-cycle.
Porter argues 'for us, by us'
TORONTO — Ontario Six Nations architect Brian Porter says Indigenous architects and architecture are having a "moment," but the mainstreaming of Indigenous architectural values is not all for the better.
Porter commented recently that traditional Indigenous sustainability principles are now in vogue throughout the design sector across Canada, with life-cycle planning corresponding to Indigenous seven-generations thinking and Indigenous principles of stewardship matching up with LEED and WELL programs. Never again would the former CP hotels that are stuck in Canadian wilderness settings, ignoring the prevailing sun and wind, be built as they were, he said.
"I would argue that the mainstream view is getting closer and closer to the First Nations view of the world and values," said Porter.
Some project owners lack sincerity when they invite firms like his to form partnerships with non-Indigenous firms, he said, specifically excluding one of his current projects, the OCAD University First Nations House of Learning in Toronto.
"We try to join teams that have similar thinking to ours," Porter explained. "We have had some good experiences and some bad and have joined teams only to find out they were checking the box by having us join the team, there is no sincerity."
But, he added, "I haven't found that in the OCAD job, we are kind of kindred spirits."
Porter also doesn't approve of non-Indigenous architects appropriating Indigenous symbols and practices.
"We have always talked about 'for us by us.' " said Porter. "If there can be some legitimate blood on the team, someone else can do it but whether or not they get the full potential or whether they optimize the local resources, I would doubt it, if there is not someone there who is seen as being from the community."