Nation-building infrastructure doesn't necessarily have to be a single large project linking regions across Canada, as the Canadian Pacific Railway did 140 years ago, delegates attending the annual national leadership conference of the Association of Consulting Engineering Companies — Canada (ACEC) were told recently.
Instead, panellists discussing the topic at a session billed as Successful frameworks for major nation-building projects, argued a series of smaller projects can be viewed as nation builders if they significantly enhance capacity-building in multiple First Nations and thus economic independence.
Or projects such as the Ring of Fire fit the bill if they are of such a size and scale that they will give the economy a major shot in the arm.
Heading into the nation-building panel, ACEC CEO and president John Gamble discussed a national northern corridor concept with conference speaker Lisa Raitt, deputy leader of the federal Opposition.
The corridor was a major focus of last year's conference with delegates pressing the message on MPs during the association's Parliament Hill Day.
"This is a great nation-building opportunity that we are excited about," said Gamble. "I think it answers a lot of questions. How can we get Canadian oil to the coast so we don't have to depend on Algerian or Venezuelan or Saudi Arabian oil?"
Raitt responded, "It was part of my leadership campaign, Jack Mintz did great work on it at the University of Calgary, and it is incredibly important to take a look at ways to get resources out of the country."
He noted that Chinese sources said they don't believe Canada can get products out of the country to market.
If we can support First Nations in becoming self-sufficient, the benefit to the country is immeasurable
— Lawrence Pinter
Pinter and Associates Ltd.
"If we have to start by convincing people we can do it, we need some really good strategies," she said. "How to get over the inertia, 'Canada is a nice country but you can't really get anything built there."
Gamble said in a follow-up interview explaining the corridor strategy, "Up until very recently there were senior bureaucrats who thought it was a physical piece of infrastructure. What it does, it creates the ability so we don't have to go back to first principles every time we want to move forward on a project. It is about reducing the footprint of multiple infrastructure assets so we don't have a fractured, decentralized system where everyone is trying to find their own route across the north."
Panellist Lawrence Pinter is president and CEO of Pinter and Associates Ltd., which is active in western Canada consulting on water, wastewater, waste management and other infrastructure projects in many First Nation communities. He said, in an interview, his firm has learned that when there is a "critical mass" of infrastructure projects built in those communities, better teachers are attracted, local youth want to stay in town, workers are trained to manage the new infrastructure and businesses are attracted because they can hire local skilled labour and the community is a better place to live.
He described the process as filling in holes or backfilling, strengthening pockets across the country.
"It is part of nation building, it is the first step of nation building," said Pinter. "If we can support First Nations in becoming self-sufficient, the benefit to the country is immeasurable. But you need the corridors, transmission lines, power coming in, you need good roads to transport goods. If you have good roads and transportation you have manufacturers coming in."
First Nations Major Projects Coalition executive director Niilo Edwards discussed how his relatively new program, established in 2016, was working to build capacity in First Nations through participation in major resource projects. The coalition, supported by 48 First Nations in five provinces, rates projects based on environmental stewardship, the number of First Nations impacted, magnitude of First Nations benefits, commercial viability and capital costs, among other criteria.
Future revenues will not come from increased federal transfers, Edwards said, but rather from project revenue streams. His organization is "building a framework so our communities can operate," he said. "We are looking at issues of access to capital, plus building business expertise, those two things are what is needed."
Gamble commented that not only is involving First Nations in some of the projects and building capacity the right thing to do, it's good business as well.
"It is not by accident that we had the First Nations Major Projects Coalition at the table," he said. "There are First Nations that want to be part of solution, part of projects. They want to put skin in the game and therefore are entitled to the benefits of some of these projects."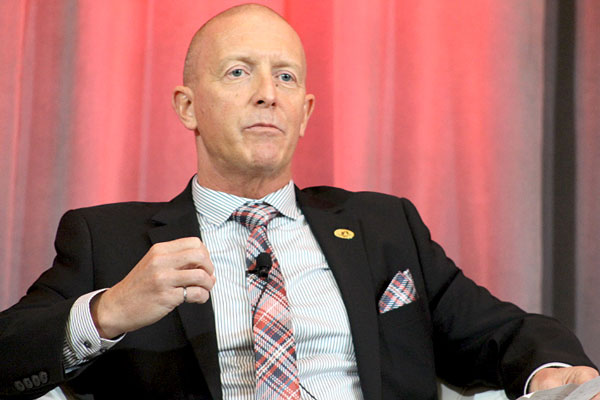 Panellist Leon Botham, principal engineer with NewFields, told delegates that investors and First Nations are hoping there will be an all-season road built to the Ring of Fire region in the James Bay lowlands within the next couple of years to enable mining of chromite and other rich deposits to begin by 2021.
"The Ring of Fire is going to mean huge economic opportunities," he said. "There are going to be high-paying jobs in the communities, right in their backyard.
"If that's not nation building, I don't know what is."
The ACEC convention was held in Ottawa Oct. 21 to 23.