The battle to ensure fair construction contracts that meet the needs of both owners and contractors in Ontario is neverending, two panellists offering overviews of the tendering process told delegates attending a workshop at the recent Buildings Show in Toronto.
Even with CCDC contracts long established and providing standardization of essential documents used in the sector, and the Ontario General Contractors Association (OGCA) entrenched as important arbiters of most disputes relating to tendering in the province, problems of all sorts still arise, the delegates learned.
The presenters at the Nov. 29 session, engineer and estimator Howard Doucette and OGCA president Clive Thurston, have many decades of experience in the sector between them and have worked together on tendering workshops often because, they said, new issues keep popping up and old ones re-emerge.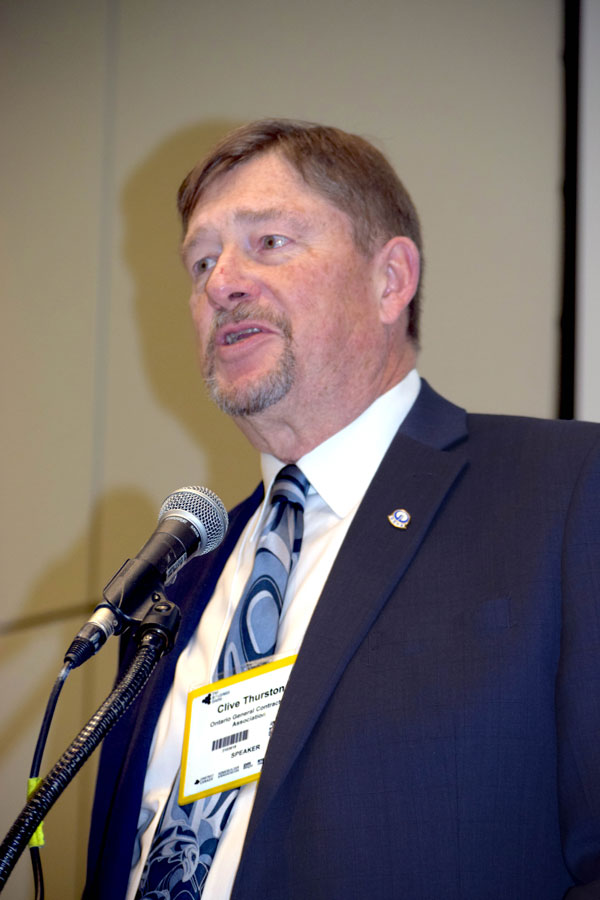 "The old problems are coming back," said Thurston, who at times acts as a mediator in tendering disputes between owners and contractors. "In the last 17 years we've had peace in the industry, we've had really good relationships going. But I have seen some of the old problems crop up on my desk recently. When I look into it I find the person in charge has changed, so we have a new person running procurement who doesn't know the history, doesn't have the corporate knowledge.
"So we have to go back in and re-educate."
Thurston said public owners are the source of many problematic tenders even though, ironically, there has been an increase in procurement officers charged specifically with tendering. That's the problem, he said, many are generalists who don't realize the construction sector has its own set of rules.
"We used to deal with engineering departments of a university or a municipality, now we are dealing with a procurement department, and these are people who have taken procurement courses, and I have seen the courses they take and there is nothing in there about procuring construction," said Thurston.
The top three problems in tendering today, Thurston said, are owners who refuse to use the two-stage tendering process, excessive use of mark-ups, especially on change orders, and owners who attempt to pass on more risk than they ought to to contractors.
Two-stage tendering is where the owner seeks to appoint a contractor at an initial stage of the project based on an outlined scope of work and then works with the successful tenderer on extended contract negotiations in stage two. Thurston said too often contractors are deemed non-compliant at this stage "for no good reason."
The format of the workshop had Doucette presenting an overview of best practices followed by Thurston laying out what tends to go wrong. Doucette said the best advice he could give to owners and contractors is to keep the process as simple as possible.
"Simplify," he said. "Shorten the tender forms, use the CCDC documents and by all means, if you have tender forms and you have the documents, send them to someone that gets you a second opinion."
Less confusion means less waste of time, Doucette said. Often unnecessary complications arise with too many demands made in the tender document for unnecessary information. Unrelated project information such as HST numbers, WSIB certificates and company bylaws should not be required at closing time, he said.
Overlong addenda are also a problem, said Doucette. Addenda from an owner generally come in response to a request for information from a contractor but sometimes the process can become overwhelming, both presenters said — in one case Thurston was involved with, an addendum had 300 pages of electrical changes.
"I always say, historically, if you have more than five addenda in the tendering process, there is something wrong," said Doucette.
With today's complex projects, some owners feel the need to create specialized new contracts in response to the need to, for example, incorporate anti-contamination standards into a hospital contract, Thurston said. That's the wrong approach, said Doucette — always start with and stick with the CCDC contract.
"You don't need to go outside the CCDC," Doucette said. "Start with CCDC and then make changes with supplementary considerations.
"We don't have to reinvent the wheel. The CCDC has proved its usefulness."