Architect and author Brian Palmquist has spent decades analyzing construction management efficiencies and devising processes and acronyms to help designers and constructors work faster and better, but when invited to give a presentation at the recent Toronto Buildings Show, he laid out one simple tenet to strive for: immediacy.
Palmquist, the president of Quality-by-Design Consulting Ltd., the host of multiple LinkedIn groups and author of An Architect's Guide to Construction, admitted he covers a lot of territory in his addresses in explaining that the title of his seminar — Designing your PATH through Construction in the Age of Immediacy — was negotiated from multiple possible options.
His presentation offered delegates a route to efficiency in construction management through his PATH approach, which includes four elements, four steps and three toolsets, leading to an evaluation of software based on 21 factors.
The age of immediacy, he said, began with the launch of the iPhone in 2007 and it means, simply, having all the information required for a job immediately available in your smartphone.
He uses the Google definition of immediacy, which is "the quality of bringing one into direct and instant involvement with something, giving rise to a sense of urgency or excitement."
In today's construction world, that means leaving behind paper, where he says many of his peers in the older generation are stuck, going beyond a laptop or computer, and exploring the growing number of powerful construction management apps that operate on a smartphone.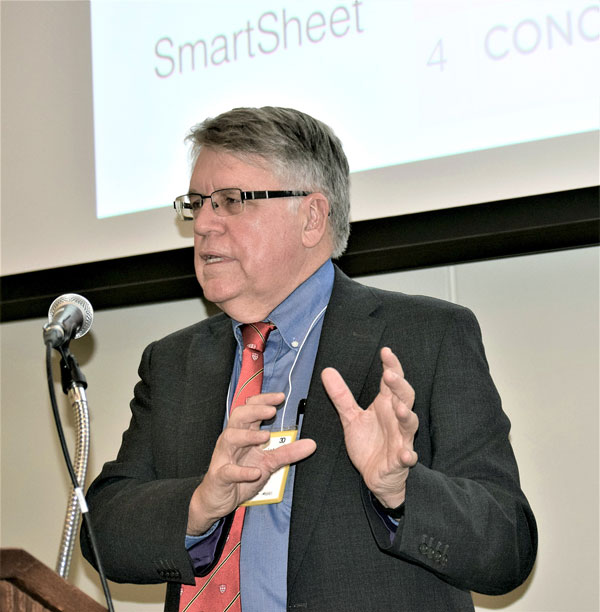 "In the old days, people would mail me a piece of mail, I'd get it in three days, I'd think about it and sent it back, so that's six days," he said.
"We all managed to get things designed and built that way. But over time, immediacy has rendered that obsolete."
At a time when an hour's delay by a superintendent managing a construction site can cost $8,000, said Palmquist, such apps as ArchiSnapper, Closeout, Airtable, NoteVault and SmartSheet can co-ordinate a full array of tasks in the field and office and save hours of time in a day.
"There are still a lot of constructors or consultants who basically will say, 'I'll get to it.' But they may not get to it for days during a critical time of the project, and that could be expensive as well as annoying," he said.
Designers, especially his generation, Palmquist said, typically will go out to construction sites, make observations, go back to the office and spend two or three hours communicating the observations. When the contractor gets the report, he or she will spend two or three hours translating them into the digital system they use.
"What these let you do, they would save easily an hour or two each day of effort to do the same job," he said. "You can spend that hour or two with your family or being more efficient and productive in other ways."
Palmquist's PATH steps are Prepare, Analyze, Trial and Harmonize; PATH elements are Principles, Attributes, Toolsets and Habits; and PATH toolsets are Paper, Analog, Digital and Immediate.
His system evaluates software — the toolsets — for their ability to enhance immediacy in the field using 12 factors, and he has identified nine further factors useful for evaluating software in the office. Palmquist has compared seven construction management software apps using the 21 criteria.
In the field, the first big factor is that the software must run on a smartphone, and fast. It ought to have a simple issues-management interface, it should be able to manage issues in the field and by location, it should work both online and offline, with easy image-capture and attachment, it should support dictated notes and produce high-quality reports, and it should be able to issue filtered reports from the field with immediate or delayed assignment.
In the office, important factors to consider include whether multiple team members can engage with the software without licences or extensive training, whether it can produce automatic daily update reports and useful records, and whether it has due date reminders, it supports calendar view, it integrates data in a calendar, it is cost effective to use and expand, and it is customizable.
Speed is absolutely essential, said Palmquist.
"In the field, it is the ability to capture, locate and combine observations and issues in 30 seconds or less that will make a huge difference because people will capture more, because it takes a lot less to do it, and they will spend less time dealing with that stuff in their offices," he said.
Palmquist said organizing systems such as his PATH programs can improve efficiencies on a range of projects, with scalability from simple $5-million buildings to one $2-billion airport expansion he worked on. Besides time and cost savings, designers and constructors can achieve better integration of the construction process and better understanding of how to simplify and manage construction complexities.