The Greater Toronto Chapter of the Canada Green Building Council highlighted green building on campus at its recent summit in Hamilton last month.
The June 13 event, billed as a Post-Secondary Summit, Advancing Green Building on Campus, featured presentations on green retrofits and new green buildings under construction or completed at Humber College, Sheridan College, the Universities of Guelph and Toronto as well as Western, Fanshawe College, George Brown College and host Mohawk College among others.
The summit was held at the new net-zero-energy Joyce Centre for Partnership and Innovation in Hamilton.
Various motives tend to align to convince campus project owners to aim big to achieve sustainability targets, explained Jeff Ransom, regional director of the Toronto chapter.
"We are always tracking innovative projects in the GTA and a lot of the buildings we are seeing with zero-carbon-building programs or just in general exciting projects that seem to embrace the best new technology seem to be coming out of post-secondary institutions," said Ransom.
Campuses reflect an element of social responsibility, he said, being public institutions, and the builds themselves can be demonstrational for engineering and other students. In many cases the mechanical systems are built exposed so students can learn from them.
Another motive is that college and university administrators see their projects as opportunities to showcase the ingenuity of their staff and how the institution strives for excellence, Ransom noted.
The Mohawk summit featured a series of presentations on building performance and retrofits that illustrated why campuses, which grew with the addition of numerous new buildings 50 and 60 years ago, are ripe for renewal projects.
David Riley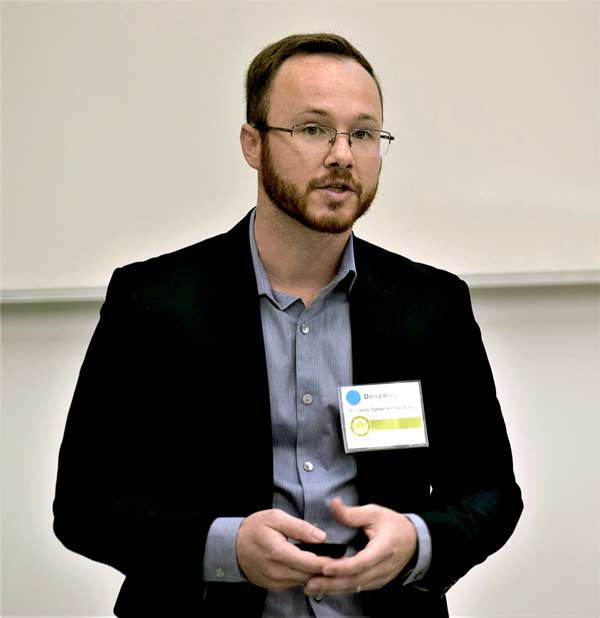 David Riley, senior mechanical engineer at McCallumSather, described in detail how phase one of a two-phase retrofit of the 60-year-old McNaughton science building at the University of Guelph focused on finding the right technology to right-fit the air changes per hour (ACH) rate to improve efficiency while maintaining safety.
A budget of $13.75 million had been set aside for the renewal and renovation of research spaces over four floors in phase one. The work consisted of new plumbing, HVAC, controls and smoke hood installation.
Riley noted labs in science buildings typically make up only 10 per cent of space on a campus but they devour 40 per cent of an institution's energy budget.
"It makes them fine targets for energy reduction programs, new technologies and retrofits," Riley explained.
Minimizing ACH is the key to success with labs, Riley said. Lab design in the past featured constant volume air exchange, eight to 12 ACH, minimal energy recovery and limited flexibility. Now the strategies include variable volume, two to four ACH, mandated energy recovery and maximum flexibility.
An important solution to the ACH puzzle proved to be the decision to install 58 low-flow variable-volume fume hoods. When phase two is completed next year, energy efficiency is projected to be 50 per cent improved.
Riley said the decision to use an integrated project delivery (IPD) strategy was also important to the project's success.
"On this project we had architects, engineers, stakeholders, contractors and other specialists all brought to the table…to collaborate together to optimize design," he said.
Simon van Wonderen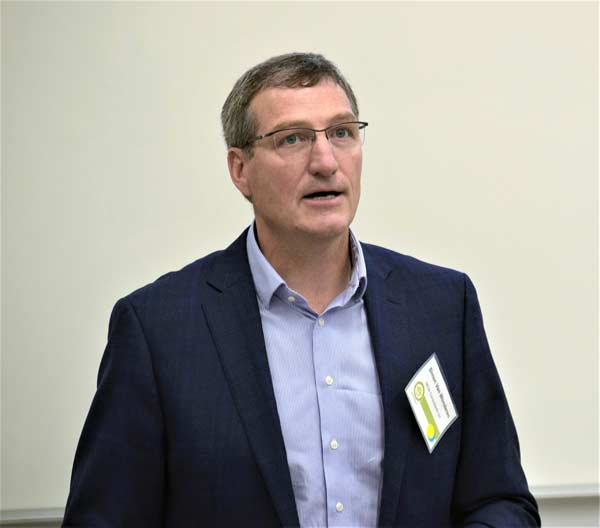 Next up at the Mohawk session were Simon van Wonderen, a partner with MCW Custom Energy Solutions and Justin Selby, senior construction coordinator at the University of Guelph, who laid out how the Green Gryphon Initiative, supported strongly by students, had been instrumental in introducing a wide variety of energy-efficiency programs on campus.
The initiative was launched in 2013. Students were involved from the beginning and even earlier, in 2008, they had voted through a referendum to establish a student energy retrofit fund.
The initial Green Gryphon investment was $24.2 million.
The presenters outlined two builds undertaken as part of the overall plan: a $15-million chilled water thermal energy storage system and a $10-million boiler stack condensing economizer.
The water storage system includes a thermocline feature, which enables water stratification. The tank stores energy in chilled water allowing excess thermal energy to be collected for later use.
The condensing economizer, part of a waste heat recovery system, reduces energy usage by optimizing the use of recovered energy.
Von Wonderen reported payback on the initial $24 million investment will be achieved in short order. He calculates savings are $2.6 million per year which means payback in eight years. And greenhouse gas emissions have been cut by 4,700 tonnes eCO2.