Newly elected Ontario General Contractors Association (OGCA) chair Raymondo Mollica launched his career in construction immediately after graduating from high school.
He hasn't looked back.
"I first started working with my brother-in-law on a few high-rise construction projects and fell in love with the construction industry," recalls Mollica who grew up in Caledon and Brampton.
He subsequently went to work as a site supervisor for Guided Group, constructing industrial units. Ultimately, down the road, he and his wife Margaret established their own company, Remo General Contracting Ltd., in late October of 1986.
"We started on small projects and have grown to taking on multiple projects at a time, which range between $10 and $32 million per project."
Mollica is the president and CEO of the Brampton. Ont.-based company which currently specializes in the industrial, commercial and institutional (ICI) sector. It has extensive experience in school construction.
The company has won multiple awards for completed projects. These include a 2015 Ontario Builder Award in the industrial category for the Streetsville Main Street Square redevelopment as well as a 2013 award in the buildings category for the Mount Pleasant Village Public School, Community Centre and Library.
A Gold Seal-certified project manager, Mollica is an advocate of a hands-on approach to estimating, site supervision and project management. His company is also a member of the Toronto Construction Association and the Canadian Construction Association, and he joined the OGCA board of directors in 2012.
"The reason I joined the board was because of my now good friend Sam Cutruzzola of Inzola Construction who served on the board himself," he says.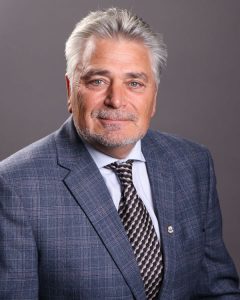 In fact, Mollica nominated Cutruzzola for the OGCA's 2019 Chairman's Award, which honours individuals who have been affiliated with the association and have made an outstanding contribution to the industry.
"We felt and still feel, the OGCA supports its members and the construction industry and is committed to the contractors' code of ethics," he says.
"Most importantly, the OGCA is the leader when it comes to promoting and supporting safety in our industry. Our belief is safety is not proprietary and we can all learn and grow together for a safer tomorrow."
Mollica, who assumed office during the OGCA's recent 81st AGM and conference in Muskoka, has identified several priorities for his term of office. These include:
navigating Bill 142's prompt payment and adjudication legislation;
continuing the association's focus on health and safety;
providing advocacy and support to the industry and its workers; and
engaging the membership.
Mollica believes the OGCA has done "an outstanding job" in backing Bill 142, playing an instrumental role in the evolution of the legislation, which amends the province's Construction Lien Act.
He says health and safety will remain a priority, referencing promotion of both the Certificate of Recognition (COR) program and the League of Champions safety initiative.
On another front, Mollica is also anxious to increase awareness of the challenges faced by site supervisors, the industry's "front-line" representatives.
Mollica succeeded John Dawson, a project manager with GEN-PRO, a Burlington, Ont.-based firm that specializes in general contracting and project management, as OGCA chair.