The riches are immense but miners planning to extract gold and other minerals from Canada's far north face challenges of mythic proportions, delegates heard at the recent Prospectors & Developers Association of Canada (PDAC) conference in Toronto.
The four-day PDAC Mineral Exploration & Mining Convention is the leading event for the sector in the world, attracting over 1,000 exhibitors, 2,500 investors and 25,000 delegates from some 130 countries each March. Bruce McLeod, president and CEO of Sabina Silver and Gold, joined two other Canadian mining executives at a March 3 session billed as Canada's North: Exploring for Gold, offering insights into the hardships endured and the ingenuity required to reach project payoff in the region.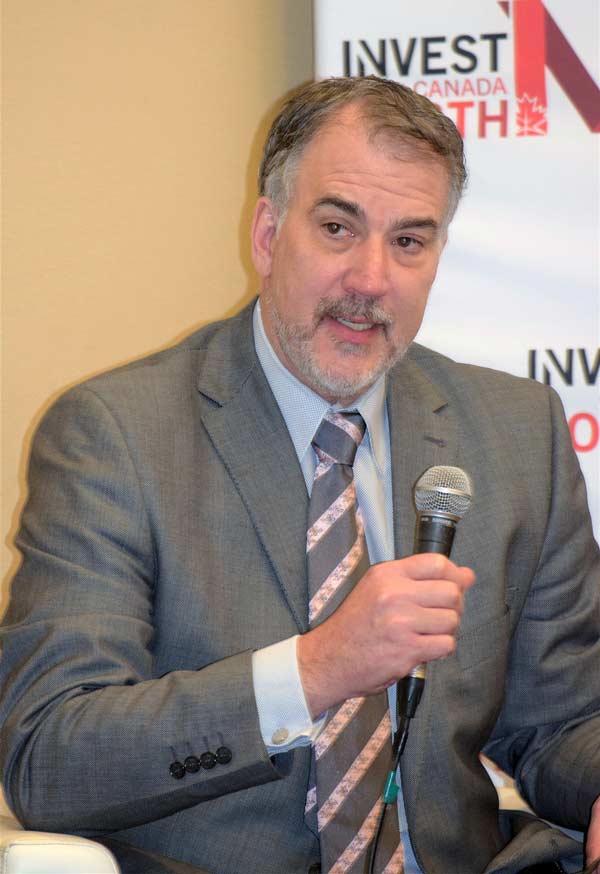 "When we started the project, it was literally bringing in gardening equipment by air in order to get a foothold where we could build airstrips," McLeod said of Sabina's Back River Gold project in Nuvavut.
As is always the case, Sabina has been actively developing the Back River project for many years. The site is located 520 kilometres northeast of Yellowknife, NWT and 75 kilometres southwest of Nunavut's Bathurst Inlet. The gold, located in some of the oldest rocks in the world in the middle of the North American craton, is extremely high grade, with the mine proven to be capable of producing around 200,000 ounces per year during an 11-year mine life, with Sabina fully intending to continue exploring in the region to extend the project life.
"Working in the north is expensive, but one of the things we are blessed with is one of the best deposits in the world," McLeod said.
Sabina purchased the project in 2009 and made the decision to move to development following the discovery of multiple rich deposits in 2010 and 2011. In 2015, Sabina announced encouraging results in a project feasibility study on the Goose Property at Back River. After several years of rigorous permitting efforts including consultation with the local Kingaunmiut, Sabina has begun initial construction work — starting by building a port at Bathurst Inlet — with plans to spend hundreds of millions to ready the project for possible commissioning around 2022, McLeod said in an interview.
You want to focus on northern groups that know how to heat and hoard and pour concrete at 40 below
— Bruce McLeod
Sabina Silver and Gold
McLeod comes from a construction background so he understands the business. Investors like to see competent project management skills in the ownership team — it can't be overstated, he said, how important it is to show the owner can deliver a project on time and on budget in the north.
"A strong internal management team is really the only way you build what you want," he said in an interview. "My background is construction contracting so delivery when it comes to earthworks civils is something I look at as a miner, our core competency is moving rock."
With the port now built, McLeod explained, "It's good to be able to say that we have built that and operated that, it takes something from conceptual to reality.
"I think in particular when you are looking at an investment of half a billion dollars on a mine in the north, people do not want to take those kinds of chances without at least seeing you have the expertise, the people, the know-how, to be able to execute and deliver."
Logistics and local knowledge are more important in the far north than elsewhere, McLeod said.
"You want to focus on northern groups that know how to heat and hoard and pour concrete at 40 below — or better yet, those that know how to build a schedule to avoid having to pour concrete in 40 below weather.
"So, partnering with the right northern firms, having the right expertise and the ability to self-deliver where required, and really focusing on logistics and infrastructure is a big part of it. With our seasonality you have one chance a year to bring up everything that's not coming by air so really you've got to think in 18-month segments ahead of project execution."
The infrastructure for the port facility costs $25 million, and the latest update in the feasibility study projected total start-up capital costs of $470 million, McLeod said.
The Back River project potentially includes the development of two mine sites, the Goose Property and the George Property; the completed Marine Laydown Area at southern Bathurst Inlet; and seasonal roads connecting the three sites.
The Bathurst Inlet site now includes a 45-person all season camp, 730,000-litre fuel storage depot, desalination water plant, waste management infrastructure, satellite communications, power generation, heavy equipment roads, a barge offloading shore ramp, 60,000-square-metre storage/laydown pad area and 1,200-metre all-season gravel airstrip.
Upcoming works at the mine site include construction of buildings such as an administrative complex, emergency facilities, maintenance facilities and warehousing; tailings impound area; waste rock storage areas; processing plant capable of handling 6,000 tonnes per day; fuel, explosives and bulk storage areas; power generation facilities; water and waste management facilities; and personnel accommodations.
But as McLeod says, the essential toehold in the remote region has been established for investors to see.
"Despite the infrastructure challenge, what we can say is we have now tested our supply chains from southern Canada by land and by sea to the site," he said.
Follow the author on Twitter @DonWall_DCN.